Travis Scott has slowly been on the rise as he makes a comeback from the infamous AstroWorld tragedy that took place on 5th November 2021. The rapper has been in a relationship with a famous Kardashian family member, Kylie Jenner, since 2017. The couple has been known for their CO2 emissions from their private jets in recent news, and they even share two children. According to Kylie Jenner, the rapper has been a great father to the kids so far as he gives them priority before anything else. Recently, the rapper has made his comeback with an announcement of his first major solo concert since the 2017 AstroWorld tragedy which he made on the 6th of August 2022.
Travis Scott is making his comeback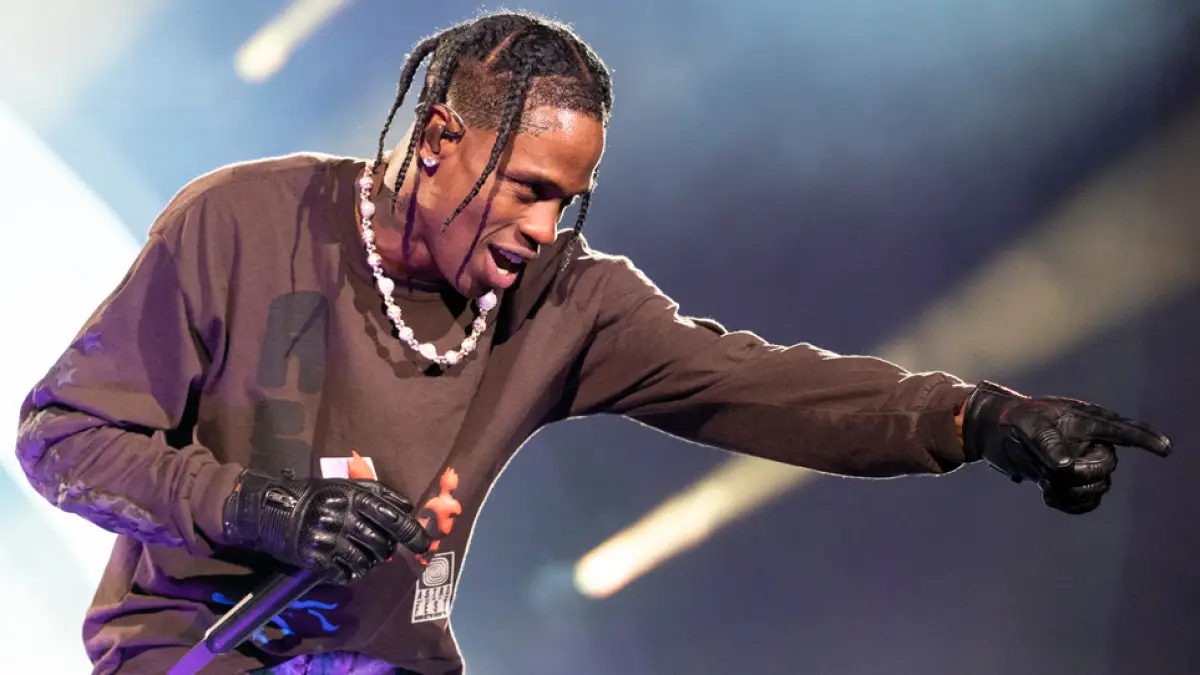 At a pre-Oscars celebration in Bel-Air, California, Travis Scott had his first performance since the Astroworld tragedy in front of attendees including Leonardo DiCaprio and Tobey Maguire, according to TMZ. During his brief set, Travis Scott was apparently in great spirits. It was the first time the rapper had performed in front of an audience since his failure of a show in November, when the crowd surge at Travis Scott's Astroworld festival resulted in the deaths of 10 individuals, among them a 9-year-old, from compression asphyxia. Needless to mention that the management behind that concert was beyond atrocious and should never happen again.
Also Read: Travis Scott's Private Jet Trip to California Shoots Down Ozone Layer With $3000 Worth of Fuel, 5 Tons of CO2 – Equal to 115,000 Miles in a Car
The Astroworld tragedy
Ten members of the audience perished at Astroworld during Travis Scott's headlining performance in early November 2021. On November 5th, 2021, eight people passed away, and two more died from their injuries a few days later. Travis Scott reacted by making a number of statements in an effort to provide sympathy to those who were injured or worse from his concert. Even going as far as promising to pay for funeral expenses for individuals who perished due to the Astroworld crowd crush. Additionally, he announced a collaboration with BetterHelp, an online treatment service, to offer free counseling to concert-related victims.
Also Read: Is The Rivalry With Kardashians Not Over For Taylor? Khloe Kardashian Likes The Meme Of Kris Jenner Allegedly Leaking Taylor Swift's Private Jet Data
Twitter reacts negatively to Travis Scott making his comeback
Twitter is not too happy with Travis Scott announcing his comeback. If anything, the rapper has received criticism for his announcement and the masses have made sure to dampen the mood of his celebration with their tweets. Due to the past actions of the singer which led to an unfortunate accident, people have deemed him unfit to be someone with influence as he doesn't seem to understand the responsibilities that come along with it. The couple that is Travis Scott and Kylie Jenner have received their own share of controversy in the past, however,  a deleted post from Kylie Jenner's TikTok video has also gained traction on Twitter recently as the rapper is shown acting outlandishly to celebrate his comeback.
Travis Scott sounds like a country singer's name.

Anyway, why's he screaming and kicking a door. Isn't this the dude who let a dozen people get trampled and die at his concert? Or was that a different auto-tuned mumble rapper with a name like a country singer?

— Dave D (@LawnessD) August 8, 2022
Fuck Travis Scott , are we just going to forget about the 6 people he got killed plus thousands injured just for him to continue performing at Astroworld with a ambulance driving through the crowd ?

— Keagen (@keagenwagner) August 7, 2022
This Travis guy is some retard smh it's not even funny anymore. As far as basketball goes, I'd say stay realistic. Durant not gonna join us, gonna stay in Brooklyn for at least one more year

— Prophecy comes true (@MathisMeyer8) August 7, 2022
What is Travis on😭

— Alex (@Lordbuck9t) August 8, 2022
HIS tragedy? Fucking asshole only cares abouy BIS success. He didn't give two shits about his fans getting trampled. Fuck Travis Scott! With a name like that, he should be singing country music anyway.

— Dave D (@LawnessD) August 8, 2022
The reaction from the social media platform makes it clear as day that fans are still bitter about the way the rapper treated the tragedy. However, minds may still change if Travis Scott manages to keep up his performances in a healthy manner, providing mental comfort for his fans would be the utmost priority for his future concerts.
Also Read: "Never Forget the Victims": Fans Accuse Travis Scott of Using His Family for Publicity After the Rapper Brings Kylie Jenner and Stormi to His Concert Amid Astroworld Accident Backlash
Source: Twitter