We all know that Green Lantern is yet to make an appearance in Zack Snyder's DCEU, but his past films may have already set the stage for his introduction. The DCEU kickstarted with 2013's Man of Steel which was full of Easter eggs for an extended DC universe. While the audience was treated with multiple references to Lex Luthor and Bruce Wayne through LexCorp and Wayne Enterprises, we didn't see much of Green Lantern.
Green Lanter's Arrival In DCEU May Just Be A Matter Of Time
2016's Batman vs Superman successfully managed to set the future that Snyder envisioned for DCEU as the movie introduced Wonder Woman and even teased her solo outing. The film also saw some brief cameos by Flash, Cyborg, and Aquaman ahead of 2017's Justice League. These four characters alongside Batman and Superman were later seen as the six members in Snyder's Justice League and the same characters were also seen at the centre of his version of Justice League. However, for all Green Lantern fans, the arrival of Hal Jordan still seems to be a matter of time.
Did Caroline Farris Ring A Bell?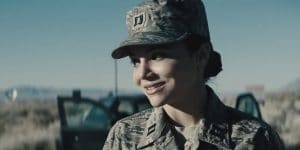 While Snyder never went on to cast Hal Jordan in the DCEU, he did try to subtly set him up in the shared universe. Man of Steel and Batman vs Superman: Dawn of Justice saw the introduction of Captain Carrie Farris – a name that most Green Lantern fans know – which is a clear nod to Caroline Farris who is also a longtime love interest of Hal Jordan in the comics. However, it is still unclear if Farris would be related to Hal Jordan if he ever gets to debut in the DCEU. While Farris has already played a small role in both Snyder films, we all know that director is someone who doesn't hesitate to go against the comic material. The character of Farris may have been an important part of Jordan's arc in the past but this doesn't mean that Snyder will keep it that way. We already know that she has an interest in superheroes as she calls Superman hot in Man of Steel so it will not be surprising for fans to see her romancing with another intergalactic hero.
While we are yet to hear from Snyder about Farris' appearance in his Justice League cut, the movie may definitely set up the stage for Green Lantern's introduction in the DCEU.