Singer Adam Levine is being accused of flirting with two more models while he was married. Comedian Maryka and model Alyson Rose have come forward to share that the singer has flirted with them as well. This comes shortly after influencer Sumner Stroh claimed that Adam Levine had a physical relationship with her in 2021. The singer has denied all affair allegations but apologized for his flirtatious messages. All these allegations come just one week after Adam Levine's wife, Behati Prinsloo, announced that the couple is expecting their third child. Adam Levine got married to Behati Prinsloo in 2014. Despite the allegations, the singer and his wife were spotted picking up their kids from school together on Tuesday.
Model Alyson Rose posted screenshots of her conversation with Adam Levine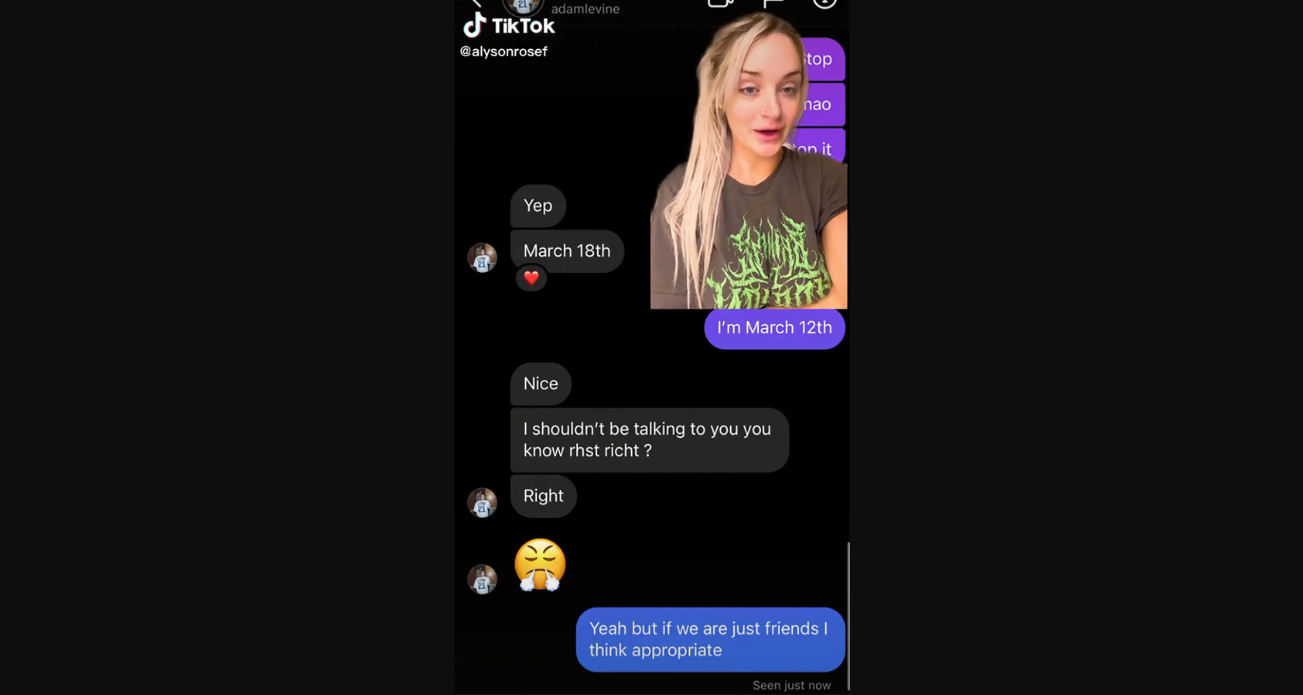 Model Alyson Rose posted her conversation with singer Adam Levine on TikTok. In one of the screenshots, the singer said, "I shouldn't be talking to you you know [that] right 😤?" She claimed she had "a lot more" messages but she did not share them because they are "not appropriate" and she "didn't feel comfortable posting everything." The model explained that she posted the screenshots because she felt bad for Behati Prinsloo. She shared a second TikTok in which Adam Levine said that "she's got him hooked." The model later deleted both videos.
Also read: 'Didn't have an affair, nevertheless, I crossed a line': Adam Levine Denies Affair With Instagram Model Sumner Stroh When She Was Just a College Student, Says 'will never make it again'
Comedian Maryka also shared her experience
Another woman, who goes by the name Maryka, revealed on her Instagram story that Adam Levine has messaged her as well. In the screenshots, the singer told Maryka that "he's obsessed with her." The comedian quickly replied, "Dude aren't you like married", to which Levine replied, "Yes but it's a bit complicated. Stuff gets hard and the vid thing didn't help. I might get away." In one of the messages, the singer asked her to "distract herself by f**king him". The comedian posted the conversations on her Instagram story and wrote "#exposeadamlevine."
Also read: "Don't let men manipulate that reality": Adam Levine Joins Clown List After Gerard Pique Cheated on Shakira, Cheats on Victoria's Secret Model Wife Behati Prinsloo With Random Instagram Model
Sumner Stroh accused Adam Levine of cheating on his wife
Influencer Sumner Stroh recently claimed that she had a "physical" relationship with the Maroon 5 singer last year when she "graduated college in 2021." The influencer posted the conversations she had with the singer on TikTok. The singer even asked her if he can name his third child "Sumner" if it's a boy. Adam Levine's wife, Behati Prinsloo, announced last week that they are expecting their third child.
Adam Levine later apologized for sending flirtatious messages to other women but denied any relationship allegations. He wrote on his Instagram story on Tuesday, "I used poor judgment in speaking with anyone other than my wife in ANY kind of flirtatious manner. I did not have an affair, nevertheless, I crossed the line during a regrettable period of my life." On Tuesday, the singer was spotted picking up his children from school with his wife.
You may also like: 5 Great Musicals of the Decade That are Overrated and 5 That Are Underrated
Source: Marca