Black Adam has kept fans waiting for around 8 years! Dwayne Johnson had confirmed that he would portray the role of Black Adam right in 2014. After the writers, Adam Sztykiel, Rory Haines, and Sohrab Noshirvani started their work, the film was scheduled to be released in December 2021. Although, the rise in the Covid 19 virus led the release to get postponed.
"I think we're just in a world right now where there was a huge and understandable freeze-up when the pandemic hit and a lot of productions were put on hold. Now that the industry has really roared back, the pipeline for VFX is so jammed. Obviously, all these superhero movies just require so much VFX, and we're just in a situation where the majority of the VFX houses are just completely swamped with work", reasoned Producer Hiram Garcia.
The Jaume Collet-Serra direction film is based on the DC Comics of the same name. The film is produced under New Line Cinema, DC Films, Seven Bucks Productions, and FlynnPictureCo., distributed by Warner Bros. Pictures.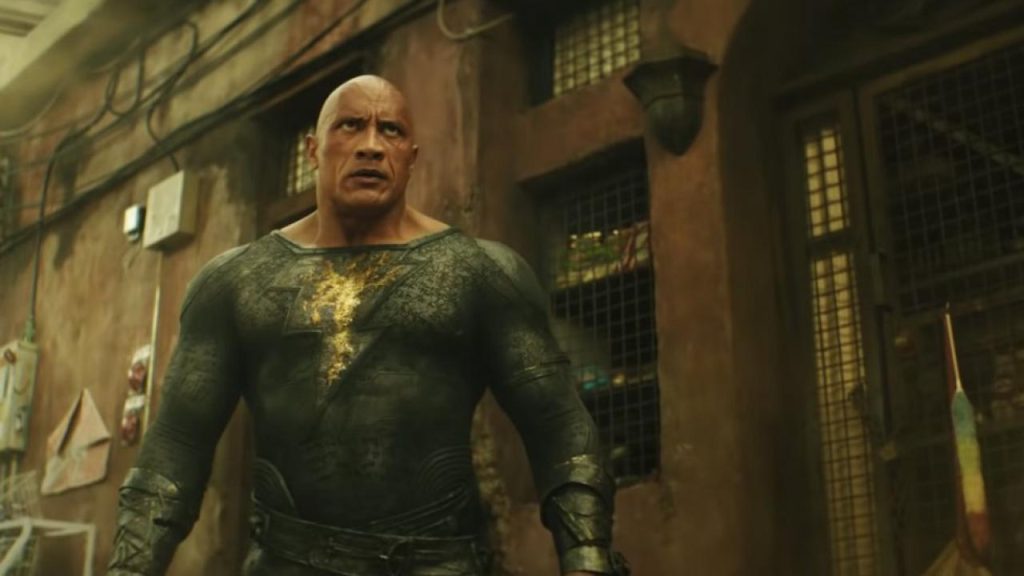 Related: Every Superhero In Black Adam, Explained
Black Adam Official Trailer Release
After a series of releasing the first poster and a teaser video for the film, the production has now put Black Adam's trailer out officially. Johnson is seen as 'Black Adam', a powerful anti-hero hero who is one of the archenemies of Shazam and the nemesis of the Shazam family. Shazam was played by Zachary Levi in the 2019 origin film of the same name. The film also has an upcoming sequel, Shazam: Fury Of Gods, set to be released next year. a sworn nemesis of Shazam. The mood of the film is dark, serious, and full of thrill.
"From New Line Cinema, Dwayne Johnson stars in the action-adventure 'Black Adam'. The first-ever feature film to explore the story of the DC Super Hero comes to the big screen under the direction of Jaume Collet-Serra (Jungle Cruise). Nearly 5,000 years after he was bestowed with the almighty powers of the ancient gods— and imprisoned just as quickly—Black Adam (Johnson) is freed from his earthly tomb, ready to unleash his unique form of justice on the modern world ", reads the official synopsis of the film.
Also Read: Black Adam Official Trailer Breakdown: Major Revelations That Could Redefine DCEU
Fans React to the Trailer Release
The first reactions from fans look like they are highly impressed by Rock's performance as Black Adam. They certainly love the trailer and are also taking a part in constructive criticism. Let us have a look at a few of them:
Dwayne Johnson is born for this kind of role. The visuals look good.

Is it me or does the trailer look poorly edited ?#BlackAdam https://t.co/7lRwjfvj08

— ShowtimeReviews (@ReviewsShowtime) June 8, 2022
I liked it enough but it lacked that extra bit of serious energy I was hoping for! I imagine future trailers with finished vfx and more score heavy music with proper editing can be epic! This was the intro trailer a story based one that gives MoS vibes is what I need! #BlackAdam

— Sunny Atwal (@DaddyDDarkseid) June 8, 2022
Black Adam trailer looks so good yooo 🔥🔥🔥🔥

— mana! semi-IA ━━━★ (@tauhuaytart) June 8, 2022
#BlackAdam trailer is absolutely bonkers.

Excited to see JCA there, hopefully we are getting a magnum opus

— TRUE CULER | FDJ✨SZN (@CulerFDJ) June 8, 2022
I've seen the #BlackAdam trailer, and I think the most impressive thing about it is making it look as if the beef castle that is Dwayne Johnson can fly.

— Matt Peters (@MightyInkMatt) June 8, 2022
I was hanging tight for this trailer for such a long time I am finally honored to see this. #BLACKADAM TRAILER COMPLETELY ROCKS!!
I'm super hyped. This is different from any other superhero flick

the best opening to an antagonist; They needed a hero. Instead, they got me.🔥💪🏻🖤

— thePJ (@pjexplained) June 8, 2022
Black Adam is set to release on October 21, 2022
You May Also Like: Ryan Reynolds Shows You How To Punch The Rock & Get Away With It