Elizabeth Olsen recently revealed that her upcoming Marvel Studios' series WandaVision will be "something unlike any other Marvel film yet." WandaVision will have the actress reprising her role as Scarlet Witch/Wanda Maximoff with her love interest in the MCU movies – Vision, played by Paul Bettany. Bettany added that the series would showcase the plot with the same level of expected action that is seen in Marvel films. 
Olsen and Bettany On WandaVision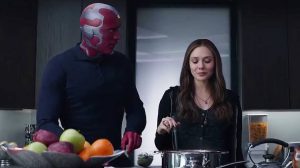 "It's gonna be whacky, and wild, and something unlike any other Marvel film yet," Olsen stated at Disney's D23 Expo, to which Bettany added, "I think the reason that Kevin [Feige] was really interested in doing it was to really push the boundaries. And what we're about to do is really avant-garde, really experimental, and really just crazy and messed up. And then it just becomes a huge action movie at the end. So I think you're all gonna love it."
WandaVision one of many Marvel series in collaboration with Disney+ 
The San Diego Comic-Con panel announcements had Fiege reveal the several Marvel TV series and movies that will be coming up as part of Marvel's Phase 4. WandaVision is only one of the many series that will be available for streaming through Disney+, along with Loki, Hawkeye, The Falcon and the Winter Soldier, She-Hulk, Ms Marvel, What If…? and Moon Knight. Each of the series will be correlated to their cinematic counterparts and will have the same amount of action as them. WandaVision will be directly influential towards Doctor Strange and the Multiverse of Madness, which will be released in theatres May 2021.
Kevin Feige On Upcoming Series 
"These episodes will intersect with the movies in a very big way. It's a totally new form of storytelling that we get to play with and explore," Feige announced at the San Diego Comic-Con. "It's the first long-form narrative that Marvel Studios has done — they'll be six episodes, eight episodes, 10 episodes with the actors from the films playing their characters. They'll be changing, evolving, growing in those event series and then those changes will be reflected in their next film appearances."
Watch the trailer for Avengers: Age of Ultron here:
Source: Comicbook, The Mary Sue