Some actors never watch their own work. It is important for them to not watch a movie they have acted in. And when Elizabeth Olsen revealed that she hadn't seen the Multiverse of Madness, people thought she was one of those people. But she disagrees. The actress said, "I'm not one of those (actors who doesn't watch her own movies). I'm one of those people who likes to study something so I can figure out how to make it better."
In an episode of The Tonight Show, she told the talk show host Jimmy Fallon why she hadn't seen the Marvel film, which has raked in over $950 million at the worldwide box office. And it was not what you would expect.
Elizabeth Olsen did not see the film because of a watermark
In the interview with Jimmy Fallon, Elizabeth Olsen revealed why she couldn't attend the premiere of Doctor Strange in the Multiverse of Madness. It was because she was down with cold. The cold prevented her from watching the premiere. Thus, she she asked for a copy from Disney. But she couldn't watch the copy Disney sent her. But what was the reason why she couldn't?
The copy which Disney sent her was accompanied by a watermarked screener Disney sent her. And the watermark distracted her. That is why she couldn't watch the film. Elizabeth Olsen told the Tonight Show host Jimmy Fallon,
"And so I asked them to send a copy so I could watch it, and it had my name on it and it had the time that I was watching it, and I didn't want to watch it like that." 
Also Read: How Doctor Strange in the Multiverse of Madness Delay Changed No Way Home
Fans say Olsen was "lucky"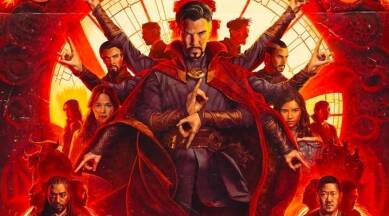 But Fans were quick to remark that it might not be that bad a thing for Olsen, given how the film was. Fans even called her "lucky" for missing out on the movie.
I refused to watch it without the watermark. I'm holding a news conference to answer related questions at 1 p.m. CST.

— Kenton Larsen (@kentonlarsen) June 30, 2022
Uh oh, the version I saw didn't have a watermark. They must have mixed up our movies!

— Scott Ecker (@ScottEcker3) June 30, 2022
The Multiverse of Madness was very hyped. But it couldn't deliver. That is why even though the movie has made a lot of money, it has been still criticised by various fans.
What's the future for Olsen in the MCU
As far as her MCU future is concerned, Olsen knows as much as we do. Variety has revealed that Olsen doesn't have any idea about what the future holds for Wanda Maximoff. This is because at the end of Doctor Strange in the Multiverse of Madness, Scarlet Witch's future was left unknown. It remains to be seen what Disney have in store for her.
Meanwhile, WandaVision character, Agatha Harkness, is all set to get her spinoff series. The character had emerged as one of the main villains of the series. And the possibility of a standalone Scarlet Witch film is also possible. Olsen remarked,
"I would love to be a part of both of those. No one tells me anything, and I'm not even hiding a secret, because I'm bad at that. I know nothing about my future. Keep spreading rumours and maybe they'll hire me again."
Elizabeth Olsen has starred in the Marvel Cinematic Universe's Doctor Strange in the Multiverse of Madness.
Also Read: Doctor Strange in the Multiverse of Madness: Creepiest Moments That Scared Us All