The megastar, Madonna who has pushed the limits of music through her musical talent is now garnering attention for all the wrong reasons. The musician, who is referred to be the Queen of Pop had been sharing rather concerning posts on her social media handles which has worried the fans about her well-being.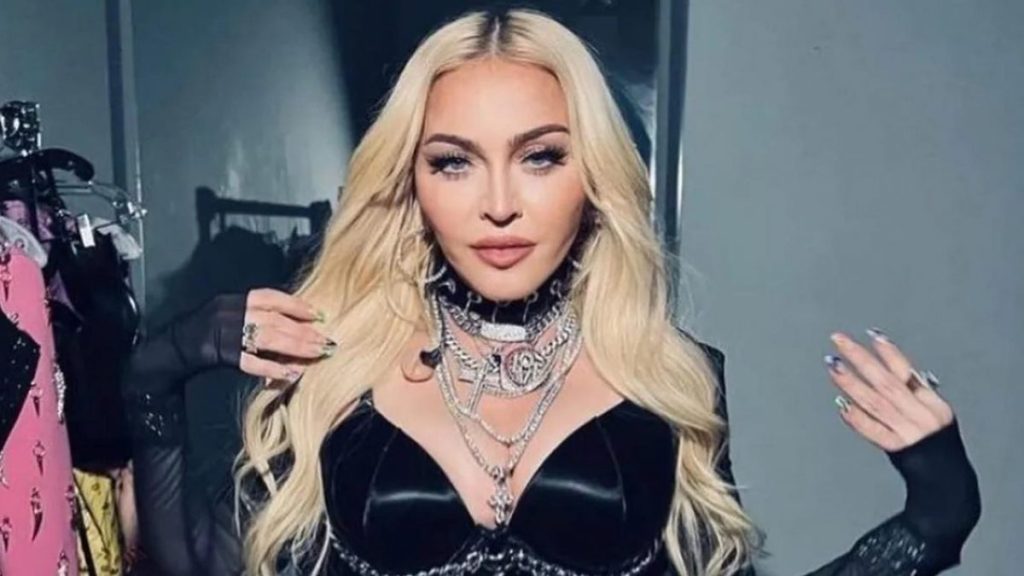 Also Read: After 50 Cent Called Her 'Grandma' and Almost Ended Her Career, Traumatised Madonna Drinks Water Out of a Dog's Bowl To Stay Relevant
Her recent social media activity is getting bizarre as the days are passing by. She recently uploaded yet another eerie video that made fans concerned about her. Her latest clip comes after hours of her video licking water from a dog bowl surfaced online.
Madonna Shared a Bizarre Clip on Instagram
Also Read: Fans Troll 64 Year Old Music Icon After She Debuts 'Chucky' Inspired Bleached Eyebrow Look To Stay Relevant
The 64-year-old singer has recently shared a clip on her Instagram story on Friday. Madonna could be seen staring peculiarly at the camera in a dark space from what seems to be a car.
In the background, her 1992 song, Waiting was being played with the same word written on her story as her clip plays.
Due to the dark space, her face was majorly spotted in the clip with the musician wearing simple makeup as seen in the video. Her plump lips were kept on display at some of the time in the clip. She also wore braids and sported a blue coat elevating her look with silver jewelry.
This is so far the latest clip that has surfaced online showing a "disturbing" behavior of the singer.
Madonna Called Out for Her Previous Bizarre Clips Uploaded on Her Social Media
Also Read: Madonna Goes Naked on Instagram to Embrace Her Sexuality Days After Hinting She's Queer
The mother of six had been showing off a different side of her on her social media platform. Due to that, she is getting major attention, especially for the video in which she was spotted drinking water from a dog bowl. Not only that, but she also posed s*xually with various objects.
That video left many fans shocked as they were not expecting that bizarre behavior from their idol. Many fans expressed their concern over many social media platforms including Twitter.
Check out the tweets below.
Ewwww just ewww… She is just gross now. Back in the 80's- mid 90's she was desirable. Now repulsive

— Quintavious Rothchild IV (@Gladivader) November 10, 2022
Some users shared their concern for Britney Spears as well along with the Like a Virgin singer regarding the singers' Instagram posts and stories.
Brittany Spears and Madonna Instagram feeds be concerning to me

— DJ PLAYBOY (@DJPLAYBOY) November 6, 2022
Between what is happening on Instagram with my heroes Madonna and Britney, and here on twitter overall, I've losing all hope in humanity.

— debbie millman (@debbiemillman) November 6, 2022
One fan was quite shocked over their idol's recent behavior.
please stop !! Where's the M I grew up with and admired!!! Where's the pure beauty and talent !!! WTF is this ?!?!?! 🤯🤯 https://t.co/BibiLcfn9I

— JoJo (@rwbjrp) November 4, 2022
Some of the fans found it rather disappointing and embarrassing because of her recent crude behavior.
Publicity hound. Pathetic.

— Roger Smith (@rogerjsmith58) November 12, 2022
Madonna's social media presence keeps getting more "disturbing" by the day after the singer shared an Instagram video where she licked water out of a dog bowl and posed sexually with various objects. "It's getting more and more embarrassing. It's not easy to be your fan anymore. pic.twitter.com/sEF7ZuQpvj

— Pandora @pandoramusic (@BreBb5) November 11, 2022
Not just that, she had also posted a series of concerning videos in which she expressed her thoughts in quite a different way. In one video, she danced in lingerie while in another, she was rapping about punching people in their faces. Due to these recent activities, fans from across the world are very concerned about her well-being.
Source: Instagram