The 74th Primetime Emmy Awards, which took place on the 13th of September, witnessed Pete Davidson in an unusual outfit. After his breakup with reality TV star Kim Kardashian, Davidson was spotted at the Emmys wearing an outfit that looked eerily familiar. The outfit holds a peculiar spot from Kim K's past and it left everyone thinking about what Davidson's intentions might be. The SNL comedian has been involved in a lot of drama after his breakup with the Kardashian.
Pete Davidson Copied Kanye West's Outfit for The 2022 Emmys
Comedian Pete Davidson attended the 2022 Emmys where he presented the award for Best Comedy Series. He was dressed in a low-key outfit that happened to have a major place in ex-girlfriend Kim Kardashian's past. Davidson wore a gray Dickies "Eisenhower" Jacket with matching gray trousers and white sunglasses. The outfit is nearly identical to one that Kim K's ex-husband Kanye West wore. West, 45, wore the same jacket in black for the "Camp" themed Met Gala in 2019.
You may also like: 'He hopes she knows he'll still be there for her: Pete Davidson Still Not Over Kim Kardashian, Reportedly Offers His Shoulder 'As a Friend' for Her to Cry on After Kanye's Online Rants
Kanye West Inspiring 'Skete' Davidson's Fashion Choices
The rapper's 2019 outfit seemed to have inspired Pete Davidson's 2022 Emmy Awards outfit. The Stronger rapper made an appearance in 2019 with his then-wife Kim Kardashian. His low-key outfit was an attempt to draw attention to Kim K's outfit adorned with a wet-looking Thierry Mugler dress and a waist-whittling corset that made all eyes turn over to her. Her sexy outfit raised controversy for the pair who argued about the dress on an episode of Keeping Up With The Kardashians. West argued,
"You are my wife, and it affects me when pictures are too sexy."
"You built me up to be this sexy person and confidence and all this stuff, and just because you're on a journey and transformation doesn't mean I'm in the same spot with you," Kardashian replied.
Related: "Everyone was shocked he was dating Kim"- Pete Davidson's Friend Says Comedian Was Tired Of Kim Kardashian's "Pathetic Love Drama" With Kanye West, Knew Kim Would Dump Him
Pete Davidson Trying to Win Kim Kardashian Back?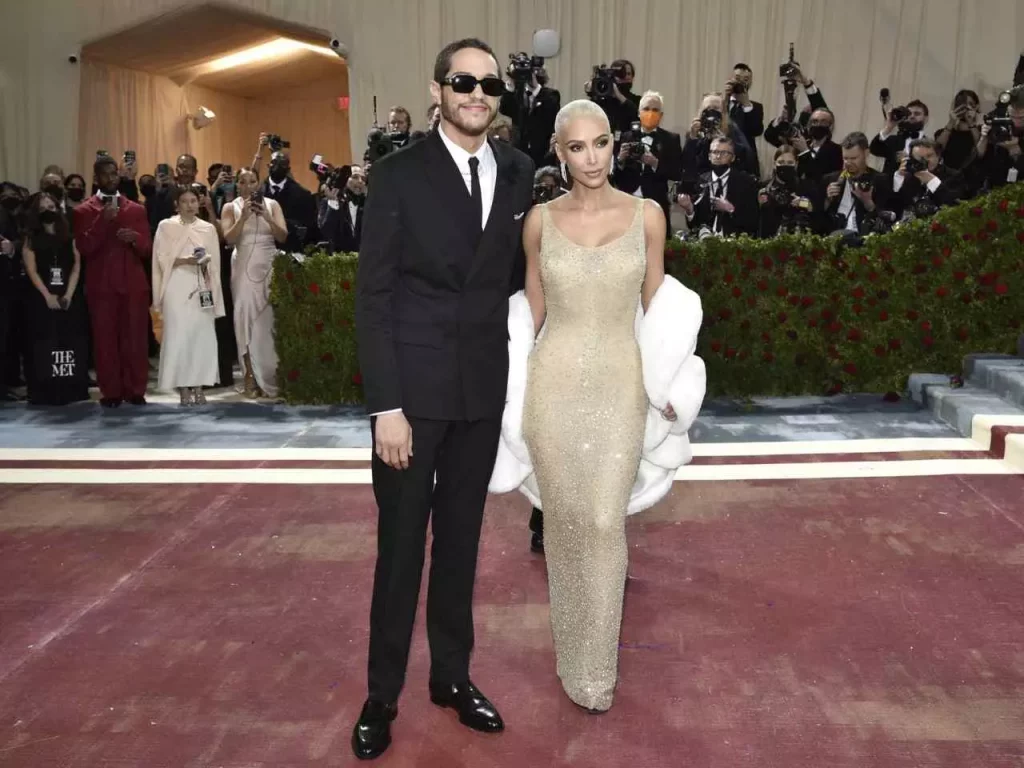 The King Of Staten Island actor's attempt at copying Kim Kardashian's ex-husband Kanye West's outfit seemed like an attempt to draw her attention to him. Davidson who is unapologetic about his choices may have pulled this stunt to be petty or just a harmless choice. Nothing could be confirmed after looking at Davidson's past life decisions. Davidson accompanied Kardashian for the 2022 Met Gala where Kardashian borrowed Marilyn Monroe's "Happy Birthday, Mr. President" dress.
The dress made her the center of attention for the night again. Maybe Davidson's look at the Emmys was a nod to the couple's past as well. Kim K bleached her hair platinum blond for the Met Gala in an attempt to fully capture Marilyn Monroe's essence. Davidson later followed her footsteps and dyed his hair blond too. After the pair separated, he went back to brunette.
Also read: "He's a cutie, they don't really make them like him anymore": Kim Kardashian Talks About Pete Davidson For the First Time After Breakup, Says She is Excited For Pete's Future in Hollywood
Source: Page Six