Once again, Marvel's Eternals is less than a year away. We would have seen it by now if it wasn't for COVID-19, but we've gotta wait until November 5, 2021. Luckily for Marvel, they haven't really marketed this big budget movie at all. Right when we were about to get the first trailer, the pandemic took over and Marvel delayed every one of their upcoming movies. And now, we shouldn't really expect a trailer until the next year. But hey, at least we're getting a few leaks. So that's pretty cool, I guess. Here, take a look at the suits of all Eternals, which have been revealed through the following tweet:
Le visuel de Eternals en entier du coup.

Oui, je sais pas coller des autocollants proprement, mais faut dire que ça faisait longtemps que je l'avais pas fait … https://t.co/IlgDDjHnlu pic.twitter.com/Fct3nZwaoG

— KINGDORADE (@maxdalorian) November 9, 2020
Back in 2019, Marvel revealed the first look at all the Eternals cast members at the D23 Expo. We were also given our first concept art back then. But now, this new leaked image reveals a better look at the suits of all the characters involved. All these characters are extremely powerful in the comics. They all have a certain set of abilities which are common amongst the Eternals. But they also have one or two distinct abilities, which make them different from each other. Although, the MCU might just give them their distinct abilities, and the only thing common amongst all Eternals will be their immortality. Now, we're going to discuss every Eternal character and their rumored abilities within the MCU.
Right in the center of the aforementioned leak, we see Ikaris (Richard Madden) levitating over all others. His reported powers in the film include flight, heat vision and cosmic energy manipulation. We suspect that he'd be as strong as the likes of Captain Marvel and Thor. In fact, you could think of him as a counter-part of Captain Marvel.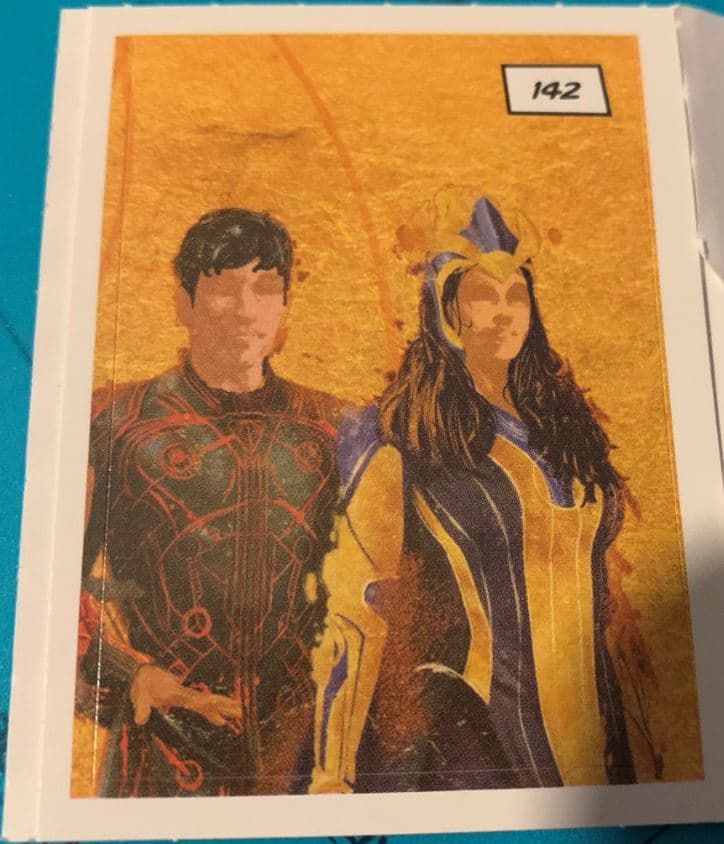 While Ikaris is the mightiest of all Eternals, he isn't the leader. That duty lies upon Ajak (Salma Hayek). She is the one who keeps her team, her family in check. And her reported ability is that she can heal others. You could consider her to be sort of a counter-part to Janet Van Dyne, who also has healing abilities in the MCU.
Druig (Barry Koeghan) is reportedly one of the antagonists in this movie. His special ability is that he can manipulate and torment people by making their fears come true.
Makkari (Lauren Riddloff) is the speedster of this team and she is tone-deaf. She has been gender swapped from the comics. You could consider her to be an MCU counter-part of Quicksilver, but her red suit will surely remind you of some other speedster from the Multiverse.
Kingo (Kumail Nanjiani) is the fast talking, wise cracking master combatant in the ranks of Eternals. He is a Japanese actor in the comics, but in the MCU, he will hide in plain sight as an infamous Bollywood move star.
Phastos (Bryan Tyree Henry) is the genius inventor amongst the Eternals. So, that puts him along the likes of Shuri, Tony Stark and even Rocket Raccoon for that matter. In the MCU, we will see him living a happily married life with his Husband (Haaz Sleiman).
Gilgamesh (Don Lee) is the forgotten one. He carries the strength of Hulk, so we really hope that he will be given ample screen time.
Sprite (Lia McHugh) is the Eternal who is stuck in a kid's body. She has the ability to create illusions, so expect her to be a miniature version of Loki himself.
Thena (Angelina Jolie) is the fierce warrior with superhuman reflexes. Rumors have suggested that she has been hiding a big secret for centuries (which is probably about the kid she once had with the deviant, Kro).
Sersi (Gemma Chan) is rumored to have psychic powers. She is the one who makes people forget about the Eternals' existence. But she falls in love with Dane Whitman aka Black Knight (Kit Harrington), who will appear as an archaeologist that learns the secret of Eternals. Sersi will probably be sent to make Whitman forget about Eternals, but she'd end up falling in love with him.
This is where the brief character study of all major Eternals comes to an end. Now you know what to expect from every one of these characters. Hopefully, we will soon get a trailer which will back these aforementioned powers of all Eternals characters.