MCU's latest superheroes team is the Eternals. This movie made news for various reasons. First, it is the first movie ever, directed by an Asian woman. Second, it has given us amazing heroes, and third, the Rotten Tomatoes score it has got. The movie was much-awaited and when it was released, it got a bad rating. However, was the rating justified? The fans' reactions show something else. Looks like the fans loved the movie and Rotten Tomatoes got it all wrong! Here are some of the reactions you'd love. This shows Chloé Zhao did an amazing job. Putting together so many characters in a time-bound movie isn't easy, but she did it well. Moreover, the actions sequels, the grip on the storyline and aesthetics, everything was on point. So, here's a list of fan reactions that suggest otherwise about the movie. We do not think the movie was that bad. Come on! Let us know in the comments how you found the movie to be!
1. Angelina Jolie At Her Best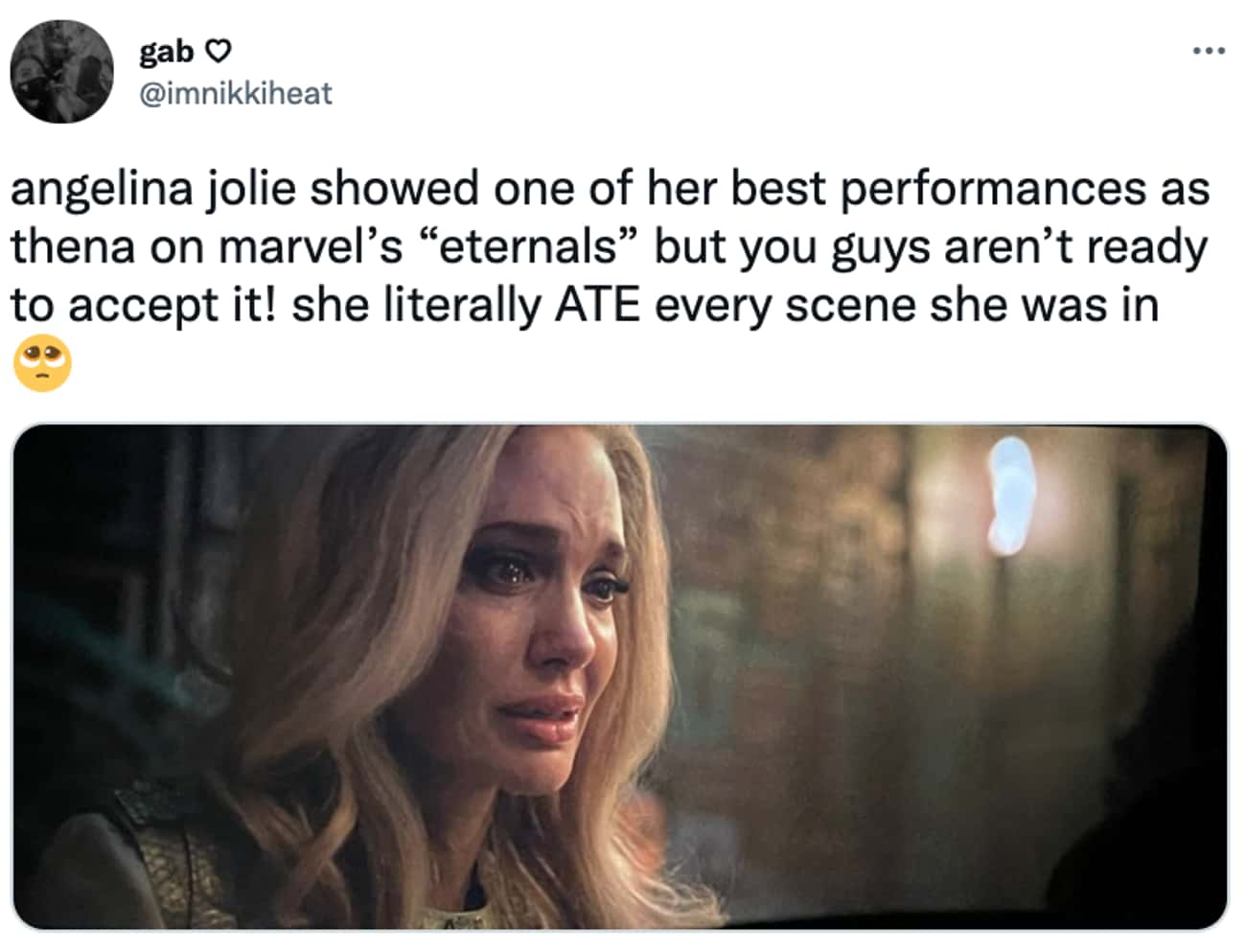 2. Out Of All The MCU Teams, Eternals Possibly Had The Best Chemistry
The #Eternals had more chemistry with each other right after arriving on earth than the Avengers ever had. The Avengers never quite became a family. Like, Gilgamesh stayed with Thena for centuries, and no one could as much as give Wanda a call after Endgame. pic.twitter.com/UOELX6nkGC

— ▪︎-|A|-▪︎drian (@akperdue) November 7, 2021
3. Phastos Is Such An Underrated Fighter
#Eternals spoilers
–
phastos was so good in the final battle he wouldn't let him catch a break, an underrated fighter pic.twitter.com/al0G4ZxQBz

— zach🎈 (@civiiswar) November 6, 2021
4. Lowkey Being Satisfied Everything He Was Getting The Hit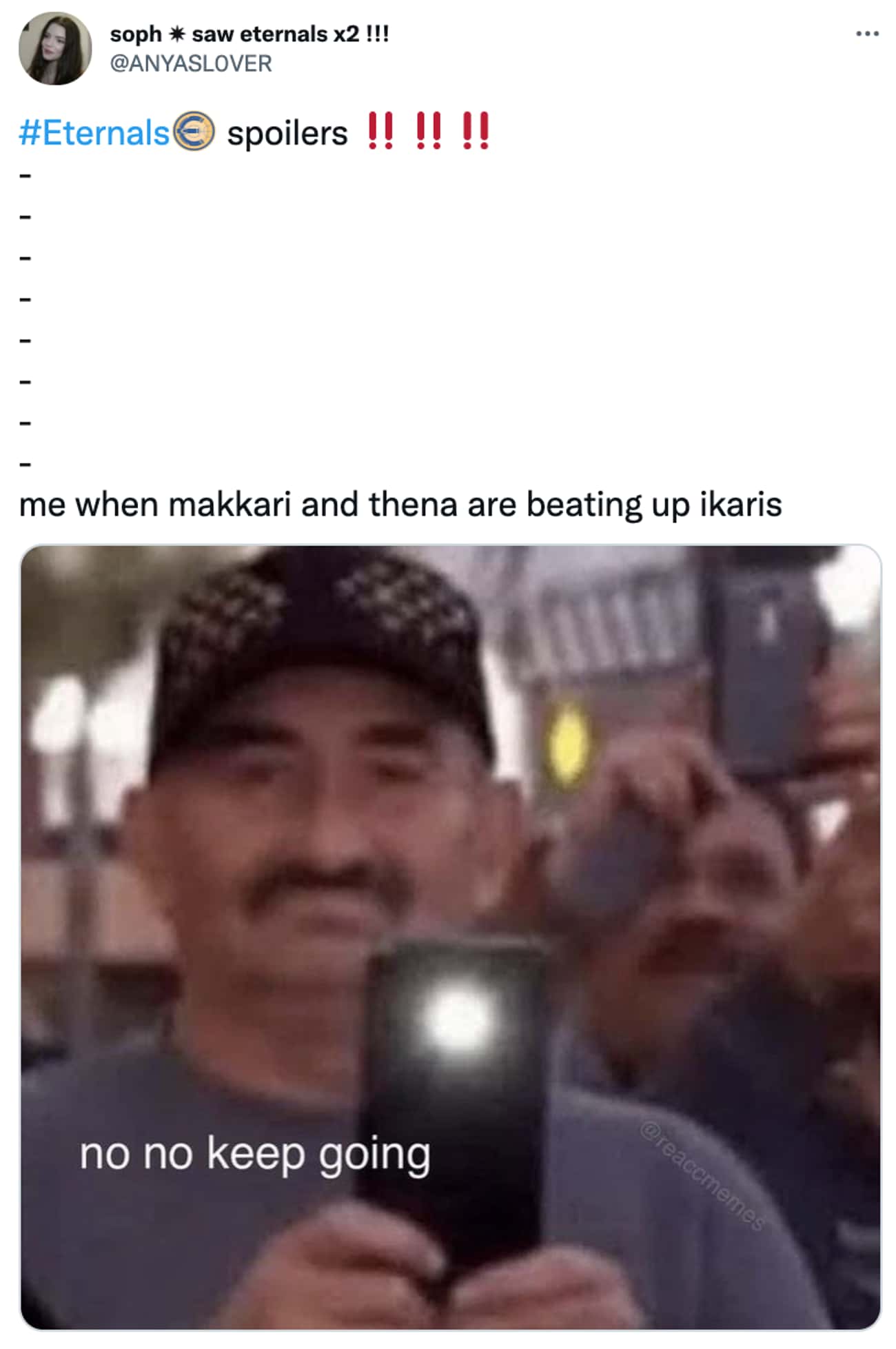 5. Well, Looks Like Critics Didn't Have The Eye For Such A Masterpiece
Y'all critics are smoking crack…….#Eternals is one of the most darkest beautiful and emotional Marvel movies of all time. The visuals are stunning and the cinematography is one of the best you'll ever see. Chloe Zhao did a marvelous job!!!!

Top tier Marvel for me!! pic.twitter.com/5cxum1qa2b

— EternalsTalks (@EternalsTalkss) November 5, 2021
6. Eternals Gave Us Two More Iconic Duos
The best duos in MCU.#Eternals pic.twitter.com/OC7g73TJsw

— Fangie • Thena Era (@J0LIESTHENA) November 6, 2021
7. This Scene Has A Separate Fanbase!
#eternals
the scene me pic.twitter.com/CAOp2SWIlr

— andre (@beIovafilm) November 7, 2021
8. Fans Are Rooting For One Eternal Couple. No, Not Ikaris-Seri. But, Makkari-Druig. Ah! Wish We Could See Them Together More
The ship you thought would steal the show vs. the ship that did steal the show. #Eternals pic.twitter.com/6LunhUCOe3

— Binge Watch This (@BingeWatchThis_) November 7, 2021
9. If You've Watched The Movie, You'd Agree That The Movie Is Bringing A New Era! Eternals Gives A Refreshing Vibe
#Eternals felt fresh, it isn't your typical Marvel movie. When u watch it in theater, u can feel a new era coming. U can feel the love put into making this movie. It's warm & beautiful. Locations shoot made is even more stunning.

& no, the entire film wasn't filmed on a beach. pic.twitter.com/btTjACVTfG

— 🧣Oswald Niehaus (@324B210) November 3, 2021
10. The Thought Wasn't Bad. Isn't It?
#Eternals spoilers
–
when druig said he's thought about mind controlling all of humanity to stop the violence like he's so powerful he just wanted to help people pic.twitter.com/81UmNuJGj0

— zach🎈 (@civiiswar) November 8, 2021
11. After All, The Movie Was Made To Please Us, The Audience. Right?
#Eternals
The critics are gone, honey.
They had to rush home. pic.twitter.com/nGYiFXzymv

— Chris is on his teen wolf era (@chrisdadeviant) November 6, 2021
12. Druig>Ikaris
anyways #eternals pic.twitter.com/h7vPErISa5

— soph 🥂 PINNED (@sophconfused) November 7, 2021
13. Karun Has Become An All-Time Favorite MCU Character
Let's be real, we all know this guy was the best character. #Eternals pic.twitter.com/eHqzRuYcJr

— Ajak's son | ETERNALS ERA (@eternalwhitman) November 6, 2021
14. Ikaris Just Doesn't Care
#Eternals spoilers
/
/
/
/
/
/
/#EternalsIkaris #Ikaris after being told about the emergence happening and the world being destroyed pic.twitter.com/7ZhWxCV6PC

— Ryan (@RyanPayner) November 5, 2021
15. Zhao Has Given One Of The Best To The MCU
Yeah, I loved this. Epic, genuinely emotional, meditative, character driven, uniquely tragic. Deviants subplot needed a bit more. But Zhao joins Snyder and Donner as one of the few filmmakers to fully embrace the idea of superheroes as myths. One of the MCU's best. #Eternals https://t.co/cWNATIl4JN

— Richard Newby (@RICHARDLNEWBY) November 5, 2021
16. But To Be Honest, Loki And Eternals, Both Are Awesome!
eternals did more for the lgbt community than the loki series ever could

— nico/ash (@tfatwsism) November 7, 2021
17. The Feelings In The Last Image Says It All
the way the whole internet is obsessed with them, IT FEELS RIGHT #ETERNALS pic.twitter.com/2t0DE04k3a

— Gabriel ⧗ (@dorksofprey) November 7, 2021
18. MCU Scene With These TWO!!!
I really dug #Eternals and I'm happy we can now have an MCU scene with these two: pic.twitter.com/2wJlX8BXZX

— Seth Rogen (@Sethrogen) November 8, 2021