Eternals is set to release on November 5, 2021, and people are already going crazy over it! Tickets are up for sale and many of us cannot contain our excitement. So, this was the perfect time to release a featurette to stir up the audience even more. On Monday, Eternals Featurette was dropped. What was it about? Why is it so important? Why is it being talked about to this extent? Check it out:
Eternals Featurette: Feige Says It'll Redefine The MCU!
The Eternals Featurette was released on Monday and since then it has stirred up everybody. It is safe to say that it was like a warm-up for the audience before they hit the theatres in November for the movie. Moreover, the MCU Boss Kevin Feige says that this will change and redefine the MCU as a whole. He claims that it will change everything the audience knows about the Marvel Cinematic Universe so far. This movie will redefine the MCU ENTIRELY says Feige.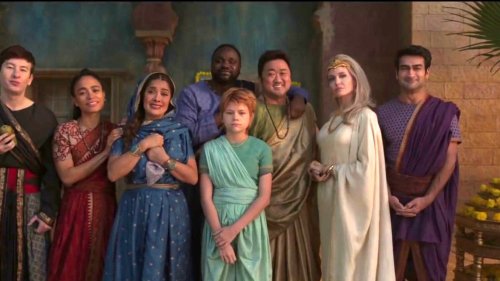 In the featurette, we can see the cast and crew discuss the project as to how it'll unfold. Director Chloé Zhao, the real mind behind the movie Eternals says, "Audiences will be discovering the origin of the MCU through the mythology of the Celestials." She further says,  "I think by the end of the film, we will have a new understanding of planet Earth's relationship with the cosmos, and also with her inhabitants. But in that sense, it [will] have a huge effect on the future of the MCU." Watch the featurette below if you haven't:
What Chloé Zhao Has To Offer?
Kevin Feige and the creatives at Marvel were keen to see Zhao bring her unique style to the MCU. Also, it might just freshen up the franchise, maybe? Zhao shared she used a few techniques in Eternals that she used in Nomadland. Looks like Zhao has given her best in this film! She said, "The cameras are very grounded, and the movements are very natural." She adds, "Shots are longer — we use wide-angle lenses and deep focus… It's about giving the audience the space and the time to be able to explore what's within the frame, and therefore come to their conclusion of the relationship between the characters and the space they're in."
Zhao says she has tried to keep it grounded yet fantastical. She has applied the same style to everything from action, to visual effects, to capturing the grand mythology of the Celestials in the Cosmos. All this is making me watch the movie RIGHT NOW, what about you? Moreover, the featurette has teased a lot with the snippets of the movie.
Eternals hitting the theatres on November 5, 2021.
Source: CBR.com