The votes have been tallied and the public has spoken- Euron Greyjoy is a terrible villain.
When Game of Thrones was going into season 7 , then actor Pilou Asbæk even suggested that Euron Greyjoy would make Ramsay Bolton look like "a little kid" and would prove to be a great ally to Queen Cersei . Everyone was genuinely thrilled because it seemed like the viewers were in for a scary ride. But that wasn't what we got.
What greeted us was a completely one-dimensional character who prances around making crude jokes and whose sole motivation seems to be wanting to sleep with the Queen Cersei. Along with this, his character and plot have made no sense since the very beginning.
Also Read: Bella's parent 'Banned' her from watching the Game of Thrones.
Why Euron Greyjoy Is A Bad Villain?
Let's give examples:
He demanded that his men build him 1000 ships on an island with NO TREES. The curious and mind boggling thing was that they were somehow able to do this and that too very quickly. Who is The Flash amongst them?
He is also touted to be some hot-shit captain but no amount of hard logic will ever be able to explain how he and his whole ass armada were able to sneak up on Daenerys' fleet THREE times. Wait, it gets more absurd from then on. He is also able to sneak up on Daenerys' fleet near Dragonstone when she was in the air and should have been able to see him. Inspite of it all, he is able to have multiple clear shots of Rhaegal and that too from a moving ship. Rhaegal truly deserved better than death by this Deus-Ex Machina Bad Captain.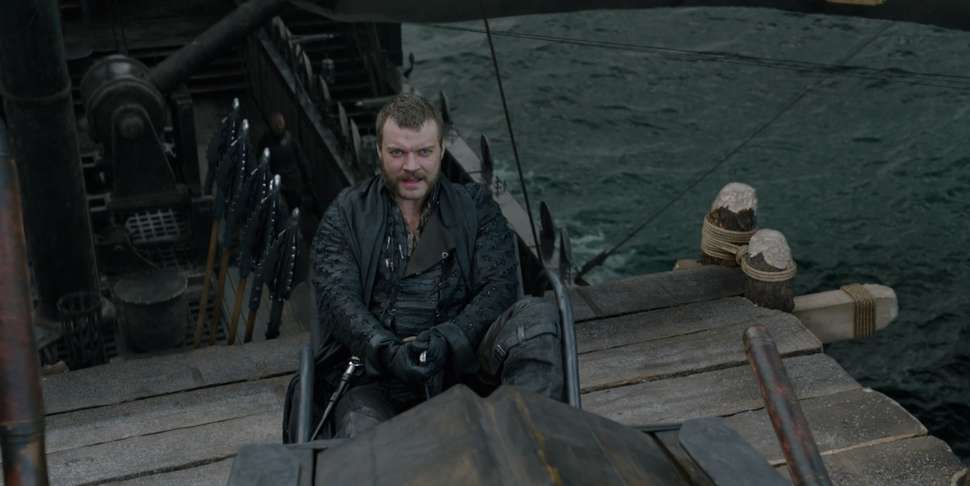 If you thought that this was the end of it then you are wrong. If the above makes no sense then what we are about to say will make your roll your eyes at the show. Euron after it all, managed to miss drogon entirely inspite of him being a closer and bigger target. The plotforce is strong with Euron that's for sure.
Euron is supposed to be a scary man but he didn't even torture or kill Yara. It wouldn't have been easy to watch but it made absolutely no sense as to why he kept someone alive who was such a big threat to him. Moreover, why would he leave her so unguarded that Theon and a small crew could easily rescue her? After that he didn't even give a single thought to the fact that she indeed escaped and reclaimed the Iron Islands.
Also Read: Starfire and Raven Costumes Appear in 'Leaked Photos' From 'Original Titans Finale'
Overall, Euron is a flatly written villain which is why isn't not even fun to hate him. He is also not as funny as the writers want or think him to be. We aren't the only one saying this, the internet is too!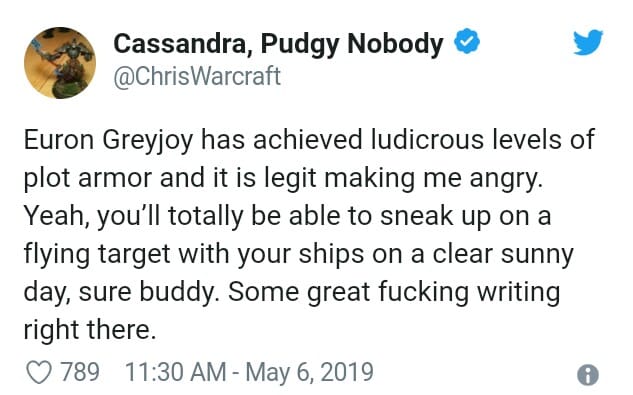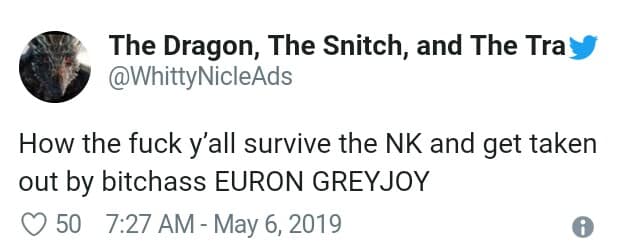 Here is the official trailer of Game Of Thrones Season 8:
(Source: buzzfeed.com and vulture.com)