Comic book writer Mark Millar gave an aggressive opinion about DC's upcoming Aquaman film, saying that it puts the current MCU films to shame. The film directed by James Wan is the only entry by DC this year and will see the story of Arthur Curry starting from the ending of Justice League.
Aquaman is being played by Jason Momoa who will go on a quest to find King Atlan's Trident with Mera, played by Amber Heard. If Aquaman manages to get hold of the Trident, he will be able to control the seven seas and can also dethrone his brother King Orm to become the king of Atlanta. The marketing of the film started way back at the San Diego Comic-Con and an extended trailer was released at the more recently held New York Comic Con.
The extended trailer was released online by Warner Bros. on October 5 and it got many positive reactions from both, fans and critics. Even comic book writer Mark Millar, best known for writing Kingsman, Wanted and Kick-Ass. He even wrote Marvel's Civil War. Here's what he said after watching the trailer for Aquaman: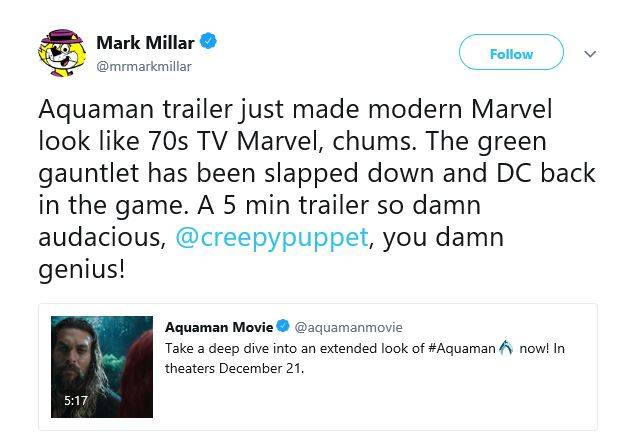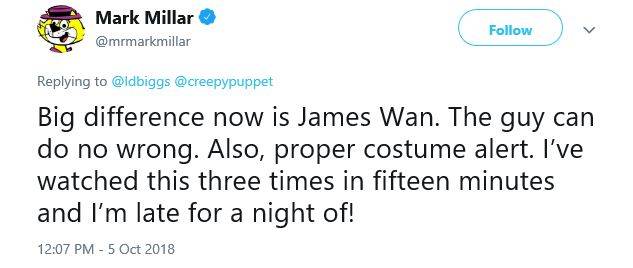 We all are aware that DC has been struggling with making good films in the recent years, despite the fact that all these films have been successful at the box otheatresxcept one or two mistakes, DC usually excels in making good trailers. However, we do hope that Wan's Aquaman is actually as good or even better than what it looks.
Aquaman hits the theaters on December 21, 2018.