Following Disney's acquisition of George Lucas' Lucasfilm in 2012, one of the most amusing quirks of the Disney age of Star Wars has been the rising re-evaluation of Lucas' poorly received prequel trilogy. A prominent problem related to Disney's era of Star Wars Spin-off films and TV shows has been the gap and backstories. The more gaps they try to fill or the more backstory of big characters that are illuminated, the less intriguing and tiny the universe becomes. Obi-Wan Kenobi sees Ewan McGregor's stoic Jedi still lurking on Tatooine, where he has assigned himself the sacred purpose of safeguarding the young Luke Skywalker.
Obi-Wan Kenobi is directed by TV veteran Deborah Chow, from scripts by showrunner Joby Harold. In reality, Obi-Wan is a shattered man, plagued by the fall of the Jedi, the death of his comrade Anakin (who Obi-Wan had no idea survived to become Darth Vader), and trapped in a daily cycle of drudgery and boredom. The character gets his finest live-action focus yet in the new streaming series, but the comics paint a complicated and occasionally contradictory portrayal worth delving into.
Obi-Wan Kenobi was a 'Hesitant Leader' 
The Star Wars: Republic Dark Horse series' "Defense of Kamino," one of the finest Star Wars comic arcs, depicts Obi-Wan as a hesitant leader. Obi-Wan chastises the Jedi for being converted into warriors and generals, which forces them to make judgments that are often at odds with their core ideals. When Leia asks if the lady she reminds him of is a Jedi, Obi-Wan responds with a sharp remark in Obi-Wan Kenobi's second episode. He says, "No. She was a leader." His resentment derives from his discontent with the Jedi becoming generals during the Clone Wars.
Last Stand on Ord Mantell
Obi-Wan Kenobi's friendship with Qui-Gon receives far more emphasis in comic books than it does in live-action films. Many stories, like Last Stand on Ord Mantell, are shaped by their history, which dates back to when Obi-Wan was a kid. Ord Mantell was initially presented in one of the finest Han Solo original trilogy quotes, and the comic book mini-series expands on the mysterious planet for the first time. Obi-Wan and Qui-Gon look for a lost ship there, but the Jedi are greeted with minimal regard.
Obi-Wan Kenobi Hunted Asajj Ventress
He chased Asajj Ventress in the comic book mini-series Star Wars: Obsession, much like the Inquisitors do currently. This narrative follows Obi-Wan as he contemplates retribution in order to finally put an end to the Dark Side user. Obi-Wan seldom shows signs of being tempted by the Dark Side, directing his rage primarily at Darth Maul and Anakin in their respective confrontations. Obi-Wan has limitations, which may be pushed depending on the circumstances, as shown in this series.
The Auorient Express
Obi-Wan was taken aboard luxury starliners in certain prequel adventures, such as Star Wars #24. Obi-Wan and his master Qui-Gon Jinn attempted to save the titular cruiser from impending disaster in the Auorient Express mini-series. This anecdote took place early in their relationship and shows how well they worked together. As the cruiser enters the atmosphere of a gas giant, the Jedi board, exposes the cruiser and its numerous passengers to hull-crushing pressure.
The Journals Of Old Ben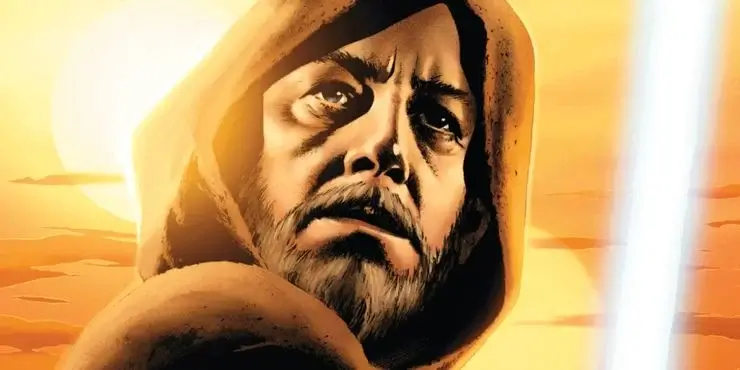 Obi-Wan keeps journals about his life in the miniseries, and those journals play a vital part in another episode featuring the character. Obi-Wan's experiences in exile on Tatooine are revealed in Star Wars #7, which probes into those journals.  For its intelligent approach to continuing Obi-Wan's mentoring of Luke Skywalker through his writings, this issue rates among the finest Obi-Wan comic books ever. His works are still included in the comics, and they may even appear in the live-action series.