Hailey Bieber, the daughter of Stephen Baldwin, recently uploaded a video featuring a discussion between her and the famous MCU actress, Gwyneth Paltrow. The duo discusses skincare and recipes among other topics within Hailey Bieber's bathroom.
The conversation had quickly taken a turn for the worse when the MCU actress made quite the controversial joke about sleeping with Hailer Bieber's father in her earlier days as an actress.
Gwyneth Paltrow appears in Hailey Bieber's vlog series 'Who's In My Bathroom?'
Who's in My Bathroom? is a YouTube vlog series by the media star, Hailey Bieber. It is in essence, a talkshow featuring multiple celebrities discussing about anything ranging from thought-provoking topics to homemade recipes. The show's most recent guest appearance was Gwyneth Paltrow, the entrepreneur for her company Goop' for her for a variety of reasons, one of them was to learn how to make "mint chocolate chip"
Also Read: 'She Loves To Remind Us How Privileged She is': Fans Troll Gwyneth Paltrow For Not Accepting Hollywood Nepotism Built Her Career, Claiming Celeb Kids 'Work Twice as Hard'
The actress makes a bold sexual joke within 1 minute of the video's runtime
Within the episode, Gwyneth Paltrow talks about the movie where she acted alongside Hailey Bieber's father, Stephen Baldwin. "Well, it was a tiny independent movie. I think I was like 20 years old, so it was a really long time ago. But he was great. He was so nice. Yeah, it was awesome."
The movie in question was Alan Rudolph's 1994 Dorothy Parker biopic Mrs. Parker and the Vicious Circle. After that, Hailey Bieber jovially brought up the topic of having any horror stories related to the filming with her father. "I like hearing that. Imagine if you had some horror story – 'He was terrible! It was a nightmare working with him!'"
That's when the actress dropped the bomb that seemingly came out of nowhere. "That would be bad. Or if I, like, f*cked your dad in the bathroom?". However, Hailey Bieber takes adapts quickly to that joke by adding more to it. "I've had that happen to me actually. I don't know if he even knows that I know that. But I've had that happen."
Fortunately, Gwyneth Paltrow quickly threw diffused the situation by denying any meaning behind the joke ."I didn't! I didn't!"
Also Read: 'Europeans Really Value Quality of Life': MCU Star Gwyneth Paltrow Subtly Trolls America – The Country That Bred and Raised Her Career, Says There's a Noticeable 'Difference'
What is Hailey Bieber up to nowadays?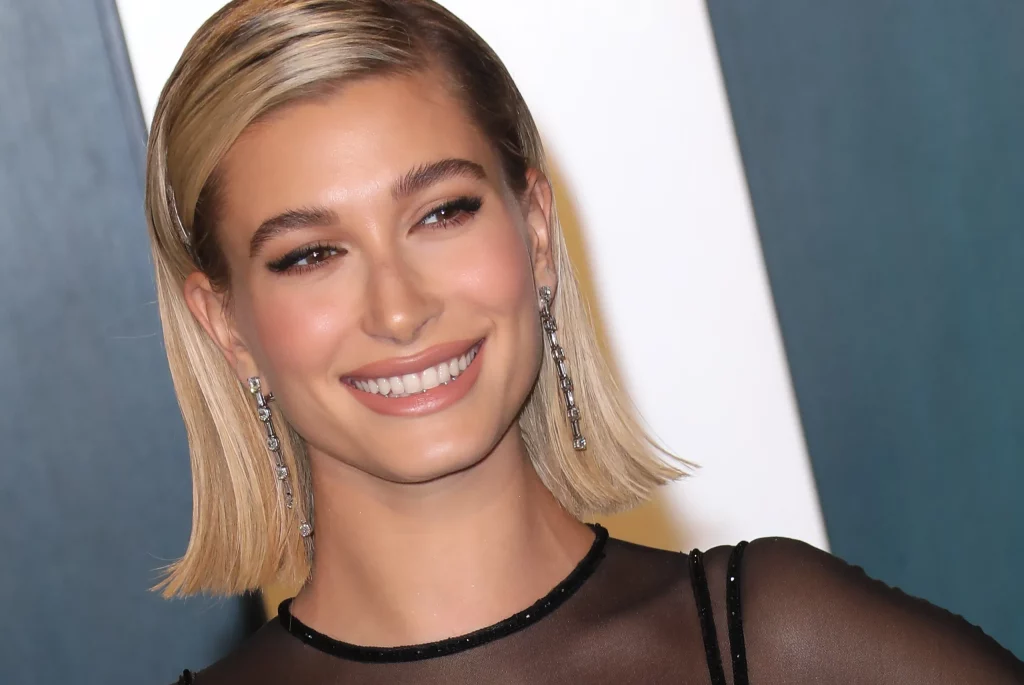 A 9-year-old fashion firm that bears the name of Hailey Bieber's skincare line, Rhode—her middle name—has filed a complaint against her for trademark infringement since the singer debuted her Rhode skincare line last month.
According to documents made available to PEOPLE, Purna Khatau and Phoebe Vickers, co-founders of RHODE, requested a preliminary injunction directing Bieber to stop using the name "Rhode" for her brand from the U.S. District Court for the Southern District of New York. According to a statement made to PEOPLE, they also requested that she modify the name of her company.
However, The trademark lawsuit still continues.
Source: People
Also Read: 'They Hired Me When Nobody Else Would': MCU Star Gwyneth Paltrow Confirms Weinstein Brothers Ignited Her Career, Harvey Weinstein Reportedly Invited Her to Bedroom