If a list of Hollywood's most popular female personalities was to be made, the name of Salma Hayek would definitely be on it. The actress is known in the industry for her jaw-dropping looks and for being an absolute diva. She has ruled over the fans' hearts for decades. After being in the industry for more than 3 decades, she has acted in a good selection of movies – From Dusk Till Dawn, Wild Wild West, Frida, Desperado, and Marvel's Eternals.
Also Read: MCU Star Salma Hayek Has Some Secrets You Didn't Know About
Salma Hayek shares one of her most horrifying experiences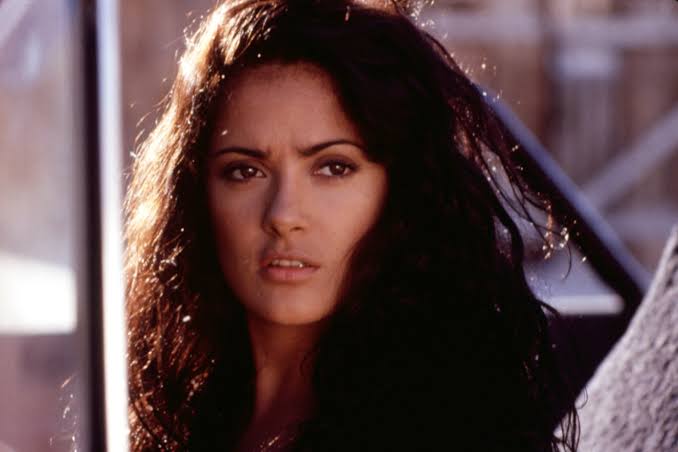 But even Hayek had to go through her fair share of struggles. One of them came when she was acting in Desperado. Desperado featured Salma Hayek acting alongside Antonio Banderas. The movie was amazing and established her name in Hollywood. But it also gave her one of the most dreadful moments of her career.
In one of the scenes, she had to share an intimate moment with her co-star Antonio Banderas. And Hayek was scared by the very idea of getting physical with him.
Also Read: 'Tom Cruise? Third-wheeling? Surprising Times Indeed': Fans Troll Top Gun: Maverick Star After He Was Spotted Having Dinner With Hayek & Husband François-Henri Pinault
It was all because of Antonio Banderas
The 1995-film had a s*x scene between the two actors, a scene which became very famous sometime down the line. But at the time Hayek was terrified of the idea of doing that.
Also Read: Salma Hayek Talks About Harvey Weinstein's On-Set Behavior With Actresses
In an interview with the Armchair Expert Podcast, the actress said,
"One of the things that I was afraid of was Antonio. Because he's an absolute gentleman, super nice and we are still very close friends, but he was very free. It was scary because for him it was nothing and that scared me because I've never been in front of someone like that."
She even specified in great detail how it all went down. She said,
"In that situation (the sex scene), I started crying. 'Oh my God, you're making me feel terrible.' I was so embarrassed I was crying. I was not letting go of the towel, and they would try to make me laugh. I started crying again but we got through it."
Salma Hayek couldn't be more thankful to the crew
Looking back, Hayek notes that the whole crew was very supportive of her, without which she wouldn't have gotten through the scene. She heaped special praise on Antonio Banderas for "never putting pressure" on her. That was when she was at the start of her rope. Now she has acted in a large number of renowned movies. Hayek was last seen in House of Gucci, directed by Ridley Scott, co-starring along with Lady Gaga, Adam Driver, Jared Leto, Jeremy Irons, and Al Pacino. No doubt she has come a long way.
Also Read: 'She's lining her up with hot dates': Angelina Jolie Reportedly Moving On From Brad Pitt As Salma Hayek is Setting Up Eternals Co-Star With Hottest Studs
Source: Armchair Expert Podcast