Looking youthful and ageless is evidently becoming an obsession for many Hollywood celebrities. The infamous Kardashians along with several other models and Hollywood actresses have been criticized for being overly obsessed with youth, so much so that they didn't hesitate before putting their bodies through cosmetic surgeries. Recently the former glamour model Katie Price faced attacks from her fans on Instagram for her youth obsession when she used filter on her son's face.
The infamous model became a hot topic in 2022 after she posed for having enormous b**bs in Britain. Price went under the knife to have her 16th br**st augmentation in order to fulfill her wish. The former glamour model, at a recent event, was bashed by her Instagram fans for using a filter on her 9-year-old son. 
Also read: "It was that bad that I tried to commit suicide": Katie Price Reveals Horrifying Details About Her Life After Getting Arrested
Netizens attacked Katie Price for putting a filter on her 9-year-old son
The mother of five, Katie Price was found leaving a clinic in Belgium where she reportedly went to have her br**st augmentation. Despite being warned by cosmetic surgeons to no more treatments, Price willingly went under the knife for the 16th time due to her obsession with bigger cup sizes.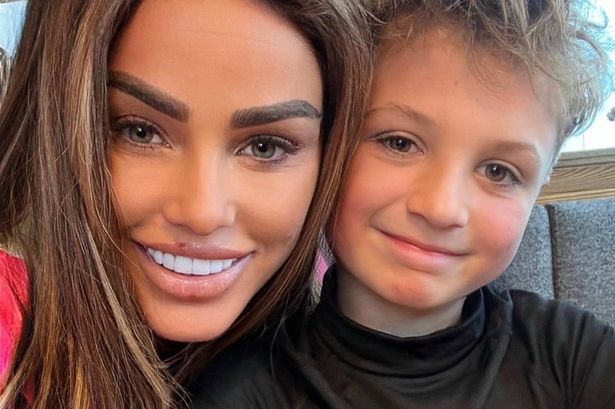 Irrespective of being warned by doctors to give up on her cosmetic addiction, Price seems to have undergone over a dozen cosmetic treatments including liposuction, facelift, b**b surgeries, and more. Her fans were concerned and to some extent disappointed with her obsession, which led to the former model facing a lot of hate, online. However, recently the 44-year-old has been accused of using filters on her children. 
Katie Price uploaded a beaming photo with her 9-year-old son, on her Instagram, on 27th January 2023, with a touching caption. Nonetheless, the model faced extreme criticism in the comment section of her Instagram post for putting a filter on the photo. The mother and son duo posed in a restaurant to have quality time when she snapped the image with her son and posted it on Instagram with a long and touching caption. In spite of the heart-touching post, fans seemed hooked to the filter on her son's face. 
Also read: "If you don't do it we won't book you again": Kate Moss Was Forced to Pose Nude at 16 Years Old, Admits She Was Insecure About Her Flat Chest
Katie Price was bashed for her obsession with filtered photos of her children
Katie Price posted on her Instagram, a photo with her 9-year-old son whom she shares with her ex-husband Kieran Hayler. The mother of four wrote in her caption that her son was not feeling good lately, which is why she was spending quality time with her child to make him feel better. Despite posing as a good mother, netizens slammed her in the comment section for using a filter on her child. 
Her fans didn't seem to be moved by her caption, instead shamed her for filtering her young son's face before posting on Instagram. Katie Price's fans wrote "Still filtering the pics." along with other slamming comments like "Stop using the filters Katie, especially on photos with your kids."
However, fans were not entirely surprised by her action, since, a week ago Katie Price posted another image with her daughters, using filters on them as well. Fans were almost getting habituated to her obsession with staying young and attractive until she posted images with her children covered with filters. Now fans simply seem to call her out for using "too much filter". Fans and netizens simply seem to slam her with comments like "The filter overload, can't you think of anything else to do with your lovely daughter than photoshooting,"
After witnessing Katie Price's obsession with filters, fans simply seem to beg her to stop using them on her children's photos and let them be as pure as possible. 
Read more: Heidi Klum, 49, Makes 18 Year Old Daughter Leni Pose Wear Lingerie to Photoshoot as Fans Facepalm
Source: Instagram