https://youtu.be/HJJKERmYPuY
Game Of Thrones: Jon Snow finds out that Daenerys is his aunt!
The Game of Thrones Season 8 premiere Watched Jon Snow (Kit Harington) find lover Daenerys Targaryen (Emilia Clarke) is his aunt, sending the World Web into a frenzy.
The revelation of Jon's authentic lineage arrived after Sam Tarly (John Bradley) told Jon he is actually Aegon Targaryen, authentic heir to the Iron Throne, the son of Lyanna Stark (Aislin Franciosi) along with Rhaegar Targaryen (Wilf Scolding), rather than a bastard as formerly considered.
Also Read: Predictions for Game of Thrones Season 8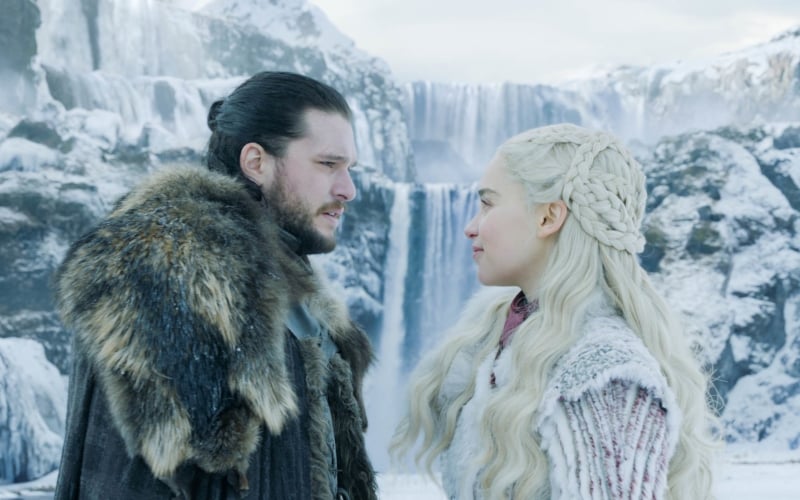 Though initially angered father Ned Stark (Sean Bean) whined to him his whole life, Jon came to know he'd have been killed by Robert Baratheon (Mark Addy) were not spared from the lie.
Twitterati frenzy
Nevertheless, this Game Of Thrones news prompted fans to go on a frenzy on Twitter:
Also Read: Limited Edition Game of Thrones themed cans released by Mountain Dew
When you realize you slept with your own Aunt ???#GameofThrones pic.twitter.com/nvoMmL5QDE

— #ForTheThrone (@Jpaul254) April 15, 2019
When Jon realized he fucked his aunt #GameofThrones: pic.twitter.com/LPpdhcPguK

— Dumbass (@renaissance238) April 15, 2019
TFW you learn you're the rightful king at the same moment you realize you've been crushing on your aunt #GameOfThrones pic.twitter.com/38XrE8mR9r

— Cookies + Sangria (@CookiesSangria) April 15, 2019
when you realize you're in love with your aunt but also that you are heir to the throne and not your aunt, the woman you're in love with #GameofThrones pic.twitter.com/qUV9Hl0JCE

— nina (@nina_zaremba) April 15, 2019
Finally John Snow knows he's been sleeping with his aunt #GameofThrones pic.twitter.com/POhoe4cF5M

— DoBetter2BeBetter (@mrsdjordan24) April 15, 2019