The rights to Ghost Rider are now back with Marvel. It is only a matter of time till we see a movie. And when it happens, these are our picks for the characters in it.
Johnny Blaze – Norman Reedus
We start with the most obvious choice for the eponymous role of Ghost Rider. Norman Reedus has made quite a name for himself in The Walking Dead series. And he has been quite vocal about his intentions to play the Ghost Rider of Marvel allows him to. He is a biker nerd. He got that rough and rugged look Johnny Blaze is also famous for. Reedus is born to play the role of a conflicted stuntman/biker who is haunted by the mistakes of his past, hosting a power straight from the depths of hell as he is on the run from mysterious benefactors hell-bent on capturing their most prized possession.
Also Read: All Harry Potter HBO Max Series Fan Casting, Ranked
Mephisto – Ian McShane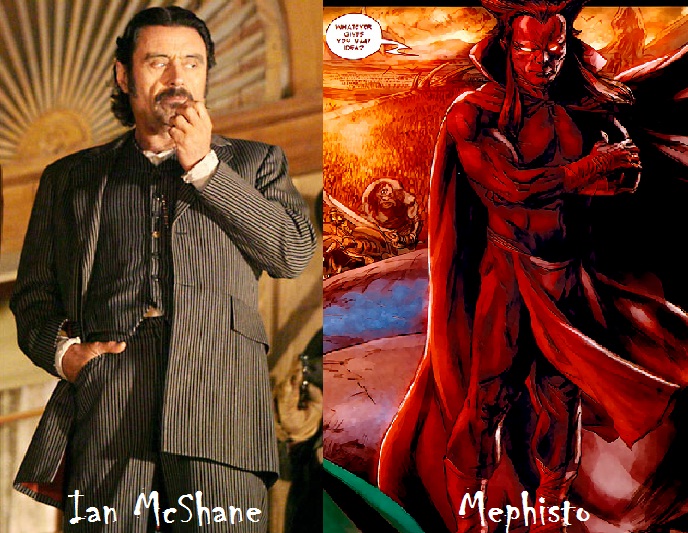 Ian McShane is a rather famous name in the world of show business. From movies like Death Race, the John Wick franchise, and The Golden Compass, he has had his fair share of participation in the genres of action and mysticism. His recent portrayal of Odin in the acclaimed series American Gods, won him multiple accolades. Mephisto has been played by Peter Fonda and Ciaran Hinds in the previous Ghost Rider movies. Both failed to have a larger impact. Ian McShane, we believe, have what it takes to leave a lasting impression on us. Mephisto is a villain who de3mands respect and McShane's acting chops could very well help deliver the same.
Blackheart – Bill Skarsgaard
A rather underrated villain in Marvel, Blackheart is the son of Mephisto. He is destined to grow more powerful than his father and would one day usurp the throne of Hell. Blackheart is a being literally born out of human anguish and pain. Mephisto created him out of the accumulated evil energy after centuries of murder and chaos in a locale called Christ's Town. Wes Bentley portrayed Blackheart in the first Ghost Rider movie. The new MCU Ghost Rider movie could rope in Bill Skarsgaard to play the role of the reality warping hell-spawn.
Roxanne – Eiza Gonzalez
Eva Mendes' portrayal of the character was less than satisfactory. Rozanne is one of the most important characters in the entire Ghost Rider universe. To reduce her into a freaking damsel of distress was an affront. Eiza Gonzalez is a very accomplished actress, having worked on movies like 6 Undergound and Godzilla vs. Kong. Her Latinx heritage would also come in handy since Roxanne has historically been portrayed by Latinx women in the movies.
Robbie Reyes – Tyler Possey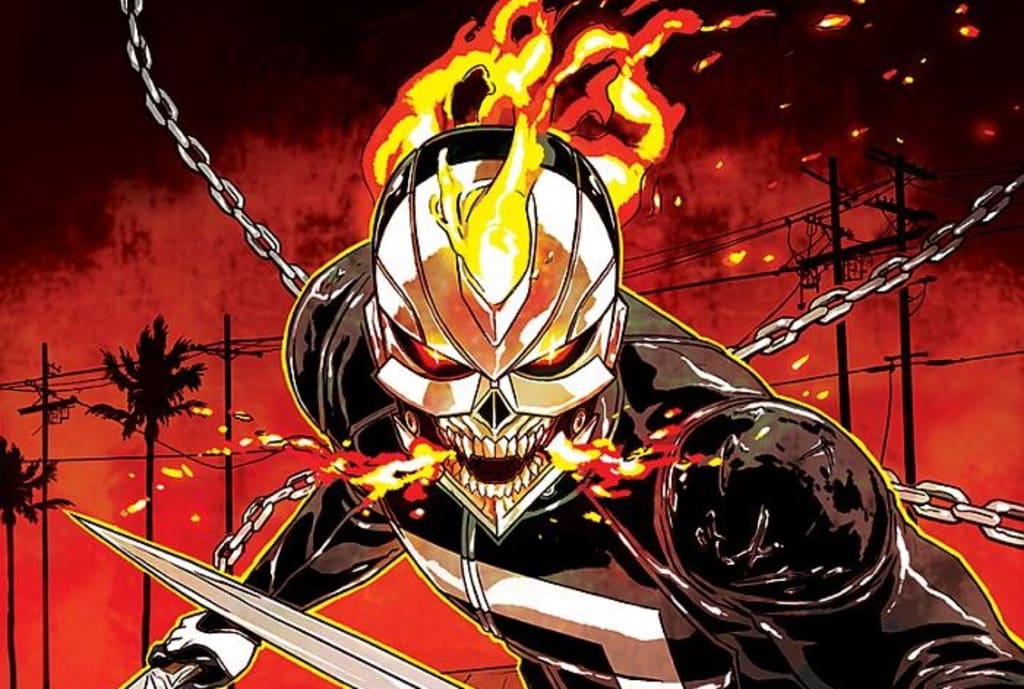 Robbie Reyes is one of the newest Ghost Riders of the Marvel Comic Book Universe. Gabriel Luna played the character in Agents of Shield. There is still room for the character to be explored in the movie. The MCU Ghost Rider movie could be about Johnny Blaze's Ghost Rider passing the torch to a new Ghost Rider. Or at the very least, Blaze could take in Robbie Reyes as his apprentice, training him on how to control his powers. In the comic books, Robbie Reyes becomes the Ghost Rider after his body hosts the spirit of Eli Morrow, a right-wing mass murdering religious zealot who once used to work for the Russian Mafia. This could be an interesting backstory to showcase in the movie.
Zarathos – Keanu Reeves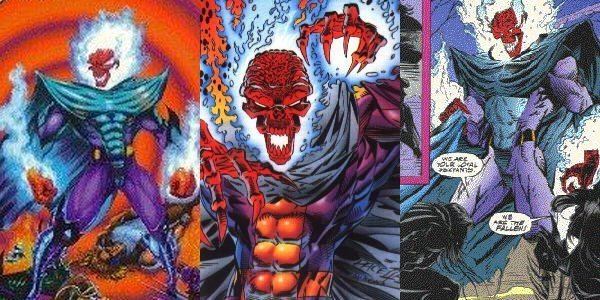 Some claim Keanu reeves is not a man. He is actually a being from another dimension. He just might hail from a race of beings too good to be true. Zarathos was not always a Spirit of Vengeance. He was an Angel who was sent to Earth to correct humanity's mistakes, teach them a better way to live. Eventually, spending so much time on Earth corrupted Zarathos and he was trapped by Mephisto who used him to create a new Ghost Rider to work under him. Keanu Reeves playing Zarathos makes so much sense to us. His sweet, soothing voice would echo through the flames coming out of his mouth. We can already envision it!!
Barton Blaze – Nicolas Cage
Love him or hate him. But Nic Cage was the one who immortalized Ghost Rider with his creepy, weird, but lovable take on the Spirit of Vengeance. Without him, there would have been no Ghost Rider movies at all. So it stands to reason to give his portrayal of Johnny Blaze some form of sendoff. Barton Blaze was the biological father of Johnny Blaze in the comics. After he dies in a motorcycle accident, Johnny is orphaned, taken in by Crash Simpson. Nicolas Cage playing Barton Blaze, passing on the torch of the Blaze mantle to his son – the new Johnny Blaze, would help the legacy of Ghost Rider come full circle for a new generation.
Lucifer – Ian Somerhalder
Lucifer is a major character of the Ghost Rider stories in the comic books. He has been both an ally and an enemy to the Spirit of Vengeance. If a new Ghost Rider movie does become a possibility, it would be foolish of the MCU to limit the franchise to Mephisto. Lucifer is an Archangel cast out from heaven, who now plots to take over the throne. At times, he has tried to take control of Zarathos and use him to attack the Angels in his bid to topple God himself. Many do not know this but Ian Somerhalder (The Vampire Diaries, V Wars) was almost cast in the role of Lucifer in the TV show of the same name. The role eventually went to Tom Ellis. Marvel could use the Ghost Rider movie as an opportunity to snatch Somerhalder away into a role he was destined to play.
You May Also Like: 10 Marvel Memes That Will Save The World
Craig Simpson – Colin Firth
Craig Simpson is the owner of one of the country's greatest daredevil motorcycle shows – Crash Simpson's Daredevil Cycle Show. Crash Simpson was not shown too much in the previous Ghost Rider movies. But he did have a role to play in helping develop Johnny Blaze's character. Craig Simpson was a father figure to Johnny Blaze when he was orphaned. And to really flesh out the lead character, they need someone who is capable of playing the one man that was the driving force behind Johnny striking a deal with Mephisto. Colin Firth of Kingsman fame comes to mind.
Blackout – Jared Leto
In the comics, Blackout's name is Ray Carrigan. He has demonic ancestry. The accursed bloodline he hails from gives him a certain set of unique powers. Along with superhuman physical attributes, Blackout can extinguish light in his immediate vicinity. He also possesses the ability to decay anything he touches, whether the object in question is organic or inorganic. A villain in the second Ghost Rider movie, we believe Jared Leto would be better suited to play the villain in the next Ghost Rider movie. He has already shown he is more than capable of playing sinister and demonic looking characters with Sony's Morbius The Living Vampire. Blackout seems to be a natural step up for his acting chops.