Most celebrities try to avoid any confrontation in their professional circles. Why court controversy when you can navigate your way around one? But that doesn't hold true for all. Some are sewn out of a different fabric and never shy away from speaking their mind. Rihanna is one such celebrity.
RiRi is known for her no-stopping-me attitude, even though it might land her into trouble, or she might find herself in someone's bad books. But she isn't daunted by the prospect. She doesn't toe the line according to people's whims. People toe the line as she pleases. One such incident was the Twitter row with Piers Morgan.
Rihanna stunned with her performance during the 2012 Paralympics
Back in 2012, Rihanna was going through a good phase. She had released her album, Unapologetic, the same year. And she even had the chance to grace the Paralympic Games closing ceremony, performing alongside Coldplay. Wearing a sunburst orange jumpsuit and sporting a short haircut, she performed her own rendition of Princess of China. And RiRi nailed it. She was the performer everyone wanted to see.
The singer also performed We Found Love from atop of a metal bench. The bench was later hoisted into the air and around the stadium. One can only imagine what a performance it must have been.
But critics of the pop star didn't let even this opportunity pass.
Also Read: "No wonder she's the queen": Rihanna Reportedly Helped Restaurant Staff In Cleaning Up Mess After Wild Girls Night Out, Proves She's Miles Ahead Of Other Female Pop Star 
Piers Morgan attacked Rihanna over her short hair; trolled by Rihanna later
Piers Morgan, the famed British television personality and journalist, criticized the No Love Allowed star. And for a peculiar reason at that. Her short hair. He expressed his displeasure over the singer's short hair and recommended she make amends. Back in 2012, the British journalist tweeted, "I think @Rihanna needs to grow her hair back. Fast." 
But RiRi is not one to hold back. She let it all out on Twitter. The Barbadian singer replied to Morgan's tweet, "grow a d*ck….. FAST!!!!" Piers Morgan must have been left biting his nails following that exchange. He must be ruing the day he decided to engage in a battle of wits with her.
Also Read: 'I feel bad for him': Rihanna Addresses Her Leaked Intimate Pictures On The Internet Like a True Queen
This is how Piers Morgan settled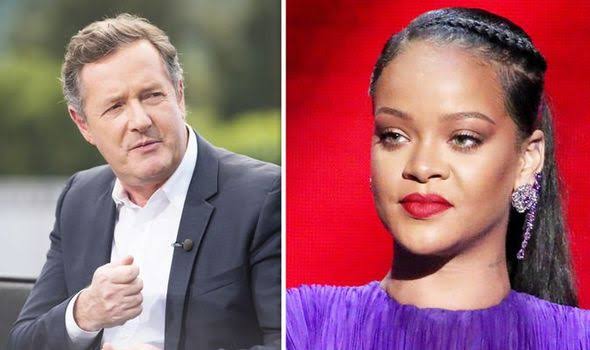 But Piers Morgan isn't exactly the person to back out of such a situation. He considered his options, thought of the best way to salvage the situation, and then played a gamble. He asked Rihanna for an interview on his show, Piers Morgan Tonight. And Rihanna being Rihanna tweeted, "haaaa! Only if it's not about cosmetics! But phuck yea lets do it!!!!!!!!!"
Morgan got what he wanted and closed it off by saying, "Going to be one hell of an interview now @rihanna – bring your A-game, lady. #CNN"
Given how he bagged an interview with Rihanna, he wouldn't mind that decision of his at all.
Also Read: 'It was just a booty call': Jennifer Lopez Mega Trolled Drake After Ending Infamous Relationship, Drove Permanent Wedge Between Him and Rihanna
Source: Twitter