https://youtu.be/djQ4a6NSn7U
Tardar Sauce, the feline internet celebrity and star of Grumpy Cat's Worst Christmas Ever, famously know as Grumpy Cat dies at a age of 7. The beloved cat, whose real name was Tardar Sauce, became an online viral sensation in 2012 due to her permanently grumpy expression, which is believed to be the result of feline dwarfism. According to her family, Tardar Sauce a.k.a Grumpy Cat was declared dead on May 14 due to complications resulting from a Severe urinary tract infection.
About Tardar Sauce aka Grumpy Cat
Grumpy Cat was born in on April 4, 2012, as one of a litter of four kittens. Her feline dwarfism and under bite gave her the distinctive expression she is known for, and also resulted in her having an under-sized body and a slight bit of wobble in her hind legs. Along with her mother, Callie, and her brother, Pokey, Tardar Sauce were owned by Tabatha Bundesen of Morristown, Arizona. Despite her stage name and appearance, Grumpy Cat was described as being extremely calm and super cuddly. She first shot to internet fame after her photo was posted to Reddit in September 2012, and shortly afterwards Bundesen quit her job to start working full-time as Grumpy Cat's manager.
Also Read: X-Men and Avengers Crossover: Nicholas Hoult to return as the Beast?
Grumpy Cat was one of the internet's biggest stars
With 8.5 million Facebook followers, 2.4 million Instagram followers, and 1.5 million Twitter followers, Grumpy Cat was one of the internet's biggest super stars, and made appearances on Good Morning America, Anderson Live, WWE Monday Night Raw, and The Bachelorette, among other shows. An official Grumpy Cat book was released in 2013, and there are also several Grumpy Cat themed mobile games. Her biggest Hollywood moment came when she starred in her very own movie, Grumpy Cat's Worst Christmas Ever, which debuted on Lifetime in November 2014. Aubrey Plaza, who was known for playing the equally grumpy character April Ludgate in Parks and Recreation, provided the voice of Grumpy Cat.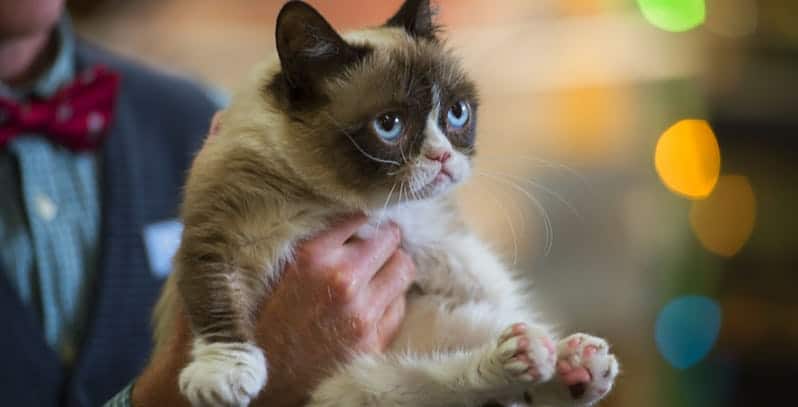 Grumpy Cat's fame took her all over the world. She met fellow celebrities like Conan O'Brien, Stan Lee, Dita Von Teese, Andrew Lincoln, and Johnny Knoxville. She was a favorite attendee at SXSW 2013, which she attended as one of the stars of the documentary Lil Bub & Friendz. In 2015, Grumpy Cat was immortalized with an animatronic double at Madam Tussauds wax museum in London.
Also Read: Woody Harrelson as Carnage in the Venom Movie!
As well as being a movie star and one of the internet's greatest memes, Grumpy Cat was beloved by millions of fans, who will sorely miss their weekly updates on the sour-faced cat. Though she may be gone from our own world, heaven surely has a grumpy new angel in arms of God.
Grumpy Cat is survived by her owners, Tabatha, Bryan, and Chrystal Bundesen, and her brother, Pokey.
Sources: sr