Harry Potter takes us to a completely new world that is full of adventures and magical powers. It brought us an entirely new definition of what unity really is. Who doesn't wish for a Ron in their lives? And having a Hermoine, god that's what most of us ask for at 11:11. J.K. Rowling with the help of her books convinced us that there is nothing worse than being a muggle and having a monotonous life.
Even though Rowling in every sense wove the narrative in a plausible manner but somehow we cannot overlook the fact that the movie adaptation did a massive amount of injustice to our favorite book. Apart from the story itself, there were characters who weren't treated and portrayed as they should've been. We cannot really forgive Rowling for doing our favorite characters dirty and letting us down.
Ron Weasley 
Harry's dear friend and what we can call his only family – Ron Weasley in the novels had several memorable events, such as becoming King Weasley after guiding the Gryffindor Quidditch team to victory.  In the books he had several brilliant moments that the directors handed to Hermione, making Ron appear less intellectual. Furthermore, in the film, Ron was frequently nasty to Hermione, even agreeing with Snape when he called her names, although, in the novel, he defended her. When these instances were taken away from Ron, he became a completely different person, one who was nasty and stupid rather than the kind and caring Ron of the novels.
Luna Lovegood
Unfortunately, despite Luna's big involvement in the films, the creative team left out some of her most notable achievements and characteristics. Luna demonstrated incredible bravery throughout the novels, as when she opposed letting Harry go to the Ministry of Magic alone to save Sirius. While the movies portrayed Luna as an airhead who only offered odd little asides, she was so much more in the novels, and her better traits should've been highlighted more. Despite her strange antics, she was bold, clever, and loving. In the novels, she painted murals of each of her friends on her bedroom ceiling, demonstrating her everlasting love for them.
Cedric Diggory
Diggory made his debut appearance as the Hufflepuff Quidditch team's seeker. When Harry fell from his broom due to a Dementor attack, he fought against Harry Potter and won the Golden Snitch.  Cedric, who was kind beyond measure and a real Hufflepuff, offered to redo the match right away. Lesser personalities, such as Draco Malfoy, would have seized the triumph and run, mocking Harry in the process. He was considerably nicer and more compassionate in the books than he was in the movies.
The Marauders
Years before Harry Potter entered Hogwarts, James Potter, Sirius Black, Remus Lupin, and Peter Pettigrew formed The Marauders. Unfortunately, because the movies only touched on their past for a brief moment, fans were unable to get a true sense of how the group functioned; as lovers of the novels know, the best buddies were much more than met the eye. James and Sirius were the group's pranksters, frequently getting into confrontations with Severus Snape since both James and Severus had feelings for Lily Evans. While the group was included in subsequent films, the novels focused more on their past.
Peeves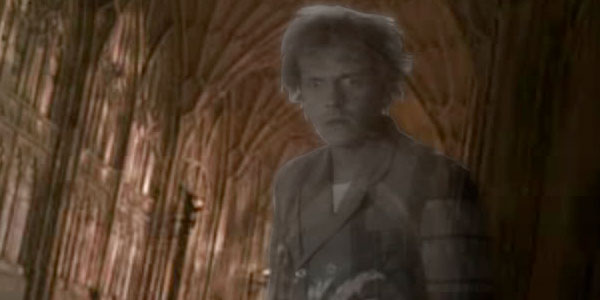 Peeves the Poltergeist was a cheeky Hogwarts ghost that pulled pranks, messed with people, and tried to get everyone in trouble. He especially enjoyed teasing the school's caretaker, Argus Filch. Dumbledore and the Bloody Baron were the only ones who could manage him, although he didn't mind Fred and George Weasley because they were always eager to assist him to play pranks. Despite his shenanigans throughout the years, Peeves assisted in the Battle of Hogwarts against the Death Eaters. Most fans were sad that they didn't get to watch Peeve's crazy activities on their televisions because the ghost provided humorous relief.