While Ron Weasley may be Harry Potter's best friend and Hermione's almost perfect romantic partner, for some Harry Potter fans, he's still nothing more than a dumb turnip. He was a teenage boy, of course, he was! However, did that stop him from saving his friends and from risking his life for them? Of course not. Was Ron prejudiced? Against Muggles, certainly not. How can one be prejudiced against muggles with a father like Arthur Weasley? Ignorance is not a prejudice. Prejudice constitutes hatred. Ignorance can be reversed and things can be learned.
Back to the immaturity thing – were Harry and Hermione saintly, mature teenagers? No. Harry was angsty and selfish at times and flouted authority. Hermione was petty, jealous, and cunning. Does that mean I don't like them? No. I love the trio. But they all had flaws – not just Ron.
However, here, we bring to you, some totally random posts dunking on Ron.
The World From Ron's Point Of View
This meme sums up Ron, The Chessmaster In A Few Words
Let's just agree – Molly just doesn't know how to calm down around Ron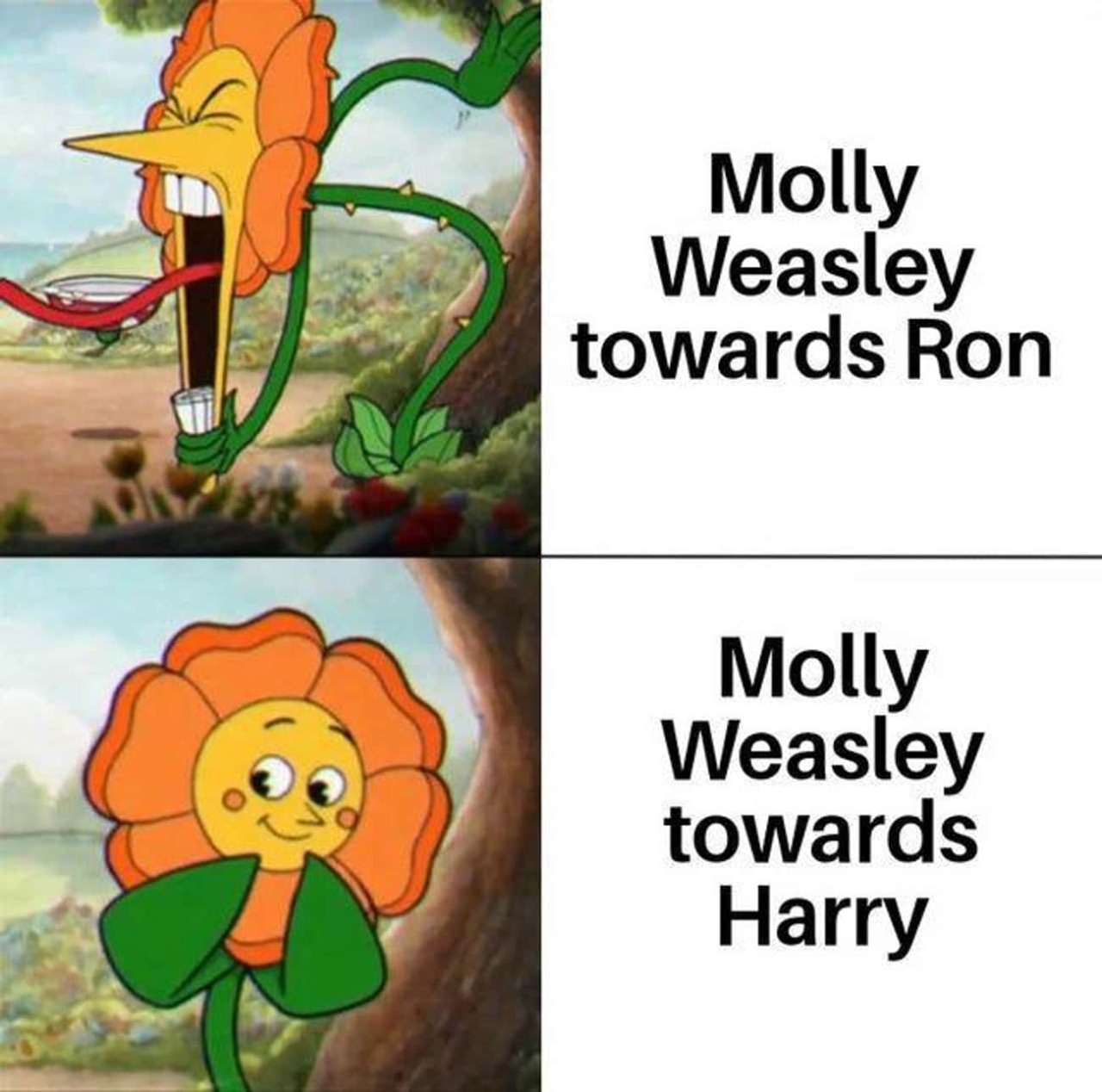 Harry Potter & The Chamber of Secrets wasn't really all that kind to Ron, was it?
chamber of secrets aka the year ron weasley couldn't catch a break pic.twitter.com/VCSFWEmxZK

— mar (@gcldsrush) May 18, 2020
We are sure he's more than just a 'Damn Waste'
THIS, HANDS DOWN, HAS TO BE THE WORST INSULT EVER. WOULD YOU AGREE?
Worst line in film history Is undoubtedly Ron Weasley calling someone a "numpty" after they tried to murder his girlfriend

— Dr. Phillium Benedict (@BigFanOfRecess) February 17, 2021
WAIT, DID I JUST READ RAW CABBAGE?!
omg i just realized, look at the first leters!!

Voldemort – Villain
Harry, Hermione – Hero, Heroine
Ron – Raw Cabbage

— jonny sun (@jonnysun) May 27, 2016
We all truly 'feel' for you, Hermoine! WE DO!
Ron Weasley 100% thinks the female orgasm is a myth

— CJ | burning luc era (@octaviaseyebrow) July 22, 2021
Truer words may not have been spoken yet
"That's me. Ron Weasley, Harry Potter's stupid friend." – Ron Weasley pic.twitter.com/RiIRudlXjI

— Potterhead Posts (@PotterheadPosts) May 26, 2021
Ron and Harry's Friendship should get its own title – Harry Potter and The Toxic Friendship
We really hope Emma Watson isn't reading this
Well, we all feel that he could have been a better friend there!
Re-reading Harry Potter and the Goblet of Fire as an adult has forced me to come to the unfortunate conclusion that Ron Weasley is the absolute worst.

— Paula Coello (@PaulaDraws24) November 24, 2018
To all the Harry Potter fans, here's the MORAL OF THE STORY!
I've just finished reading the Harry Potter series for the first time, and the moral of the story is this: Ron Weasley sucks.

— Adam Caress (@AdamCaress) December 30, 2020
THIS MEME JUST HITS US, RIGHT IN THE FEELS!