Contessa Valentina de Fontaine, a.k.a, Val, is a new character in the MCU. Not much is revealed about her yet, but whatever we've seen her doing so far, doesn't tell us good about her. In Black Widow's end-credit scene, we see Val blaming Clint Barton, a.k.a, Hawkeye for Natasha's death. She was misleading Yelena Belova, Nat's 'sister'. Not just misleading, she even sent Yelena to kill Hawkeye. We get to see this in Episode 4 of the miniseries Hawkeye. However, he was nearly saved by Kate Bishop (Thankfully! We couldn't see another OG Avenger saying us goodbye this soon!) But, why would Val do that? Here's what we think about her intentions. Check it out: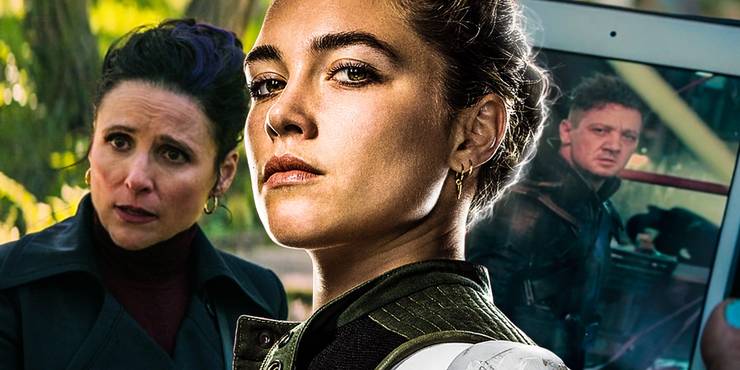 Val's Intentions:
Val has made short, but impactful appearances in MCU's Falcon and the Winter Soldier and Black Widow. Interestingly. both the times she was only messing up. In Falcon and the Winter Soldier, she states that she's attempting to make a team. We know very little about her as of now. But it is for sure that she is working for a secret organization. The people she is choosing to comprise her team shout out loud that she's trying to replace the OG Avengers. So far, she has approached John Walker, U.S. Agent turned former Captain America, and Yelena Belova, former Widow, and Nat's sister. But why would Val mislead Yelena and send her to kill Clint? Whatever she calls her new team, Thunderbolts or Dark Avengers (speculated by Marvel Comics readers), her intentions are not good!
Here's Why We Think Val Wants Hawkeye DEAD For Her Plan!
Val wanting to kill Hawkeye is indicative of the fact that he poses some threat to both Val and the secret organization she is working for. To establish her team, it is sensible of her for removing Hawkeye from the scene. After Avengers: Endgame, only Hawkeye and Smart Hulk are left. However, in Shang-Chi we saw Smart Hulk was now Bruce Banner. And, all of us know, it is easier to remove Hawkeye from the scene as compared to the Hulk. So, now that the target is set, she chose Yelena to do the job! Once both, Hawkeye and Hulk are out of the picture, it would be easier for Val to debut her new team as the world's mightiest heroes.
Another reason why we think Val wants Hawkeye dead is for the activities he did when he turned into Ronin. In a short span, he gave hard time to criminals such as the Mafia, Mexican Drug Lords, and Japanese Yakuza. After the events of Endgame, these criminals had enough time to re-establish themselves. They might have some sort of influence or membership in the secret organization Val is working for! Hence, they want to take revenge and get Hawkeye/Ronin killed.
Also, in MCU's Phase 4 and 5, we don't know how important Clint can be to move the story forward. So, they might end his character at the end of the series. We never know. But whatever it is, the OG Avengers will never be replaced!