HBO's Watchmen is written by Damon Lindelof who has also written hit series such as Lost and The Leftovers. Watchmen is much much-awaited TV series which is adapted from the iconic graphic novel 'Watchmen' by Alan Moore and Dave Gibbons. Watchmen stars Oscar and Emmy winner Regina King, along with Jeremy Irons, Don Johnson, Jean Smart, Tim Blake Nelson and Yahya Abdul-Mateen II. The drama's plotline follows a clash between the forces of order and chaos, though it hasn't been clear that which star is cast on either side of the story. The Watchmen premiers on Sunday, October 20, with a pilot episode written by Lindelof and directed by Nicole Kassell has also directed award-winning series of The Americans and The Leftovers.
Watchmen addresses Significant Issues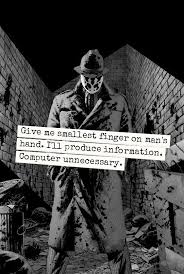 The police wearing identity-concealing masks as cell phones and the internet are outlawed. There is not much of a difference except the Watchmen alternate universe being different from our it. Though it does share some of the same real-world issues as we do. Watchmen has taken a particular approach that lets the viewers interpret the meaning of the show. 
In an interview with Entertainment Weekly, Watchmen creator Damon Lindelof admitted that Watchmen would avoid generalising the current affairs. Even though this approach is freaky, this show is used as a means to create conversations to address such issues. 
One of the current hot topics that HBO's Watchmen will address is related to the racial divide in the United States. 
Damon Lindelof said, "We're living in a world where fossil fuels have been eliminated as a power source. All the cars are zero emissions and run on electricity or fuel cells — largely thanks to the innovations of Dr Manhattan decades earlier. There's also this legislation that's passed, Victims OF Racial Violence Legislation, which is a form of reparations that are colloquially known as "Redford-actions." It's a lifetime tax exemption for victims of, and the direct descendants of, designated areas of racial injustice throughout America's history, the most important of which, as it relates to our show, is the Tulsa massacre of 1921." 
If you haven't seen the trailer check it out from the link below: 
Source 1: https://comicbook.com/dc/2019/09/22/watchmen-hbo-damon-lindelof-real-world-issues / Source 2: https://www.pastemagazine.com/articles/2019/09/new-on-hbo-now-all-the-movies-and- tv-coming-in-oct-3.html