Kim Kardashian is popularly known for her dating life. From Damon Thomas to her most recent former partner Pete Davidson, she has garnered major media attention for dating many celebrities. Though she majorly makes headlines with her ex-husband Kanye West due to their divorce proceedings that started when she filed for it last year, she recently addresses Davidson's dating history!
Also Read: Kim Kardashian Reportedly Left Pete Davidson Because He's a Gold-digger Who's Only Attracted to Famous Women – Literally the Same Thing Kim's Accused of
After filing for divorce from West, she was spotted going out with comedian Pete Davidson. Though their relationship countered several problems, majorly stemming from her ex-husband's nuisance, their relationship ended back in August this year.
Kim Kardashian Finds a Gift For Her Former Boyfriend Pete Davidson in The Kardashians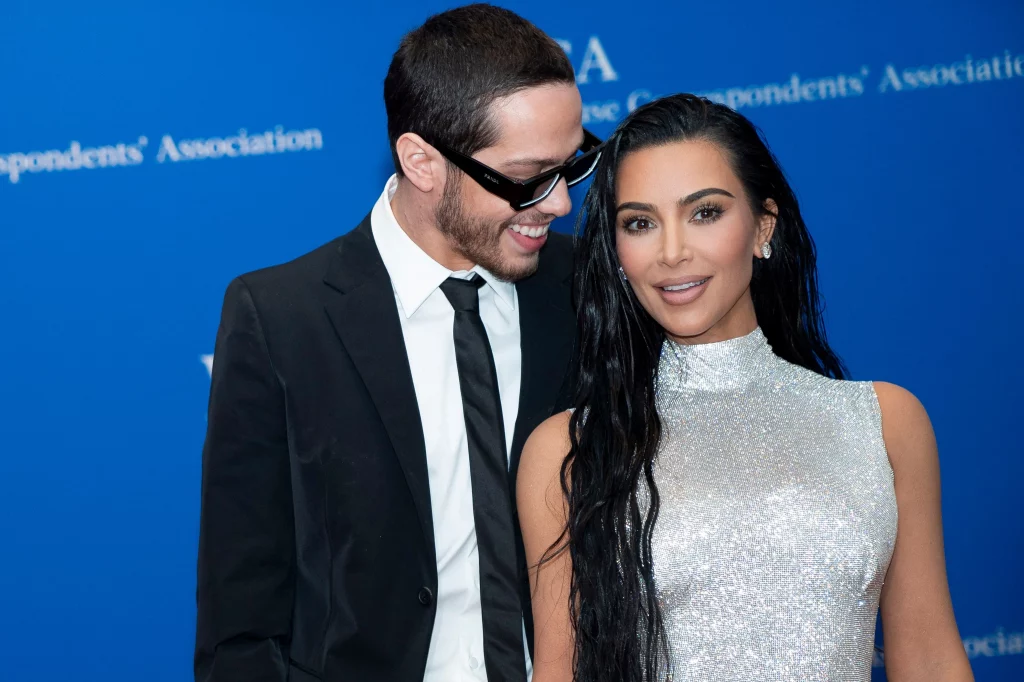 Also Read: Kim Kardashian Confesses Her Love For Pete Davidson While Lecturing Khloe Kardashian on Finding the Right Romantic Partner
The 41-year-old socialite, Kim Kardashian, and 28-year-old comedian, Pete Davidson had been in a romantic relationship for less than a year. Even though their chemistry was super strong being together, it was totally shattered when the couple announced their breakup amidst the rumors of them planning for their future.
Even after that, one could see how the former pair used to involve each other in their lives. On the latest episode of  Hulu's The Kardashians, which was filmed during the Milan Fashion Week that happened in February this year, she was looking for a gift for her then-beau.
She shared why the Saturday Night Live alum is quite famous among "hot girls" referring to his record of dating several women in the Hollywood industry. In the confessional, she stated, "Pete has the best heart."
She added, "I feel like people, they have this, like, [the]idea of him that he dates all these hot girls — and he does. But he's just the sweetest, most thoughtful person."
She further stated that she was "thinking about him, so just want to pick up just, like, a little thoughtful gift." Having guessed that a pair of colorful Nike Air Force 1s is not Davidson's style, she eventually settled on a black-and-white New York Yankees baseball cap.
Also Read: Fans Dare Kim Kardashian's Ex to Go For an Upgrade, Date $400M Brazilian Supermodel
A Brief Note on Pete Davidson's Relationships
You May Also Like: Kim Kardashian Says She is Not Ready For Romance After Pete Davidson Breakup, Puts Co-Parenting With Kanye West Ahead of Her Dating Life
The 28-year-old star is known to date many celebrities!
He had a brief relationship with actress Carly Aquilino in 2015. They were also featured in the 2020s The King of Staten Island together however their relationship spark faded with the couple splitting just after a year.
Soon after the breakup, he got linked with actress-writer Cazzie David for two years and eventually went their different ways.
He was then linked with A-list celebrity Ariana Grande in May 2018. The pair quickly clicked and soon got engaged, however, their relationship was short-lived with the couple calling off their engagement later in 2018.
He then got involved with both Kate Beckinsale and Margaret Qualley in 2019 however, it didn't work out for him. He also dated model Kaia Gerber and then was rumored to be dating Phoebe Dynevor, which too ended quickly.
Back in 2021, he got into a relationship with the SKIMS founder after she hosted Saturday Night Live. Though, they broke up after just nine months, with the main reason being their significant age difference along with their hectic schedules that exhausted them.
The Kardashians is currently streaming on Hulu and Disney+.
Source: The Kardashians