Ryan Reynolds and Blake Lively are the undisputed IT couple of Hollywood at the moment. The love they share has us all balling and, to be honest, a little envious. Absolutely uncomplicated, no scandals, no shenanigans, just the perfect sarcasm-to-romance ratio. A prime example of what it must be like to get married to your best friend. And the internet is as grateful as it can get. The friendly back-and-forth teasing and jokes that the couple indulges in, roasting their spouses online is a literal treat for their fans.
Also Read: "We Are Still Working Through That One": All Is Not Good Between Ryan Reynolds and His Wife Blake Lively After the Deadpool Star Gets Obsessed and Invests Over $3.4 Million in Football Team
The most hilarious couple
The couple has never shied away from using their hilarious sense of humor to take jibes at their partner, especially on special occasions like birthdays and anniversaries. Fans can never forget when Reynolds wished his wife with a picture of the two but with Lively cropped to a quarter of her face with the caption, "Happy Birthday to my amazing wife." And then Lively had responded with a picture of Ryan Gosling pointing to a cropped Ryan Reynolds with the caption, "Happy birthday, baby." 
Also Read: 'Deadpool Don't Give a Damn': Ryan Reynolds Wins Hearts, Ditches High End Fashion Wear for Beaded Bracelets Made by Daughters Proving He's Hollywood's Most Adorable Dad
Ryan Reynolds' heartfelt birthday wish for Blake Lively
However, this year Ryan Reynolds took the internet and perhaps also his wife by surprise by wishing her happy birthday in all sincerity and with the kind of wholesomeness that has their fans sobbing. Reynolds took to Instagram to share nine pictures of his wife, with whom he shares three kids – James Reynolds, 7, Inez Reynolds, 5, and Betty Reynolds, 2. Reynolds captioned the post,
"Happy Birthday, @blakelively. You're spectacular. I'm not sure if you were born or invented. Also, thank you for urging me to leave the house every now and again."
With this beautiful caption appreciating his wife, Reynolds shared nine pictures, three of which were from this year's Met gala where Blake Lively's look was an absolute hit, considered by most as the best at the event and among the few that did justice to the theme 'Gilded Glamour'. The rest were pictures of the two at different places just being their happy and pretty selves along with one solo picture of Blake Lively being an absolute diva. However, jesting being a primary nature to Reynolds, he couldn't refrain from sharing a funny picture of his wife sleeping with a kale leaf on her face, which became a real butt of the jokes in the comment section.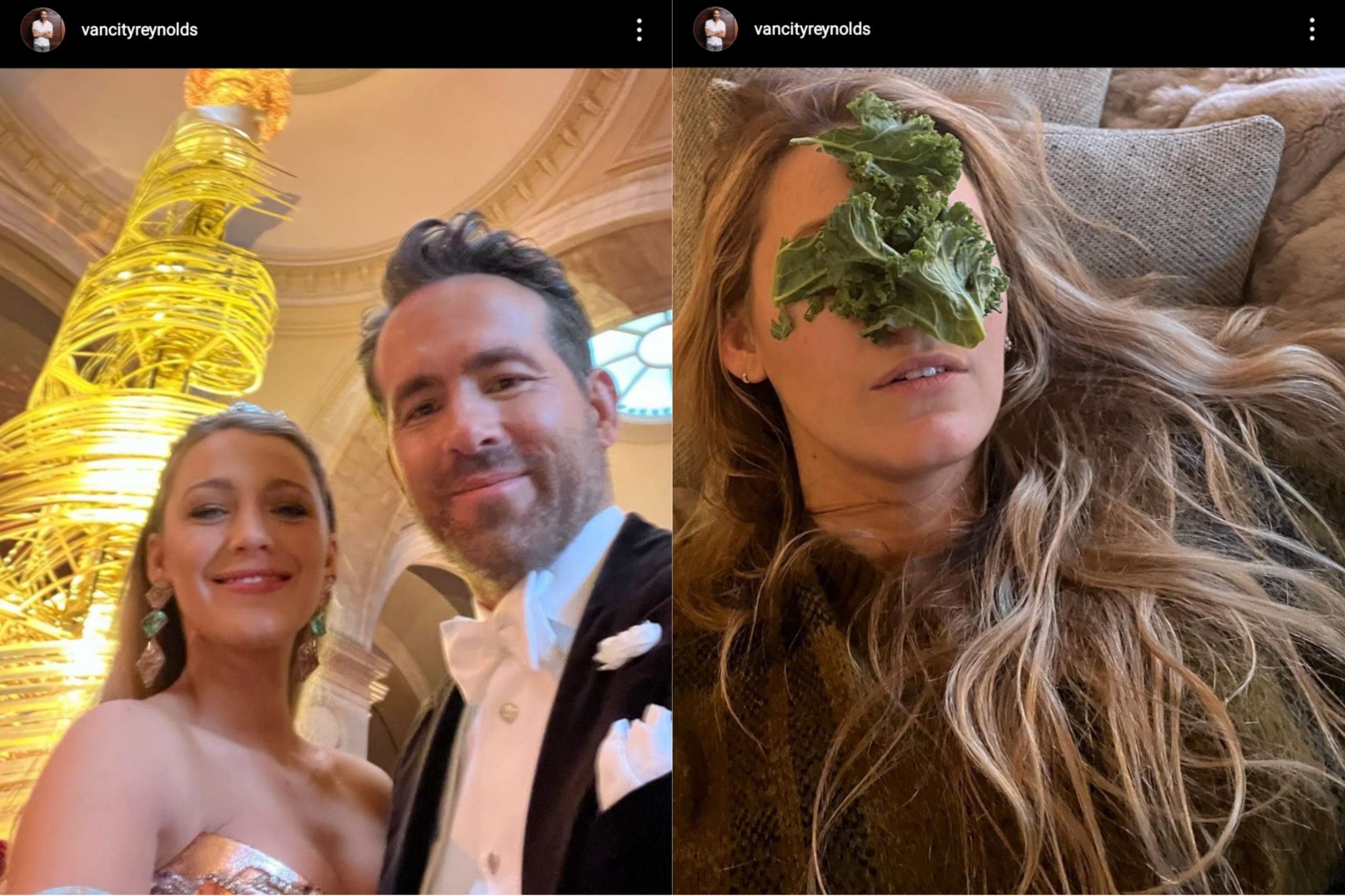 Blake Lively's sister Robyn Lively teased about the salad leaf picture, commenting, "I always said lettuce green was her color. She never listened to me."
A fan wrote, "He finally posted a decent picture for her birthday".
Another fan commented, "happy birthday! But is it weird that I'm missing the comical snarky Blake missing from the photo birthday post?"
Yet another fan wrote a heartfelt comment, "you both were invented to be the best looking & perfect couple".
Another fan couldn't help but chime in with Reynolds' compliments for his wife, and wrote, "The fact that she's actually a real person confuses me sometimes".
It can be safely established that the couple goals that Ryan Reynolds and Blake Lively have set are something most people dream of all their lives. Fans hope to continue seeing their romantic roasting for as long a time as possible.
Also Read: 'It's a Cruel and Unusual Form of Torture': Blake Lively Reveals She Hates Deadpool, Calls Husband Ryan Reynolds' Movie a 'S*x Montage'
Source: Instagram