Aside from being part of the Kardashian clan, Kendall Jenner is also one of the most influential supermodels of her generation. Keeping Up With The Kardashians star appeared on several international Vogue covers, walked the runways of the world's most prestigious fashion houses, and starred in major fashion campaigns. Her success in 2018 made her the highest-paid model in the world, demonstrating that she remains focused on her work no matter what the situation.
A recent photo of the 27-year-old supermodel with a bodyguard holding an umbrella over her head heated a debate on the internet among fans. Her pictures emerged controversial as she did not hold her own umbrella during the rain storm. Although regardless of the weather, she kept her plans intact; she was not spared from being criticized for letting her assist in the rain.
Also Read: Fresh Out of Devin Booker Relationship, Kendall Jenner Spares No Time in Letting The World Know She's Back to Looking for a Suitor
Kendall Jenner Stepped Out With Her Bodyguard In The Rainstorm
According to reports, it was raining heavily on Saturday in Los Angeles, California, but it did not deter the reality star, Kendall Jenner, 27, from her plans for the day. As she walked outside due to her work, one of the photos of her captured her walking with a male assistant protecting her from the rain by holding an umbrella over her head. Additionally, the photographs showed her holding a phone in one hand and keys in the other.
The bodyguard was seen wearing a raincoat, and he struggled to keep her dry with little covering of his own. On the other hand, during the downpour, Jenner wore a light blue sweatshirt and black leggings, though her hood remained down. Her cozy look was completed by an elegant black purse, slip-on boots, and high white socks.
While some fans enjoyed Jenner's dry look in the rain, others were incensed that the model didn't carry her own umbrella, which soon sparked a full-blown debate on social media.
Also Read: "There's nothing that I'd judge": Momager of $2B Kardashian Empire Kris Jenner Wants Society To Shut Up For Judging Her Kids Getting Pregnant Out of Wedlock
The Supermodel Faced Backlash For Bodyguard Holding Umbrella Over Her
There was much controversy around the recent photos of Jenner on Keeping Up With the Kardashians' Reddit forum and other social media platforms as fans slammed her over her rude behavior toward her staff. The model faced backlash over reportedly hiring a person to hold her umbrella.
Many Kardashian fans supported her in the debate over how to treat her staff, but many went against her. On their Kardashian Reddit forum, fans started a major discussion in which one person commented,
"I don't care how rich I am, but I would feel so bad letting someone hold my umbrella for me while they are getting soaked."
A fan replied,
"Agreed! Plus, it would be a bit awkward? You would stay drier just holding it yourself…" another replied.
Then, another person commented,
"Yes! I was just thinking how I couldn't allow someone to hold an umbrella for me because I'm too lazy to hold it myself."
Over the matter, a Netflix & radio personality James Andre Jefferson Jr. took to Instagram in the support of the model, and he made an Instagram reel in a funny way to the people. He captioned the post,
"Kendall Jenner forced her bodyguard to stand out in the rain and hold an umbrella over her?"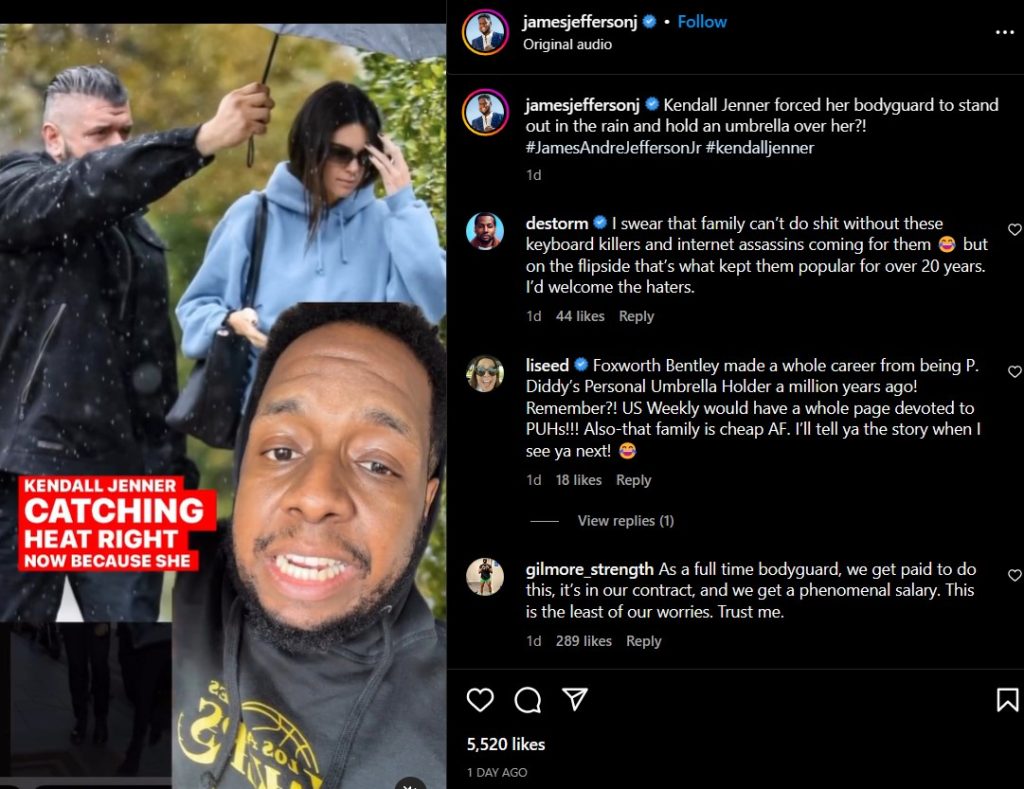 He said in the reel video,
"The internet is the softest place on the planet. That man is getting paid."

"If he doesn't give a damn, why do you give a damn? Do you know why he doesn't give a damn?… He getting paid. He probably makes more than you."
He continued,
"He is probably laughing right now. He probably got his clothes in an expensive *** dryer, right as we speak, with an expensive *** heater paid for by the damn family. Come on, what are we doing?"
James Andre posted the video on other social media platforms, including Twitter and TikTok. Still, he posted a video to somewhat support the reality star, but he received comments as failing to meet his expectations, as fans did not spare the model there.
Also Read: Kendall Jenner Sparks Relationship Rumors With Tyler The Creator, Goes to Lunch With Him Amidst Alleged Devin Booker Split
Source: The Sun