Actress Blake Lively and her husband Ryan Reynolds are expecting their fourth child. The actress debuted her baby bump at the 10th Annual Forbes Power Women's Summit which took place in New York City. She shares three daughters, James, 7, Inez, 5, and Betty, 2, with husband Ryan Reynolds. The couple is yet to announce the big news on social media. The Gossip Girl star posted her flat stomach on her Instagram in August so this news was quite unexpected for everyone. Ryan Reynolds is currently on a break from acting as he is focusing on his family.
Blake Lively revealed that she is expecting a fourth child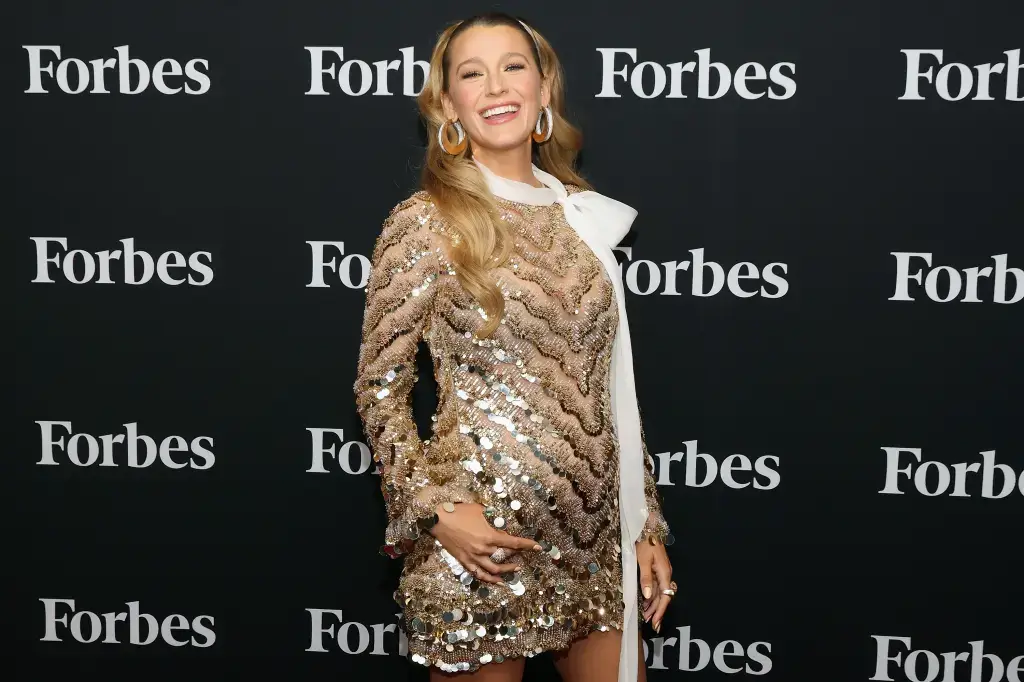 Actress Blake Lively, who debuted her baby bump in a gorgeous gold dress, showed up at the 10th Annual Forbes Power Women's Summit which took place in New York City on Thursday. She paired the dress with white heels, hoop earrings, and a headband. No one saw this coming as the actress displayed her flat stomach in her last Instagram post which was posted in August.
Also read: 'It's a Cruel and Unusual Form of Torture': Blake Lively Reveals She Hates Deadpool, Calls Husband Ryan Reynolds' Movie a 'S*x Montage'
Fans reacted to the big bumpy news
The fans of the actress quickly sent heartwarming messages and congratulated the couple on social media.
I remember reading years ago like pre-ryan sisterhood traveling pants era that she wanted a lot of kids, so it's nice to see that dream come true for her 🤍👌

— alaina (@astoldbyalaina) September 15, 2022
Wow this is great news. Congratulations I love an actual happy couple.

— nunya (@youre_crazy) September 15, 2022
congratulations to the best couple in hollywood

— srija (@srija_05) September 15, 2022
So happy for them, love that dress too.👍🏾😁💗

— HRH Countess Stacie (@HRHStillStacie) September 15, 2022
mini deadpoolz coming @VancityReynolds @blakelively @Deadpool @Marvel

— Swadhin Acharya (@SwadhinAcharya7) September 15, 2022
Also read: "We Are Still Working Through That One": All Is Not Good Between Ryan Reynolds and His Wife Blake Lively After the Deadpool Star Gets Obsessed and Invests Over $3.4 Million in Football Team
Timeline of Blake Lively and Ryan Reynolds' Relationship
Blake Lively married actor Ryan Reynolds in September 2012 and the couple welcomed their first child, James, two years later. Their second and third child, Inez and Betty, were born in 2016 and 2019, respectively. The couple has talked about having a big family in the past as they both come from huge families too. Ryan Reynolds said in 2013,
"We'd love to have a big family. A lot of people say it's crazy, but we'll only know when we're there, you know? We'll walk through that fire pretty happily, I think."
The couple is now all set to welcome their fourth child.
Also read: 'Deadpool Don't Give a Damn': Ryan Reynolds Wins Hearts, Ditches High End Fashion Wear for Beaded Bracelets Made by Daughters Proving He's Hollywood's Most Adorable Dad
In October 2021, Ryan Reynolds announced that he is taking a "sabbatical" from acting to focus on his family. During a LinkedIn News interview in December 2021, he said,
"Well, I've done a lot of [acting] … and I don't want to miss this time with my kids. I want my kids to have a pretty normal schedule. I think it's totally important for their development and I really enjoy being a present dad. I love taking them to school in the morning, I love picking them up."
The actor's last movie, The Adam Project, was released on Netflix on 28th February 2022 and he is still on a break.
You may also like: 'The s*x is totally normal': Ryan Reynolds Makes Things Awkward, Talks About S*x-Life With Blake Lively As Confused Fans Scratch Their Heads
Source: PageSix