Brad Pitt had a long relationship with Angelina Jolie. The two, who met each other on the sets of Mr. and Mrs. Smith were considered the "it" couple by paparazzi and fans alike. At the time, the Fight Club star was married to Jennifer Aniston. But things fizzled out between the two soon and he and the Maleficient actress got together and tied the knot in 2014.
Only the 'it' couple could not stand the tests of time. The two had to eventually split, with Jolie filing for divorce in 2016. Relations between the two turned acrimonious in the aftermath of the split. But years down the lane, it seems like Brad Pitt has moved on, with rumors of him dating Emily Ratajkowski doing the rounds.
Brad Pitt and Emily Ratajkowski were reportedly seeing each other secretly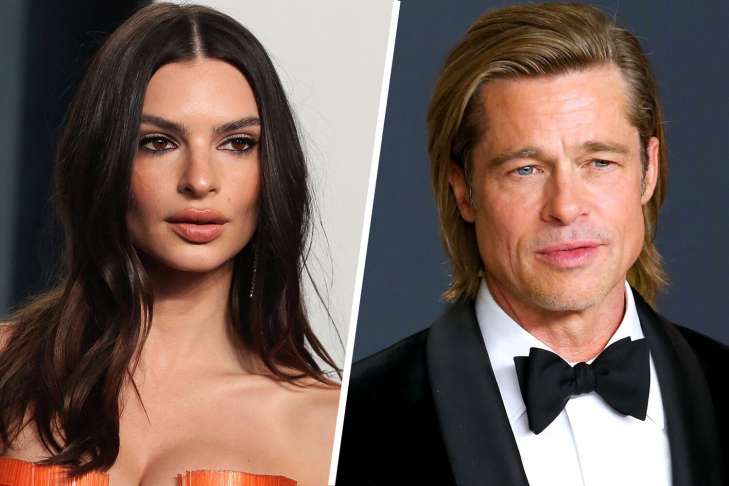 Rumors of Emily Ratajkowski dating Brad Pitt have been there for quite some time now. In September 2022, a source close to the two disclosed that they were spending a lot of time together. But they had abstained from making things official. There may be a number of reasons behind this, one being the impact of the news on the Brad Pitt-Angelina Jolie divorce trial.
The Once Upon a Time in Hollywood star is concerned that Jolie might badmouth him in front of their kids in case he got a 'serious girlfriend'. The two are embroiled in a custody battle and a battle over their winery in a lawsuit worth $250 million. Pitt's primary thought is to avoid damage to his prospects there.
Yet, it was considered common knowledge that the two had been seeing each other.
Also Read: While Angelina Jolie's Busy Securing Their Kids' Future, Her Ex Brad Pitt's Reportedly Gallivanting In New Relationship With $8M Worth Model Emily Ratajkowski
Brad Pitt dumped by Emily Ratajkowski
But that common knowledge seems to be brought into question now, following the release of Emily Ratajkowski's pictures, in which she was seen kissing a guy who wasn't Brad Pitt.
Yes, the Gone Girl actress and Pitt already seem to be a thing of the past. Her pictures with the mystery man seem to have confirmed that this is it for the Fury actor and the supermodel. A source has revealed further to Globe Magazine that it is Ratajkowski who has dumped Pitt. That one must have definitely hurt him.
A lot of people must be finding this rejection a hard pill to swallow. Brad Pitt included.
Also Read: Despite Brad Pitt Divorce Drama Plunging Her into Career Suicide, $120M Rich Angelina Jolie Still Finds Time to Visit Daughter Zahara at Spelman College
The mystery man was 'way hotter with much less baggage'
The insider revealed,
"He's not used to being dumped or snubbed, but that's the grim reality of what's happened. He was telling everyone how incredible Emily Ratajkowski was, that he saw the long-term potential and couldn't wait to spend more time and get to know her better. All of a sudden she's stepped out with this other guy and doesn't seem to give a rat's butt about Brad, which is a real kick in the teeth and a huge blow to his ego."
The insider also had the answer to the question of why Pitt had to face rejection. He said that EmRata "finds this (new) guy a whole lot hotter than Brad Pitt and with much less baggage." Looks like the custody trial had an impact on his relationship prospects as well.
The Eternals actress also made allegations of domestic abuse against him recently. It remains to be seen what course this trial will take.
Also Read: "It was hard for me to go on a date with someone": Emily Ratajkowski Feels Anger and Sadness After Recent Heartbreak, Seemingly Confirms Enjoying Brad Pitt's Company 
Source: Quick Telecast