British actress Emily Blunt has achieved the status of a full-fledged movie star without becoming a tabloid target, making her a rarity in Hollywood. She gained top-notch popularity for her role in Disney's Mary Poppins Returns (2018), bravely taking on Julie Andrews' iconic role. This week, the actress opened up about the hard work that went into making Edge of Tomorrow and a direct comment made by her co-star Tom Cruise on the Wondery podcast SmartLess with Jason Bateman, Sean Hayes, and Will Arnett.
Earlier, in 2014, as part of her guest appearance on Conan O'Brien's show Conan, Blunt revealed a story from the Edge of Tomorrow set about the time she almost killed Tom Cruise when Hollywood's most action actor was got scared of his life.
Also Read: "Stop being such a p***y": Emily Blunt Reveals Tom Cruise Asked Her To Stop Whining When Actress Had Panic Attacks While Filming 'Edge of Tomorrow'
Tom Cruise Scared To Death Shooting An Action Scene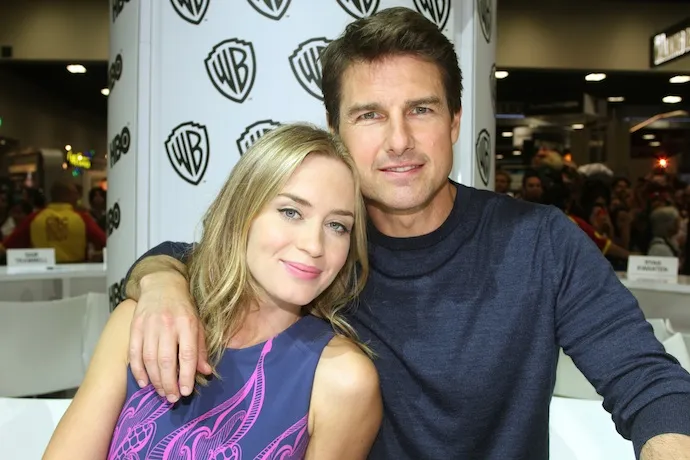 On the talk show Conan, Emily Blunt, 39, revealed to host Conan O'Brien some of the specifics about some of the biggest stunts in the movie Edge of Tomorrow, stunts like Tom Cruise, 60, likes to do on his own, which inspired Blunt to do them on her own, and about her reckless driving almost cost Cruise his life.
Blunt recalled a stunt driving scene that involved a tricky maneuver, "I hear him going [quietly], 'Brake. Brake. Brake.' Em, brake the car! Brake the car!'"
She continued, "And I left it too late and so drove us into a tree, and I almost killed Tom Cruise."
She said, initially, she was irritated that Cruise was backseat driving, but after swallowing her pride, she realized she was no better than Cruise at driving.
Also Read: 'Tom Cruise keeps landing his helicopter where we're shooting': British TV Icon Jenny Agutter Blames 'Entitled' Tom Cruise of Disrupting 'Call the Midwife' Shooting, Acting Like a Spoiled Brat
Emily Blunt Revealed Tom Cruise Cursed At Her
The Top Gun star Tom Cruise allegedly swore at Emily Blunt on the set of Edge of Tomorrow while she cried due to exhaustion as they co-starred in the movie. Blunt's eyes were filled with tears as she was exhausted from wearing the heavy robotic costume for an extended period of time. Due to the design of the outfit, she even injured her ribs due to wearing it.
Emily Blunt opened up about that scene on the Wondery podcast SmartLess with Jason Bateman, Sean Hayes, and Will Arnett. She recalled that Cruise was stumped on what to do since she became emotional, so he swore at her to motivate her.
She explained,
"We had to wear these enormous suits, which I think would've been great if we had CGI'd them, but we wanted to do it in a tactile way."

"When you hear the word tactile, you think that sounds nice and cozy; there was nothing cozy about these suits. It was like 85lb [38 kg]; it was so heavy."

"The first time I put it on I started to cry and [Tom] didn't know what to do." 
A Quiet Place actress continued,
"He just stared at me and was like 'I know, I know', I was like 'Tom I'm not sure how I'm going to get through this shoot' and just started to cry."
The actress said,
"He just stared at me for a long time, not knowing what to do, and he goes 'come on, stop being such a p***y, OK?'"
As a result of the tough love of Cruise, she ended up laughing off the incident and shooting the scene.
Also Read: 'She loved seeing him… They really hit it off': Tom Cruise Was Reportedly Best Friends With Queen Elizabeth, British Monarch Arranged 'Special Tour' For Top Gun Star
Source: Daily Mail