Kanye West can't seem to pick a lane. Days ago, he slammed Balenciaga, riding the hate way against its BDSM ad campaign featuring kids. But now, Ye has seemingly done a backflip and has suddenly become an ardent supporter of the fashion brand. He took to Twitter and expressed that he stands with Balenciaga, calling out the prevalent cancel culture, of which he is also a victim.
The aforementioned tweet was among a series of problematic tweets that ended up having his account suspended and a serious warning from Elon Musk himself.
Kanye West is Team Balenciaga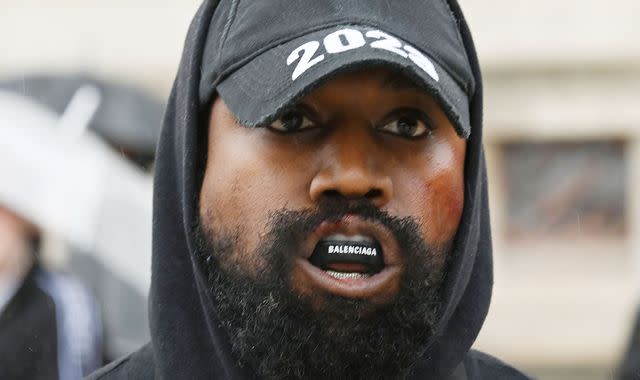 Kanye West took Twitter by storm in a series of tweets this Thursday. In the daytime, the Yeezy founder posted his text conversation with Demna Gvasalia, Balenciaga's creative director. The two have worked together for several collaborative ventures over the years. The texts allegedly showed Gvasalia begging the Donda rapper to insist his fans "stop Denma hate," and he replied by saying, "Love cures everything, Love Denma." 
This tweet was followed by another on the same lines.
"God loves Balenciaga Love is the answer Jesus is the answer Praying for all of the innocent artist and beautiful humans who make clothing that had nothing to do with the adds [sic] Peoples grandmothers work their [sic] for Christ sake."
One of them had him pledging support to Balenciaga in the wake of its BDSM ad campaign controversy. He wrote,
"I stand by Balenciaga and denounce all witch hunts and I cancel cancel culture Jesus is King Ending trafficking doesn't start or end with a fashion campaign for Christ Sake". 
He tweeted yet again to reinstate his point. With a picture of him, his tweet read,
"Never turn our backs Demna and the Balenciaga family for life Cancel cancel culture Jesus please heal."
The support-Balenciaga campaign that West singlehandedly took up did not end there. He went on to defend the ads even further despite the company severing ties with him back in October post the controversy around his anti-Semitic remarks.
Also Read: 'I see good things about Hitler': Kanye West Publicly Saying He's Pro-Nazi, Denying Holocaust Happened Proves the Rapper May Be Slowly Going Insane
Kanye West went back on his own words
The Grammy winner also claimed that it was pointless blaming the French fashion brand and that doing so would in no way help in countering children's sex trafficking. His suggestion was to instead,
"remove any and all forms of pornography from Twitter and every platform Pornography is the product of pediphilia [sic] When grown men look at porn they are watching someone's daughter relive trauma for money… The use of Porn destroyed my family but Jesus will heal everything."
The Bound 2 rapper used to have a crippling porn and sex addiction, as he has himself admitted previously.
Also Read: "It's very triggering for people and embarrassing": Kanye West Booms Business After London Based Studio Gives Away Free Tattoo Removal of Controversial Rapper
This Twitter rant has come days after the Gold Digger rapper was on the entirely opposite side of the argument. As per reports from TMZ, he had said,
"This just shows you all celebrities are controlled. You don't see no celebrities talking about the Balenciaga situation. All of these celebrities out here, don't let them influence you in any way, because they're controlled by the people who really influence the world. They're not serving God."
Now the fans can't help but wonder, what changed all of a sudden…