The 2022 Oscars are synonymous with the infamous Chris Rock and Will Smith slap gate. The controversy not only painted the Will family's picture in the public, but also sparked a debate on human rights.  The internet was divided. Some supported the move by Will Smith, whereas some showed sympathy towards Chris Rock being slapped in front of the world. The Pursuit Of Happyness star received the best actor for King Richard at the 94th Academy Awards. Taking the entire inhuman act of Will Smith into consideration, the community of Academy Of Motion Pictures Arts and Sciences decided to take strict action against him.
The Aladdin actor was straightaway banned from the Oscars for 10 years. During the 95th Academy Awards, the protocols for the host and as well as for any act of violence during the event were stringent. The nameplate of the actors is engraved after the ceremony.  It has been almost a year and Will Smith's nameplate hasn't been engraved over his trophy. Post the slap gate controversy, he is still not welcome at the Academy
Also Read: "He Is Going To Pretend He Slaps Him": Academy President Initially Thought Will Smith Fake Slapped Chris Rock, Says He Deserves His Oscar Despite The Controversy
Will Smith Banned For 10 Years From The Oscars
With the uproar and reactions from people all over the world, the president of the Academy Of Motion Pictures Arts and Sciences Janet Yang decided to take noteworthy action against the entire act. The stardom and the status of Will Smith just did not make any difference to the consequences of his shameful act. They mentioned clearly that Will Smith would not be allowed to attend any Academy awards function or event both in person and virtually.
"I know it was confusing, I know it was shocking," he says. "But I promise you, I am deeply devoted and committed to putting light and love and joy into the world. And, you know, if you hang on, I promise we'll be able to be friends again."
The Bad Boys star apologized to the renowned funny man of Hollywood, but it was of no use as it wasn't accepted by Chris Rock.
Also Read: "I Am Not Going To Be A Victim": Chris Rock Turned Down Oprah Winfrey's Offer After Will Smith Slapped Him At Oscars
Chris Rock And Will Smith Slapgate At Oscars 2022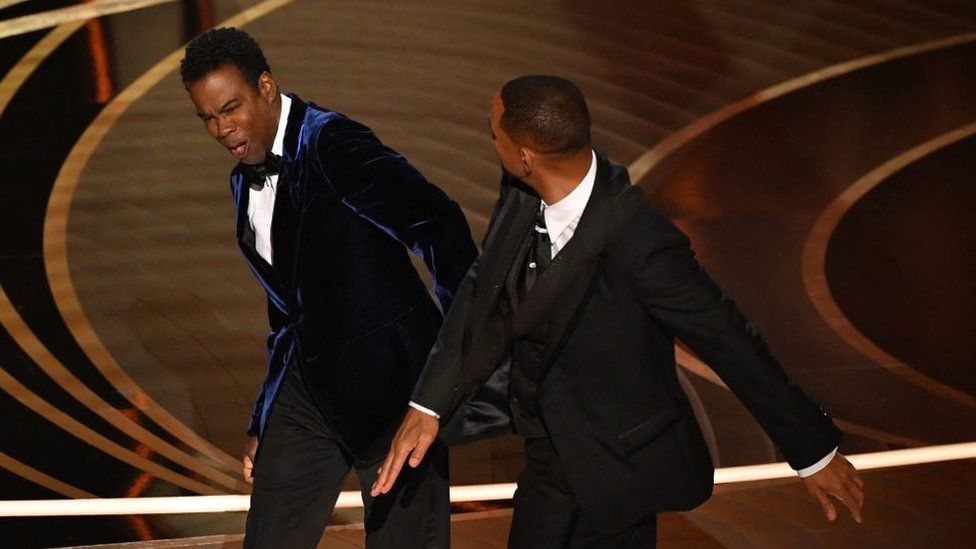 The controversy surrounding the 2022 Oscar's slap gate was a reaction by Will Smith to a joke about his wife Jada Pinkett Smith's health condition. The Matrix Resurrection star suffers from Alopecia, a disorder that leads to severe hair fall. Will Smith came onstage and smacked Chris Rock and later labeled it as an outburst for his joke about his wife's appearance. The Academy expressed its gratitude to Chris Rock for maintaining his calm and behaving like a gentleman amidst the entire slap gate scenario.
Also Read: 'Chris Is Obsessed With Her': Jada Smith's Response To Chris Rock Reportedly Proves Their Rivalry Stretches As Long As 30 Years
Source: The Guardian