Kelly Ripa and her husband Mark Consuelos have been in the headlines for different reasons. Not always do Ripa appear in headlines for positive aspects, at times even her wrecking offscreen attitude drives her to be a news headline. However, most of the time when the celebrity couple appears together on news, they are usually for some cheeky reason. Kelly Ripa has been hosting her show Live with her husband Mark Consuelos, due to her co-host Ryan Seacrest being absent for the time being.
In Ripa's Live show, the couple was found touching on various topics along with personal comments. But somehow, co-host and husband, Mark Consuelos, went a little too far while sharing an incident that got Ripa pissed for some reason. 
Also read: What Happened to Kelly Ripa's Son? Why Did He Leave Kelly Ripa's $27 Million House 
Mark Consuelos featured on Live alongside Kelly Ripa 
Kelly Ripa had been accustomed to hosting her show Live With Kelly and Ryan alongside co-host Ryan Seacrest. However, due to a sudden change of plans Ripa had to appear on the show alongside a new host, none other than her husband Mark Consuelos. Although fans were delighted to see the couple onscreen, Ripa revealed that she faced quite some troubles while hosting with her husband. Consuelos was unfamiliar with the rules of hosting on live television, making it evidently difficult for Ripa to adjust beside him. 
Previously, Mark Consuelos was reprimanded for attempting to use banned words onscreen while hosting Live. Apart from that, initially, the struggle was hard for the working couple. Ripa was used to mocking her husband while hosting with Ryan Seacrest, however, Consuelos' physical presence beside her, made things difficult for her to comprehend. However, despite all odds, the couple did well and was appreciated by the viewers. 
Also read: Kelly Ripa Humiliates "Live" Co-Host Ryan Seacrest, Openly Sides With Close Friend Andy Cohen after Seacrest Called Out Cohen's Problematic Attitude
Kelly Ripa pissed at her husband Mark Consuelos for an epic blunder 
It is understandable that working alongside Mark Consuelos who was not prepared to host at the last minute was difficult for Kelly Ripa. Although viewers appreciated the husband-wife duo, professionalism was appreciated by Ripa as well as the producers of the show. Mark Consuelos not only blurt out cuss words on live television but also made Ripa feel humiliated by several other deeds.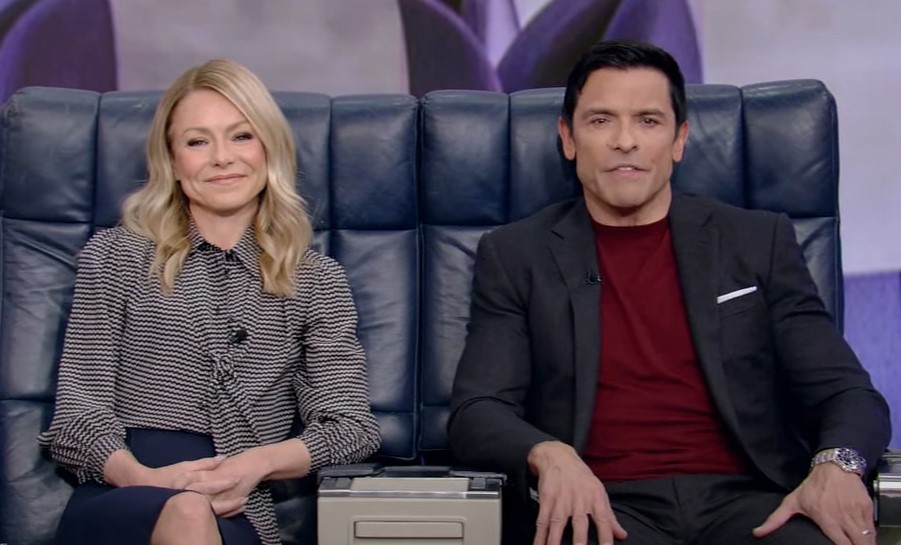 The 51-year-old has a fun nature and usually keeps the room lively, however, his bubbly personality landed him in great trouble when he joined Live. The Riverdale actor shared a personal incident on Live about being late to a school meeting, which eventually humiliated Ripa. On being asked for the reason for being late, Consuelos shared, "I'm a guy from Tampa from the 80s…I like cologne." Further, Ripa justified her husband's taste for cologne saying he has a massive collection. Ignoring her reply, Consuelos proceeded "I've been living by myself in Vancouver for a long time, so when I spray the cologne I forget that I'm living with someone else". At this point, Ripa's face started showing expressions of irritation. 
The 52-year-old actress was pissed at her husband's lack of knowledge of how to spray cologne and about certain other facts. Soon Consuelos blurted out of flow "I'm gonna go out here and I'm gonna have a few of the ladies and some of the men, I'm gonna have them sniff my neck" 
Consuelos trying to justify his reason and making fun of his wife for failing to understand the teenager in him, made Ripa lose her temper. Although her professionalism saved the night, and there was no husband harmed while filming. 
Read more: "Has the Halloween envelope arrived?": Kelly Ripa Revealed Kids Wouldn't Appreciate Grandparents' $20 Halloween Gifts, Started Asking for it Once Starting To Living on Their Own
Source: YouTube