Madonna posting weird things on her social media platforms has now become the norm. She has recently continued to amaze her fans with bizarre messages. Now the singer has made yet another strange confession.
Madonna revealed on Instagram on Thursday that she was never circumcised. The 64-year-old musician then posted a series of selfies while wearing pink sunglasses, a yellow and black mesh top, and a see-through blue skirt while drinking white wine.
Also Read: 'She does look like Halloween came a little early': Plastic Surgery Expert Reveals 64-Year-Old Madonna Went "Overboard With Fillers and Surgeries" in Quest to Look 20 Forever
Madonna Makes Her Circumcision Status Public
Madonna delivered an attention-grabbing post of a selection of eye-catching photographs to her Instagram Story. The 64-year-old began by telling followers, "I have a confession to make."
Following that was a photo of Madonna holding a wine glass with her colorfully painted nails. The 'Queen of Pop,' as she is affectionately known, coordinated her nails with her pink hair, lips, and wide-framed sunglasses.
Her yellow, black, and blue clothing are layered to match the necklaces she wears. The letter "I" is prominently written in blue. The word "was" is followed by a picture of the "Madonna: Truth or Dare" star drinking from a wine glass.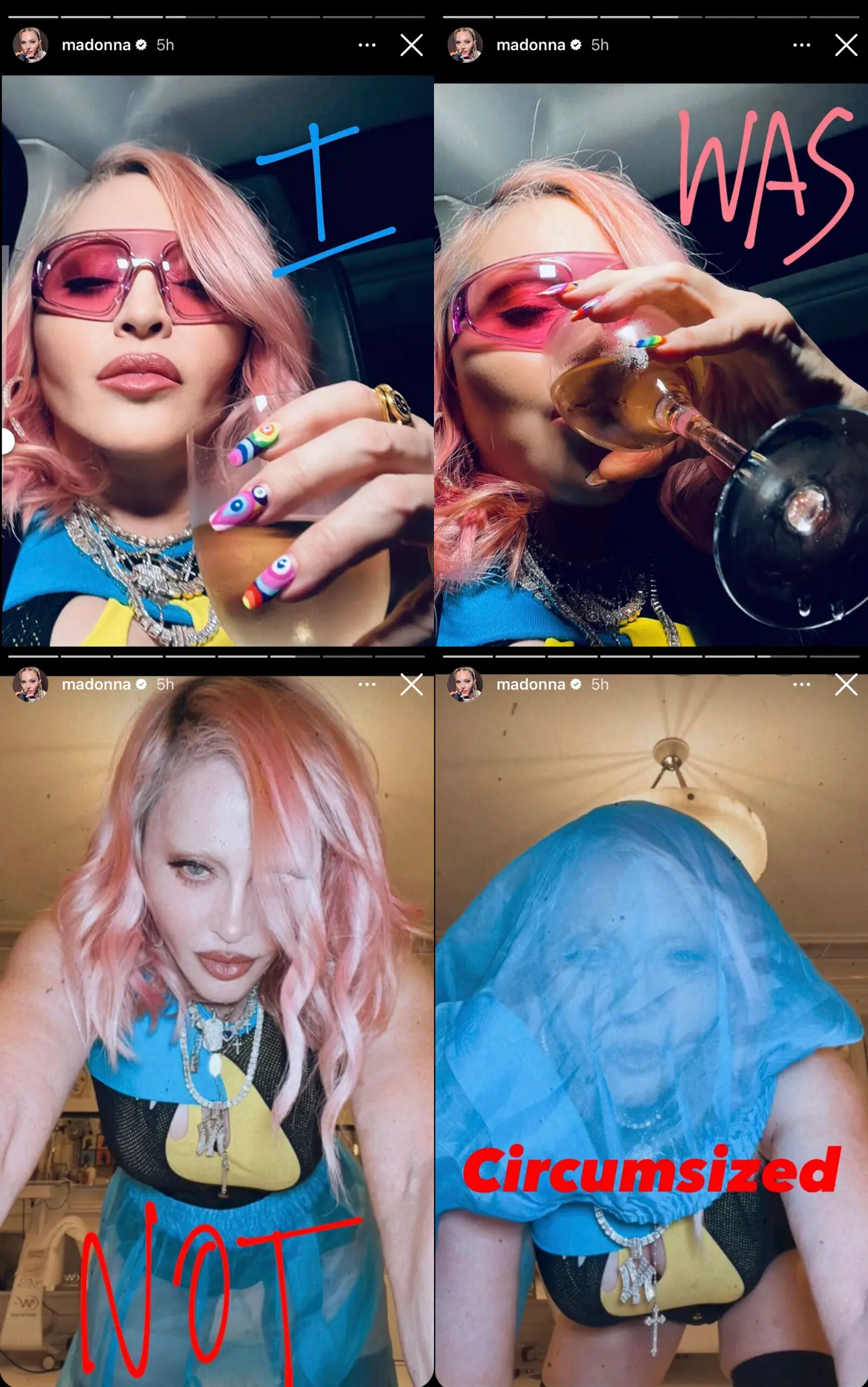 The Evita actress did not stop there, on her third post she showed herself bending toward the camera on her phone. Madonna's bottom appeared to be covered in a blue translucent cloth covering that suggested black underpants.
The mother-of-six is wearing knee-length socks and has bleached brows as she tells followers, "NOT." A fourth post revealed the actress from Arthur and the Invisibles covering her face with the blue skirt in the previous photo. Madonna flaunted her enormous bosom while still bowing and leaning into the camera.
Her tiered diamond necklaces stand out even more in the photo with the term "Circumcised" written on it.
This confession is the latest in a series of "strange" posts made by the A League of Their Own actress recently. According to source, she put on a raunchy performance while listening to Britt Barbie's "Period Ahh Period Uhh" rap on Monday, October 17.
Also Read: "I'm sorry but this looks scary": Madonna Shocks Fans With Latest New Look Where She Hints Coming Out as Gay, Fans Claim She's Setting Bad Example For Women to Use More Fillers and Surgeries
The "I'm Going to Tell You a Secret" Star Emerges From Her Closet
The Material Girl wore a beige ensemble consisting of a sheer corset top over baggy joggers in the video. Her pink hair was parted on the side and cascaded to her shoulders.
Even though she was attractive, the large pink underwear in her hand drew attention. The reason she had it was revealed when she tried to throw the underwear in the trash and mixed them up.
A look at the words on the screen of the video clip revealed, "If I miss, I'm Gay!" After successfully failing the task, the seven-time Grammy winner walked away with a wry smile.
Madonna's fans reacted differently to the video, with one asking excitedly, "Did Madonna just come out? And I'm there to witness it in real time??" Since Madonna posted it, the video has received over 1.9 million likes and 31k+ comments.
Also Read: 'If I miss, I'm gay': After Kissing Women on Stage, 64-Year-Old Madonna's Viral TikTok Video Hints She's Coming Out of the Closet
Source: PageSix