In the past week, the former SNL comedian Pete Davidson's love life made the internet ablaze once again with the news that he was dating newly-single Emily Ratajkowski. They were pictured hugging at an apartment building in Brooklyn on Wednesday after dating claims emerged.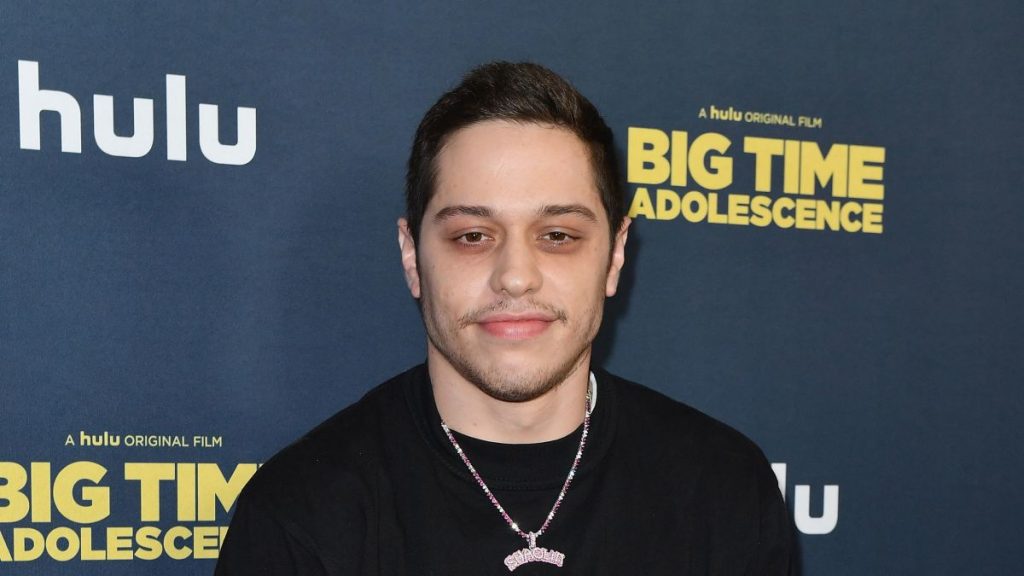 Currently, Pete Davidson and Emily Ratajkowski are on the rebound as the former SNL comedian split with reality TV queen Kim Kardashian in August, while the actress ended her four-year marriage to Sebastian Bear-McClard in September.
Pete Davidson is optimistic about the future of their relationship, but one of his old friends growing up in Staten Island, New York, doesn't hold out hope. American comedian's close friend believes that he needs a "normal woman" to date, not another famous personality.
Also Read: "Believe in where you're headed": Kim Kardashian Reportedly Finding it Hard to Cope After Pete Davidson Moves On With Emily Ratajkowski Leaving SKIMS Owner in Disbelief
Pete Davidson's Friend Wants Him To Date A Normal Woman
In the wake of his headline-making split with Kim Kardashian, Pete Davidson's close friend believes he should date a lesser-known person rather date a celebrity.
Johnny Potenza, a talk show host who gave Davidson his break on television in February 2010, told The U.S. Sun, "I don't want to sound like I'm Dr. Freud."
"But Pete needs a normal woman with old-fashioned family values, without all the celebrity gossip who can kick him in the ass."
It comes amid rumors that the actor is romantically involved with model Emily Ratajkowski.
In the same interview, Potenza said that he believes Davidson's history of unhappy relationships goes back to his adolescence. He said that since falling in love with the daughter of a New York comedian who was one of his first show business mentors, Davidson has always carried his heart on his sleeves.
His friend stated that Davidson had a meltdown on the set of Bupkis due to the whirlwind romance with Kim Kardashian, which left him with "too much baggage for him."
Johnny Potenza said,
"I heard he had a meltdown. It doesn't surprise me. The Pete I knew didn't have an angry side. He was just a nice boy. He was very humble. I think Kim had too much baggage for him."

"She's 20 years older, she has four kids, and she was married to Kanye West, who was always making trouble for them."
He continued,
"Most people I know in Staten Island said it wouldn't last. They come from two completely different backgrounds. Everyone was shocked that he was dating Kim, a very classy woman. Pete always lived like a regular guy his age."
Furthermore, Potenza said,
"The Kardashians' cars are high-end; look at how they dress and how Pete dresses. You'll never see him wearing a suit unless he has to. The guy's young. I am sure he didn't want to change his lifestyle for a woman."
The appearance of Kim's clean-cut style may have also been an issue for Pete Davidson, according to Johnny Potenza.
Also Read: 'She's so bothered by the Pete Davidson news': Kim Kardashian Reportedly Super Insecure After Ex Boyfriend Bags Emily Ratajkowski, a Supermodel 11 years Younger Than Her
In His Adolescent Years, Pete Davidson
A 29-year-old comedian, writer, producer, and actor, Peter Michael Davidson, was born on 16 November 1993. Scott Matthew Davidson, his father, was a New York City firefighter who died in 2001 during the 9/11 terrorist attacks, and his mother is Amy Waters.
During his teenage years, Davidson was diagnosed with Crohn's disease, a form of inflammatory bowel disease which requires intravenous treatment.
He said to High times in 2016, "I got Crohn's disease when I was 17 or 18. My stomach would just be in pain all day, and I wouldn't be able to eat."
In 2017, Davidson revealed he had been diagnosed with borderline personality disorder in Variety's Actors on Actors series. He said,
"I got diagnosed with BPD a few years ago, and I was always so confused all the time, and just thought something was wrong and didn't know how to deal with it."

"Then, when somebody finally tells you, the world's weight feels lifted off your shoulders. You feel so much better."
After many years of substance abuse, Davidson revealed in 2017 that he was sober and getting help for his addiction. Additionally, he announced on SNL in 2019 that he would be going to rehab.
His first stand-up special, Pete Davidson: SMD, was released in 2016 when he was featured on the Forbes 30 Under 30 list, and his second stand-up special, Alive from New York, followed in 2020 on Netflix.
Also Read: Emily Ratajkowski Seems Unfazed By Pete Davidson's Past History With Kim Kardashian, Subtly Shades Kanye West in Handling Former Lovers
Source: Geo News