Ryan Reynolds loves being a family man. He has recounted time and again how much joy he derives from taking care of his three daughters. The star is married to Blake Lively and the celebrity couple recently welcomed a new baby on February 12th whose gender is yet to be revealed. So on that joyous occasion, this is a look back to the star's revelations on a talk show while Lively was pregnant with their fourth child.
The actor was previously married to Scarlett Johansson for a few years and people bet, that the Black Widow is surely regretting divorcing the Deadpool actor now as Blake Lively doesn't hesitate to share adorable moments on social media from time to time that proves him to be the best dad out there.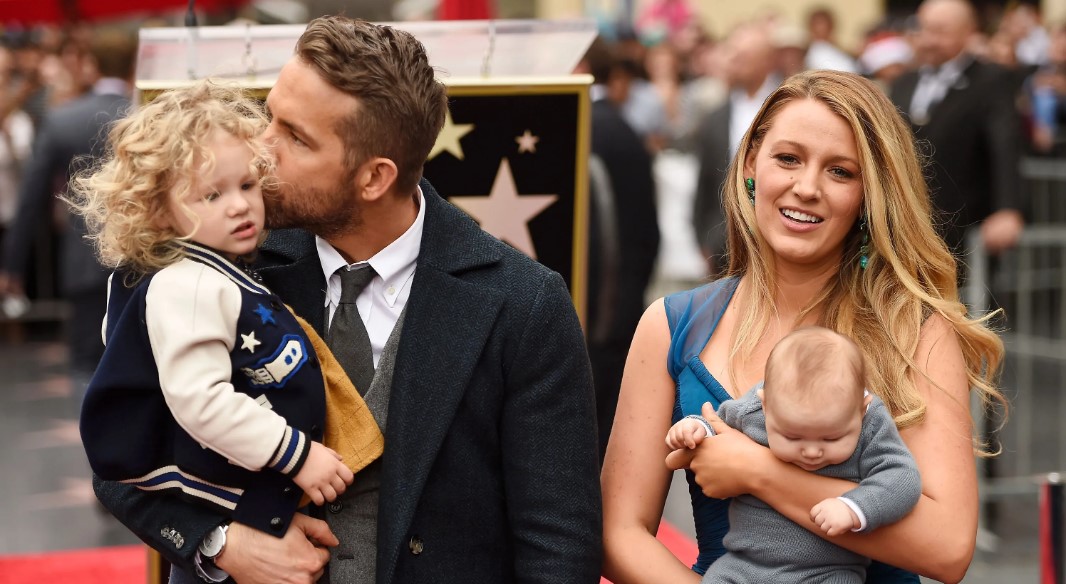 Also Read: "Becoming. Wolverine. Again": Hugh Jackman Is Eating Chicken Burgers To Bulk Up, Meet Daily 8000 Calories Target For Deadpool 3
Ryan Reynolds loves being a 'girl dad'
On The Late Show with Stephen Colbert, Ryan Reynolds confessed to hoping for a girl, their fourth time around. He loves every bit of being surrounded by his girls. Reynolds said he does not miss the masculine energy but rather enjoys it,
"I do not miss masculine company at all. Really, most men tend to be the architects of someone's demise. So, it's fine. I like just being here with the girls. I like doing the girl stuff."
​During the lockdown, the star stayed home with his three incredible daughters, his wife, and his mother-in-law. He also admitted that the girls in his life are his "superheroes". In an interview with Access Reynolds said,
 "No joke, they're the most capable people I know. If anything got crazy or scary in my life, they're the first people that I would lean on."
He further concluded,
"I love being a girl dad. I have three daughters, which I never in a million years would imagine. I come from all boys, I have three older brothers. So for me to have three daughters has been such a ride and I love every second of it.–I'd have it no other way."
Thus, he was a bit stressed about how he would handle raising a son. Raising daughters came to him easily, the chances of having a boy excited but at the same time scared him equally. But at the end of the day, he believes his wife would make everything right and help him through the journey.
Also Read: "We Were Smitten And Cute. He Was Adorable": Melissa Joan Hart Confesses Her Romantic Feelings For Blake Lively's Husband Ryan Reynolds
Blake Lively on Ryan Reynolds being the best dad out there
Being a parent of three is a handful job. According to Blake Lively,
"He does love the dirty work. He's great and he's so fun about it,"
She recalled a funny instance,
"We were changing diapers and he said, 'You've got to get rid of it!'–I said, 'OK!' And he goes, 'No, not the diaper, the child.'"
According to the star himself, he has three "wild" daughters. He said,
"I'm a parent of three girls. They're wild. I think they have rabies sometimes"
So he likes to go with the flow, firstly, he does not like to force conservative ideas on his kids and lets them decide their own actions. He said,
"I try not to push gender normative ideas on my kids as they're born, but each one, when they came out that chute, just really wanted to make dresses,–They wanted to dress in hot pink all day so that's what I do."
He also has interesting anecdotes about making mistakes, he advises his kids not to "waste his mistakes". Reynolds says mistakes have a huge part in the learning process and it is quite easy to get swallowed by the shame of it, but in the end, the realization and the urge to rectify is all that matters. To conclude, Blake Lively puts it as
"He is my best friend, and he's just the best father in the whole world."
All in all, he loves his family to bits and would not have it any other way.
Also Read:"It's A Very Happy Time For All Of Them": Ryan Reynolds And Blake Lively Could Not Be More Thrilled About Their Parenting Future After Baby No. 4
Source: The Late Show with Stephen Colbert