Even though celebrities generally do an excellent job of remaining diplomatic and avoiding pointed questions involving their ex-partners, both Jennifer Garner and Jennifer Lopez offered the same insight to a certain extent into Ben Affleck's weird choices, bad habits, and body adornment, including his giant tattoo on his back. As Ben Affleck appeared on the Los Angeles set of Live By Night in 2015 wearing a gaping hospital gown, he revealed a surprisingly large back tattoo, which quite shocked his fans and gave a glimpse of his interest then.
The Batman actor married Jennifer Garner in 2005 and finalized his divorce in 2018 with her. He later married his old love Jennifer Lopez in 2022. When in December 2015, the 50-year-old actor revealed his back tattoo, his then-wife Jennifer Garner already announced her divorce from the actor in June 2015. Regardless of how long their relationship lasted, the two Jennifers seemed somewhat upset by Ben Affleck's strange interests and habits during their relationship.
Also Read: 'He's booked an appointment with a surgeon': Ben Affleck Reportedly Sh*t-Scared of Looking Older Than 53-Year-Old Wife Jennifer Lopez, Wants Surgery to Look Younger
Ben Affleck's Now-Wife And Ex-Wife Have The Same Views About His Huge Back Tattoo
Throughout the years, Ben Affleck, 50, claimed his back tattoo was fake, telling outlets and interviewers it was for a movie. His first admission to the tattoo came in 2019 when he sat down with Ellen DeGeneres for her talk show. He confirmed the rumors about his real tattoo when he recently separated from Jennifer Garner in 2018.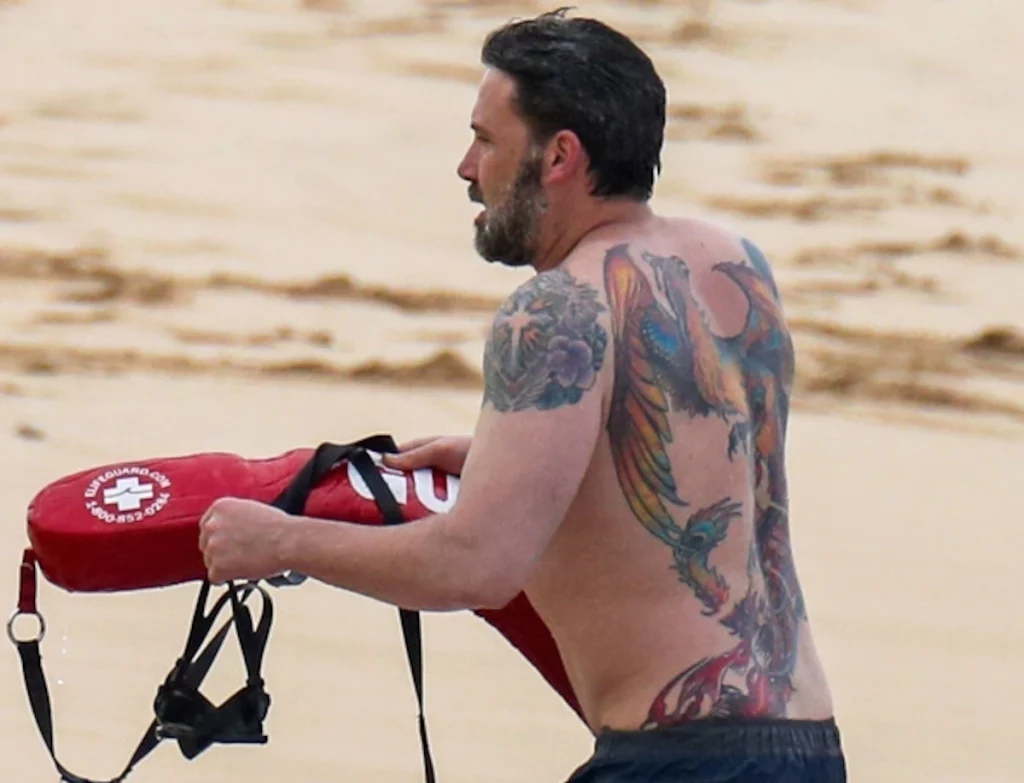 But his tattoo rumors sparked when his few pictures leaked in 2015, and the world eagerly awaited Jennifer Garner's reaction to his back tattoo when the duo was married but had already announced their divorce. In 2016, Garner sat with Vanity Fair for an interview where she discussed her thoughts on her ex's new artwork. Despite photos showing her estranged husband's entire back covered in a tattoo, she refused to take responsibility for it and said,
"You know what we would say in my hometown about that? 'Bless his heart.' A phoenix rising from the ashes. Am I the ashes in this scenario? I take umbrage. I refuse to be the ashes."
She also discussed her efforts toward her marriage with Affleck and said,
"I definitely put a lot of time towards my marriage that I will now have for myself. I don't know how I will use that."
Similarly, in 2019, the show host Andy Cohen asked Jennifer Lopez about her then-ex's infamous back tattoo on Watch What Happens Live With Andy Cohen. She first giggled and then said,
"It's awful! What are you doing? It has too many colors. His tattoos always have too many colors. They shouldn't be so colorful. They should be, like, cooler."
However, in 2022, despite Ben Affleck's weird choices, JLo and Affleck rekindled their 20-year love and married.
Also Read: "I miss you": Jennifer Lopez's Ex-Lover Alex 'A-Rod' Rodriguez Starts New Year With Heartbreaking News While JLo Tries to Save Marriage With Ben Affleck
Jennifer Lopez Feds Up With Ben Affleck's Alcohol And Smoking Habits
The singer Jennifer Lopez and actor Ben Affleck have consistently been in the spotlight since they got married. She has had several heartbreaks in her life, including a painful split with her now husband in the early 2000s, which has led to trust issues in her relationship with Affleck. Amidst rumors of a divorce, the 53-year-old singer keeps a peaceful bond with her husband, avoids problems, and does everything she can to ensure her fourth marriage doesn't end in divorce.
Affleck's bad habits of consuming alcohol and smoking became the main point of contention in the couple's argument. Their arguments made JLo insecure, and she became concerned about every aspect of their life that could affect their marriage and tried to save her fandom simultaneously.
Also, Lopez was rumored to be encouraging Affleck to undergo plastic surgery to improve his appearance. According to reports, it appears that even JLo is triggering Affleck to get surgery due to an inferiority complex he's facing regarding his aging skin. Simply, the singer wants her husband to be a little glitzier and more glamorous.
Also Read: "She's ready to put him in her rear view mirror": Jennifer Lopez Didn't Disappoint Ex-Partner Marc Anthony's Prediction, Dumped Alex Rodriguez to Get Back With Ben Affleck in Minutes
Source: Vanity Fair, Watch What Happens Live with Andy Cohen