Despite being single, My Mind & Me Singer Selena Gomez, born on July 22nd, 1992, revealed that she threw herself a star-studded "wedding" for her 30th birthday. The stars who attended Gomez's 30th birthday celebration earlier this summer were Miley Cyrus, Olivia Rodrigo, Francia Raisa, Camila Cabello, and Billie Eilish. Her 30th birthday party was an A-list affair.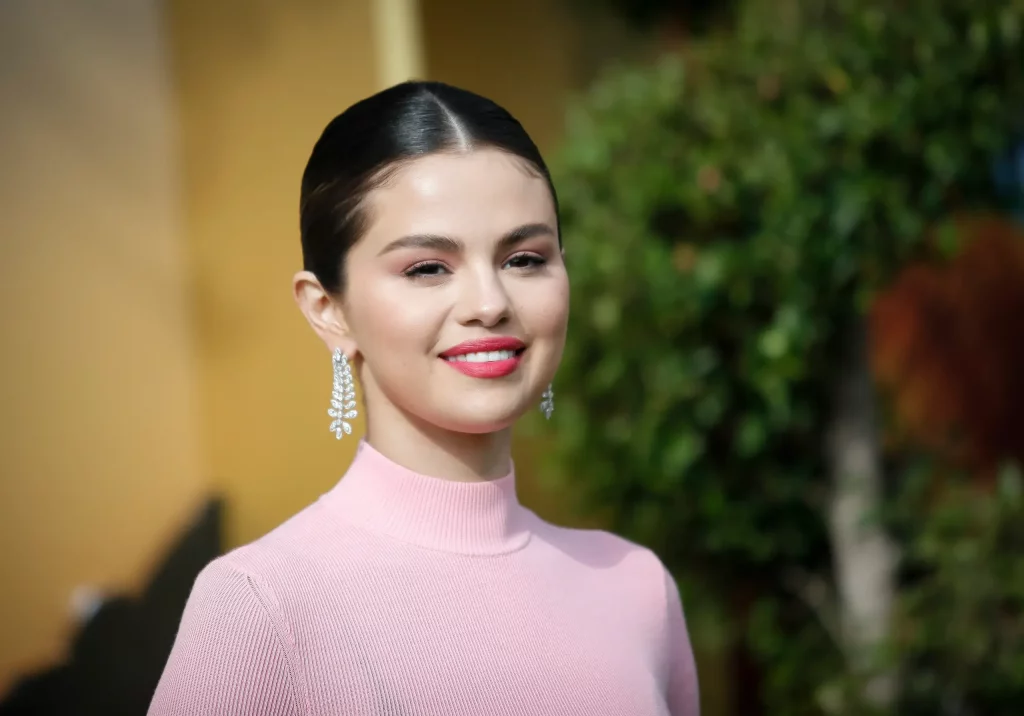 During her interview with Rolling Stone for the magazine's latest cover story, Selena Gomez revealed that she celebrated the end of her 20s and the beginning of a new decade with a wedding-themed party.
Her documentary My Mind & Me, launched yesterday, is directed by Alek Keshishian and released today on Apple TV+. This documentary sheds light on Singer's "psychotic break" in 2018 that landed her in a hospital.
Also Read: "It's not even a thing": With The Classiest Response Selena Gomez Proves She Moved on from Her Romance With Justin Bieber Years Ago
Selena Gomez Threw Herself Wedding-Themed 30th Birthday Party
The sensational American Singer and songwriter Selena Gomez revealed some interesting facts about her 30th birthday party in her latest interview with Rolling Stone for their latest cover story.
She told Rolling Stone, "I thought I would be married by now, so I threw myself a wedding."
According to Gomez, the guest list consisted of people who influenced her life throughout her 20s. The Singer said ahead of the release of her new Apple TV+ documentary, My Mind & Me,
"We had lovely drinks, and it was beautiful, and then my friend Cara [Delevingne] comes in and brings strippers."
She added, "So I would like to say it was a mixture of sophisticated and hysterical."
Selena Gomez described her 20s as "good, hard, and beautiful." However, the Singer captioned an Instagram photo following the celebration,
"I am someone who is still learning but is more certain about what matters and what she wants."

"I can say that I'm starting to, like, 30. Thank you SO much for being a part of my life; here's to another decade! Love you all inside and out so much it hurts!"
Gomez concluded that every lesson or gift inspired her to grow stronger and more empowered. Although age is just a number, she feels deeply hurt at being 30, but she expresses gratitude to all at the end.
Also Read: "Is it method acting or something more?": Selena Gomez Kissing Amber Heard's Alleged Ex-Partner Cara Delevingne Sparks Dating Rumors After Duo Appeared In 'Only Murders in the Building'
Selena Gomez's New Documentary 'My Mind & Me'
The Heart Wants What It Wants singer's new Apple TV+ documentary released on November 4th, opens with footage from Gomez's Revival tour in 2016. After 55 performances, she canceled the time due to a mental health crisis that developed during rehearsals and on the road. During her 2016 Revival tour, Lose You To Love Me, Singer said she suffered a "breakdown" that left her feeling like she wanted to die, which landed her in a hospital in 2018.
It's been 2 years since I sat down with @zanelowe. We're getting real again about music, mental health, and my 6 year journey making #MyMindAndMe. Don't miss the exclusive conversation tomorrow at 7pm PT on @AppleTVPlus. pic.twitter.com/hZcOfDwoVV

— Selena Gomez (@selenagomez) November 4, 2022
My new documentary Selena Gomez: #MyMindAndMe directed by @AlekKeshishian is out now on @AppleTVPlus. I hope that telling my story can help others tell their own. https://t.co/CKS5PauPh3 pic.twitter.com/nGerqSlcKB

— Selena Gomez (@selenagomez) November 4, 2022
Gomez's former assistant, Theresa Marie Mingus, said in an interview, "At one point, she's like, 'I don't want to be alive right now. I don't want to live.'"
The assistant recalled, "And I'm like, 'Wait, what?'" 
She added,
"It was one of those moments where you look in her eyes, and there's nothing there. It was just pitch black. It's so scary. You're like, 'F–k this. This needs to end. We need to go home.'"
Raquelle Stevens, Gomez's close friend, also opened up about her confusion and pain.
Justin Bieber Is Happy With Now-Wife Haley Bieber
Selena Gomez and Justin Bieber famously dated on and off throughout the 2010s. In March 2018, just months before Haley Baldwin's Bahamas proposal, the Baby singer broke up with Gomez. However, Rare singer's dating life has also been linked to stars like The Weeknd, Zedd, Niall Horan, and Nick Jonas, although she has largely kept it quiet.
On the other hand, Justin Bieber was linked to Hailey Baldwin and Sofia Richie, among several others; later, he married Baldwin in September 2018. The Grammy-winning Singer, 28, and the Rhode founder, 25, are living a dream life together; however, they welcomed a cute pup named Piggy Lou into the family.
Also Read: "He crossed the line": Justin Bieber Reportedly Breaks Friendship With Kanye West After Brutal Attacks On Wife Hailey Bieber, 'Peaches' Singer Hurt With Nose Job Accusations
Source: Page Six