Kelly Ripa has been in Live! for over two decades. With different hosts, she continued to match their energies and became one of the fan-favorite hosts. No matter how many ups and downs she faced during her TV career, she recalled her time with the late TV legend, Regis Philbin as quite unpleasant, especially in the early times.
Also Read: Kelly Ripa Hints Retirement From Own Talk Show After Mystery Illness, Wants to Join Madonna as a Supermodel
Before Ripa, Philbin used to host the Live! show with his longtime TV host partner, Kathy Lee Gifford who left the show in 2000. She was replaced by the American actress amid the rumors that Gifford left the show on a bad note with some alleged feud with his co-host. Amid the speculations, Ripa in a podcast last year stated if she had known the struggles beforehand, her decision might have been completely different.
Kelly Ripa Might Not Have Worked With Regis Philbin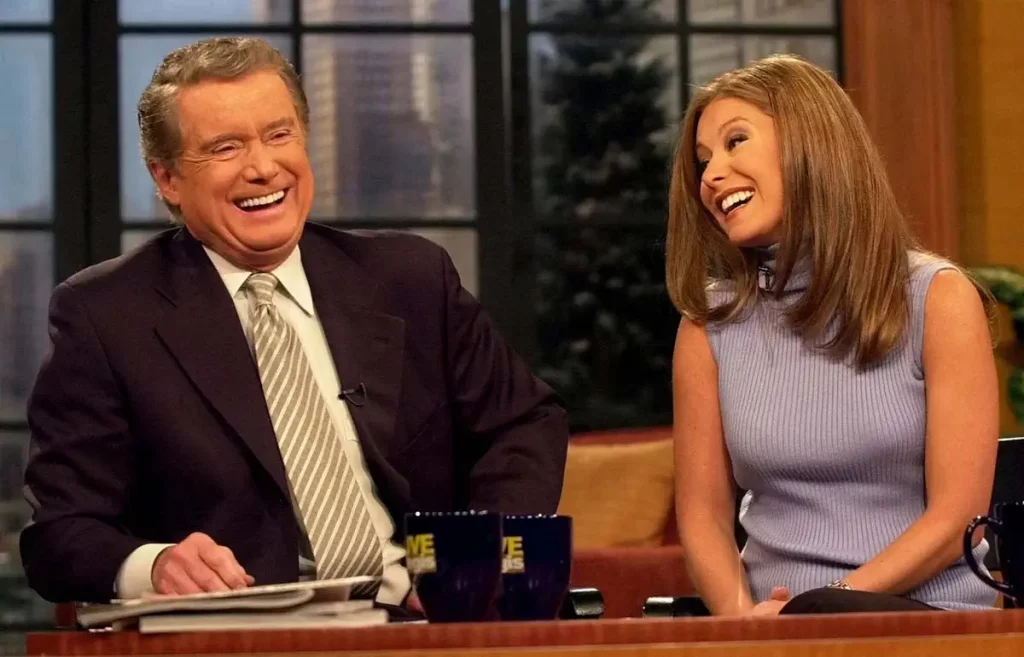 Also Read: Kelly Ripa Made Michael Strahan Feel Small, Didn't Consider Him as a Partner Forcing Him to Leave
The TV host, Kelly Ripa in an October appearance on Dear Media's Not Skinny But Not Fat podcast opened up about working with her former co-host, Regis Philbin. She shared reconsidering her position if she would ever be aware of the struggles she went through during the show.
She shared, "I wouldn't have done it. No." 
She continued to state,
"If I had known going in, I wouldn't have done it. And how sad for me. How sad for me. Luckily, ignorance is bliss."
She believed that she was considered more of a "network girl" when she worked with the late renowned TV host.
"I didn't know that there was so much fighting between these two factions and that I was considered like … a network girl, which is so ridiculous. I was one of a 40-member ensemble cast on a soap opera. So, I didn't consider myself an anything of anything. I considered myself just an actor."
Though she was unaware of whether the late host wanted to do the show on his own after his former co-host, Kathy Lee Gifford left the show, she believed that he "certainly" had no need of her in the show. Their strained relationship was even discussed by the late actor before he passed away in July 2020 at 88 years old.
Regis Philbin Discussed His Feud With Kelly Ripa Before His Death
Also Read: Kelly Ripa Torn to Shreds With Co-Host Ryan Seacrest After Major Blunder That Left Castle Star Humiliated
The late TV host admitted in 2018 that he lost connection with Ripa since he left the show. Their feud was all mentioned in her memoir, Live Wire: Long-Winded Short Stories, and in interviews. He even shared that the actress got "offended" thinking that he left the show "because of her," while his age was the real reason behind his departure.
An insider even mentioned that the TV host legend was "fond" of his former co-star and wanted to spend more time with her. Not just Ripa, he was alleged to have a feud with his former co-host, Kathy Lee Gifford as well.
However, she had never mentioned it and rather spoke highly of him. In an interview, she shared that Philbin was "the best partner a person could ever" have and boasted about the friendship the duo shared.
Source: Not Skinny But Not Fat