Next in line to take up Hawkeye's mantle is Kate Bishop, beautifully played by Hailee Steinfeld. She has been part of Hollywood for quite some time now. She got her breakthrough from 2010's western drama film True Grit. Hailee rose to prominence with projects such as Ender's Game (2013), Romeo & Juliet (2013), Pitch Perfect film series (2015-2017), and Bumblebee (2018). Now she is rocking her performance in Marvel's fifth TV series, Hawkeye. The show has aired three episodes and has received positive reviews so far for the action sequels and chemistry between Jeremy Renner and Hailee Steinfeld. If you love/like her in Hawkeye, you might want to watch more of her in other roles. So, here's a list of Hailee Steinfeld's movies that you might like. Check it out! Also, let us know in the comments which one of these you like or have watched before.
1. True Grit (2010)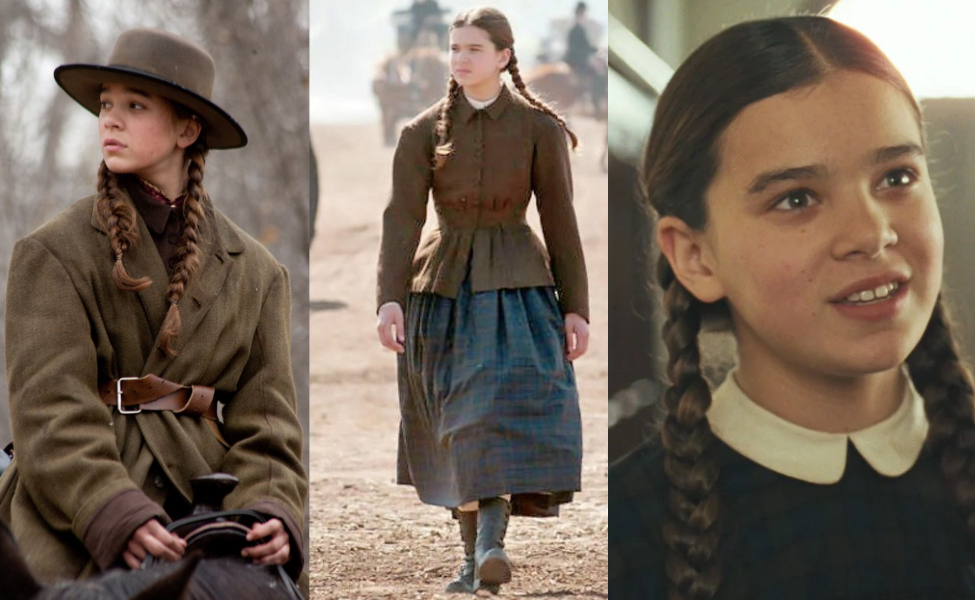 Kick-starting your acting career with a great project or big stars isn't something that every newcomer gets lucky with. However, Hailee was one of the lucky ones. She got her breakthrough from this movie wherein she worked along with actors such as Jeff Bridges, Josh Brolin, and Matt Damon. Despite sharing the screen with A-list actors, Hailee's performance stood out. She played the role of Mattie, a teenager, whose father was murdered. She was full of seeking revenge and that's what the story was about!
2. 3 Days To Kill (2014)
The 2014's action/thriller movie stars Kevin Costner, controversial (these days) actor Amber Heard, Hailee Steinfeld, and Connie Nielson. The movie is full of well-performed action sequels and strong emotional performances by the cast. Hailee plays the daughter of the CIA agent who has to kill a terrorist as his final mission in his career.
3. Ender's Game (2013)
This movie is one of the greatest sci-fi movies of all time. Even though Hailee plays the supporting role in this movie, it is hard to ignore her. She makes sure she makes an impact on you while the protagonist, Ender Wiggin (Asa Butterfield) does his own thing. Overall it's a great film wherein Hailee, as in other projects, shines out!
4. Romeo & Juliet (2013)
The storyline and end are known to us all since it's a famous Shakespearean play. Also, if you love watching Hailee rule the screen, this is the right pick for you. The one major aspect that makes it different from other Romeo-Juliet movies is the fact that they've used teenagers to portray the main roles. Whereas, in other movies, the makers have cast older versions of actors. Seeing teenagers like Hailee playing Juliet and Douglas Booth as Romeo was a refreshing thing. Moreover, this aspect gave a sense of realism to the storyline.
5. Barely Lethal (2015)
This movie is a great blend of action and comedy that makes it watchable for almost everyone. It does not just star Hailee, but other actors such as Sophie Turner, Samuel L. Jackson, Jessica Alba, and others. It is about Hailee, who's a teenager different from other teens around her. She knows nothing about her parents and was raised in a shelter home, trained to be an assassin. To explore life outside this, she fakes her death, draws a fake identity, and attends high school.
6. Spider-Man: Into The Spider-Verse (2018)
Hawkeye isn't Hailee's first Marvel project. She voiced Gwen Stacy a.k.a Spider-Gwen, one of the leading roles in the animated film. This was a highly successful movie that even won an Academy Award for a best-animated picture. Hailee's character is sweet, bold, daring, sympathetic and above all, she is smart. Much like how she appears now in Hawkeye as Kate Bishop!