Keke Palmer, Ke Huy Quan, and director Todd Field were among the stars honored at the 2023 ceremony of the New York Film Critics Circle. As part of the award ceremony, the actress won the Best Supporting Actress award for her role in Jordan Peele's Nope (2022). It was a stunning look for the Nope star in her silver evening gown while flaunting her fully grown baby bump. At the award function, she told the audience that she could not wait to meet her new baby.
Keke Palmer is expecting her first child with her boyfriend, Darius Jackson. As far as her love life is concerned, the actress keeps it pretty private, but in December 2022, she announced her first pregnancy to the public. According to reports, the two crossed paths at Issa Rae and Diddy's Memorial Day party in May 2021.
Also Read: 'Start with pleasing yourself': The View's Whoopi Goldberg Advised Nope Star Keke Palmer to Stop Serving The Other Person During S*x, Focus More on Herself
Soon To Be A Mother, Keke Palmer Feels Ecstatic
As no one can prepare anyone for their first pregnancy, the Nope star Keke Palmer, 29, revealed exclusively to Page Six during the New York Film Critics Circle award ceremony that she is nervous but also curious about her first pregnancy with her boyfriend, Darius Jackson.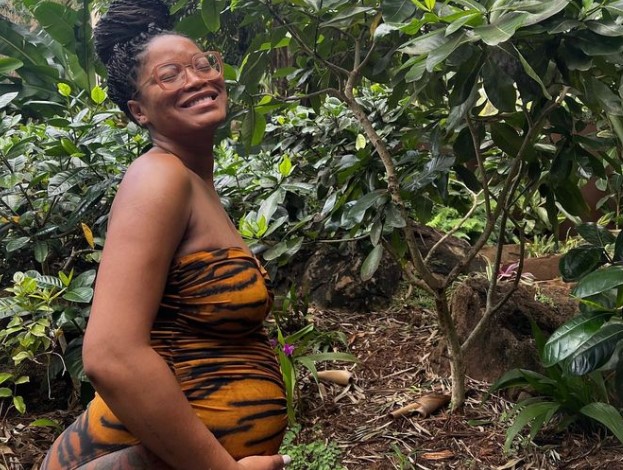 Palmer said,
"I'm very excited, nervous, and curious more than anything because it's one of those things that no one can really prepare you for. More than anything, I can't wait to get my hands on my baby."
The actress added,
"I'm a naturally fast-paced person. For me, life is going at least 90 miles per hour, that's me cruising. So yeah, I think in general, whether it's the holidays or this transition I'm having in my life, slowing down is definitely not something that comes naturally to me."
Palmer is eagerly awaiting the arrival of her first baby. In the days following her pregnancy announcement, she continued to share updates with her fans through her Instagram account. Additionally, the actress shared a glimpse of her recent tropical vacation on Instagram, expressing her mindset as she starts a new chapter in her life. Her tiger print swimsuit appeared to show her baby bump, and she posed with her boyfriend Darius Jackson, in front of a plane, taking in the scenery of a beach and lush greenery. Before their new family member arrives, the couple took advantage of their getaway to relax.
Also Read: "I like girl-on-girl because it's nice": Keke Palmer Gets Candid About Her P-rn Preference, Blames Adult Films For Ruining Sexual Intimacy
Keke Palmer Won Best Supporting Actress For Nope (2022)
In recognition of her role in Nope, Palmer attended the event to accept the Best Supporting Actress award. Having appeared on big screens since she was young, she admitted that her career has endured for so long, but her performance in Nope was just the best of the year. The actress posted sweet and memorable moments of the award function on her Instagram handle and a lengthy message alongside the pictures.
Palmer captioned the post full of emotions, which reads,
"Such a cool night. thank you again to the New York Film Critics Circle for this honor. thank you @jordanpeele for that incredible introduction. i really am so grateful for the way you appreciate my artistry."

"As I've continued to grow i sometimes wasn't sure if there was a 'place' for all the things i do or want(ed) to do but, i just kept doing me cause that's all i could do. loving and leaning deeper into my passion. and as the saying goes, the girls that get it get it…. u know the rest!"

"I am just happy to be surrounded by people that love the craft as i do, and want to continue to push their boundaries. thank you for seeing me JP and giving me the honor of portraying a character as dynamic as emerald, you are an icon."

"I also really love my dress so thank you @waydb @mcdonaldmicah and @michaelkors. face beat hair did tew @officialsheiks @ann_joneshair"
Nope is a 2022 American neo-Western science fiction horror film written, directed, and co-produced by Jordan Peele. In the movie, a man and his sister discover something sinister in the skies above their California horse ranch. At the same time, the owner of a nearby theme park attempts to profit from the mysterious phenomenon. Keke Palmer plays Emerald Haywood, a confident, competent kid sister, hustler, and natural performer who can make even the most rehearsed speech sound spontaneous and on the spot.
Also Read: 'She Would Still Be Snubbed at Oscars': Keke Palmer Garners Unanimous Appraise for 'Nope' Performance, Fans Convinced Racist Oscars Academy Will Still Snub Her