Singer and beauty mogul Rihanna has finally broken the silence on her upcoming Super Bowl halftime performance. As Rihanna was shopping on Tuesday at Bristol Farms in L.A., she was asked about the big game by TMZ, to which RiRi replied she feels "nervous" about the performance, but said she was excited to hit the stage.
Interestingly, Taylor Swift was reportedly set to headline the show but turned it down to focus on her shows.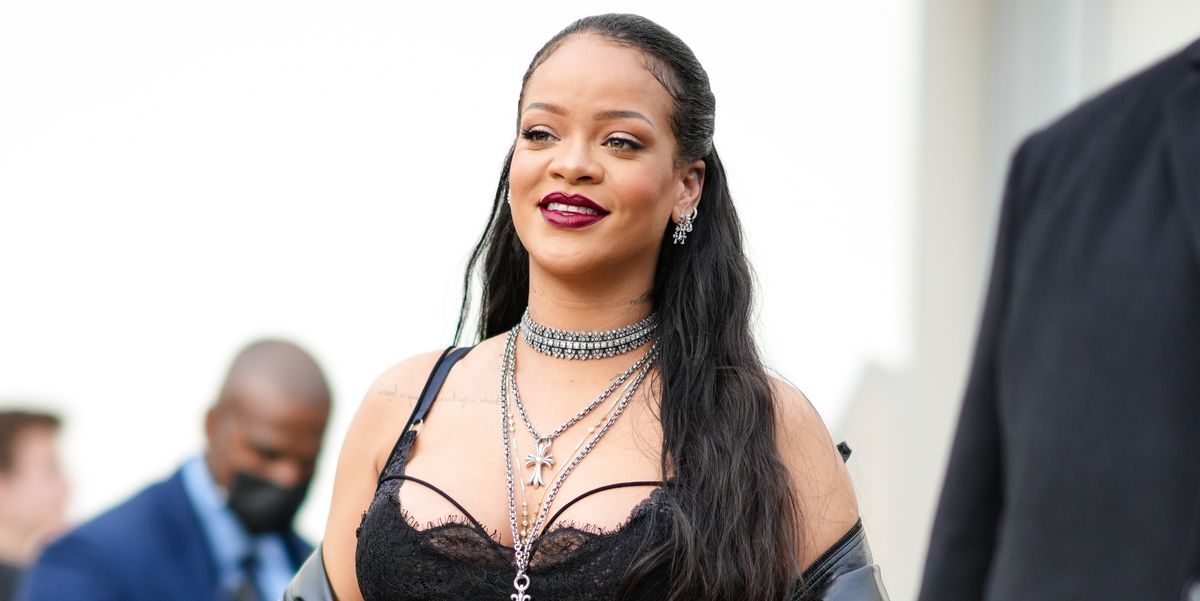 The Super Bowl LVII will be Rihanna's first live performance after nearly five years. Her last on-stage live performance was at the 2018 Grammy Awards, where she performed "Wild Thoughts" with DJ Khaled. The nine-time Grammy winner will take to the stage during the 15-minute halftime show of the American football game to be played in Glendale, Arizona at State Farm Stadium.
Also Read: "Cometh the stage, Cometh the Queen": Rihanna In Talks To Headline The Super Bowl Halftime Show After Taylor Swift Bows Out
Rihanna confirmed that she'd be performing at Super Bowl LVII in 2023
Last month, the 34-year-old billionaire Rihanna announced via Twitter and Instagram that she'd be performing at the 2023 Super Bowl by sharing a photo of her hand, showing off her infamous wrist tattoo while holding a football. Fans went crazy when they saw the comeback of the bad girl at the Superbowl event next year. She was away from the music for a long time.
Since the announcement, the new mom of a child with rapper A$AP Rocky hasn't spoken publicly about her decision of performing at the upcoming Football game. However, she broke her silence on Tuesday (October 4) when she was spotted by TMZ. Rihanna said, "I'm nervous, but I'm excited". Rihanna's halftime show will mark her big comeback to music after nearly 6 years since she last released an album when she dropped "Anti" in 2016.
Also Read: "No wonder she's the queen": Rihanna Reportedly Helped Restaurant Staff In Cleaning Up Mess After Wild Girls Night Out, Proves She's Miles Ahead Of Other Female Pop Stars.
Rihanna turned down Super Bowl shows twice previously
This isn't the first time RiRi was invited to the Superbowl events. She had been previously approached for Super Bowl halftime shows in 2018 and 2019, but she declined in support of NFL star Colin Kaepernick. Kaepernick, a San Francisco 49ers quarterback, created headlines in 2016 when he took a knee during the American national anthem before a match in protest of racial injustice by the police. He has not played in the league ever since.
"I couldn't dare do that. For what? Who gains from that? Not my people. I just couldn't be a sellout. I couldn't be an enabler," she told Vogue in 2019.
Also Read:'OMG She Made Billions Out of Her Millions?': Fans Blast Rihanna After She Dethrones Kylie Jenner as Youngest Self-Made Billionaire, Attack Her Nationality
Is A$AP Rocky going to join Rihanna?
Rihanna didn't say a word about what fans could expect from the performance, but reportedly it has been expected that she'll be joined by a couple of famous faces onstage.
Although the singer didn't share much about who could be joining her on stage during the halftime show, she did respond "Maybe, girl" when asked if her baby daddy, A$AP Rocky, could be a surprise guest. The Super Bowl 57 is scheduled for Feb. 12 at State Farm Stadium in Glendale, Arizona.
Source: Page Six