Cress Williams is finally bringing Jefferson Pierce/Black Lightning to the Arrowverse in "Crisis on Infinite Earths," the big crossover event coming to your TV in the winter and set to totally upend the order of things on Arrow (which will end a couple of weeks later), The Flash, Supergirl, and DC's Legends of Tomorrow. 
Details about Legends of Tomorrow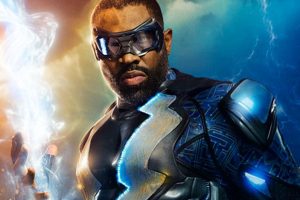 Legends of Tomorrow, which will launch as a midseason show this year, will actually begin their season with "Crisis," which will play as a "special" and will probably more or less disregard the conflicts that the Legends will be working with this season. 
"We feel isolated a bit being in Atlanta, but I socialize with a lot of the other shows when we're doing press together. They all are really cool people, so I'm excited to play with them," he says. Which actor is he particularly excited about sharing the screen with? "It sounds like the politically correct answer, but it's not: It's all of them," Williams said.
Arrow vs Black Lightning
"I feel like being Black Lightning and Stephen Amell's Arrow character, they have that kind of vigilante quality that's similar and a grittiness that's similar. That will be a lot of fun. But I've interacted with The Flash cast quite a bit just in random places, and I really enjoy being around them. I'm just starting to get to know [Supergirl's] Melissa [Benoist]. She's legitimately one of the nicest people I've ever met. I really look forward to playing with all of them and acting alongside all of them, and swapping stories with all of them. I think it'll be really fun."
The crossover in the comics
In the comics, Crisis on Infinite Earths centred on a battle between the combined superheroes (and even some villains) of the DC multiverse and an immortal, cosmic threat known as the Anti-Monitor. Like The Monitor, the Anti-Monitor will be played by LaMonica Garrett in the Arrowverse. The crossover will also feature guest appearances by Johnathon Schaech as Jonah Hex, Kevin Conroy as Bruce Wayne, and Brandon Routh as Superman.
Source: Comicbook, Simplenews