Cristiano Ronaldo is a Portuguese professional football player. There is nobody on the planet that needs an introduction for him. His girlfriend Georgina Rodriguez is a 28-year-old Spanish model and dancer. They share five beautiful children together, Cristiano Ronaldo Jr., Bella Esmeralda, Alana Martina dos Santos Aveiro, Eva Maria Dos Santos, and Mateo Ronaldo.
In a true meet-cute fashion, the two met at a Gucci store where Georgina Rodriguez worked at the moment. The couple is extremely active on Instagram. The two are not married yet and opened up further about it in the Netflix series,  I am Georgina.
Also Read: Is Georgina Rodriguez Leaving Cristiano Ronaldo? $10M Rich Influencer and CR7's Longtime Partner Breaks Silence on Breakup Rumors
Why are fans upset about Georgina Rodriguez and Cristiano Ronaldo?
Cristiano Ronaldo and Georgina Rodriguez are receiving backlash on social media for uploading some pictures of their children. In the picture youngest son Mateo can be seen kissing his sister Esmeralda. The son in the picture was wearing a diamond stud in the ear. Some Instagram users were enraged by it.
"They won't let him be a child," one commented.
View the Instagram post here: Georgina Rodriguez's post
Many felt it was unsuitable for a child to wear piercings,
 "at that age a child does not decide whether or not to wear earrings, everything in its own time".
Some felt it was inappropriate for flexing their wealth.
"Is it necessary to show excessive wealth by putting earrings on a child?"
Although it is of no business to the people on the internet obviously, but they will have opinions on everything no matter what.
Also Read: "Securing the final bag before ending his career": Cristiano Ronaldo Ridiculed For Accepting $214.07 Million Deal From Saudi Arabian Club Al Nassr
Cristiano Ronaldo has lost many fans with his recent behavior
Widely considered one of the greatest footballers of all time, Cristiano Ronaldo has built a legacy that can't be tarnished, at least till his recent off-field behavior. The former Manchester United player upset millions of fans with his controversial interview with disgraced journalist Piers Morgan. Furthermore, the footballing star's recent move to Al-Nassr has also left fans fuming as his past interview has come back to haunt him where the icon revealed he would never move to 'lesser leagues' for more money.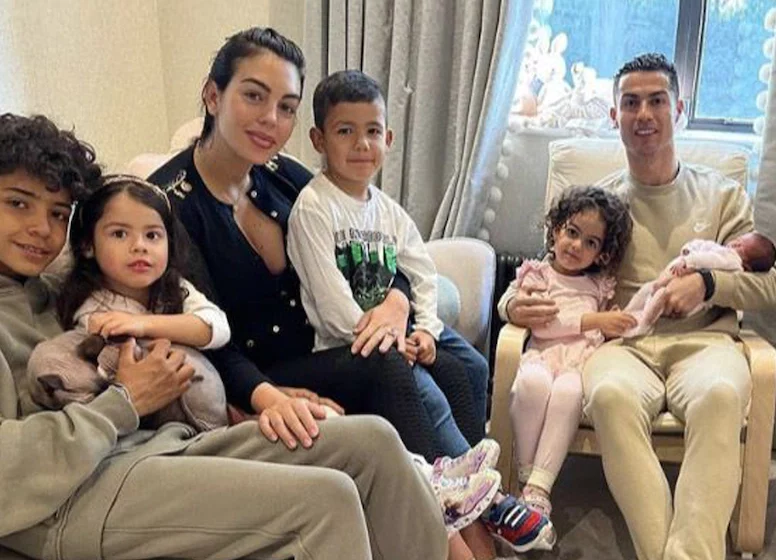 The 37 year old former Real Madrid star's off-field behavior has been a major debate among fans as the Portuguese legend is often considered to be the arch-rival of Argentine magical Lionel Messi. While Messi, for a lot of fans, has settled the 'GOAT' debate with his World Cup triumph, Ronaldo seems to be struggling at the twilight of his career.
Also Read: "She has to thank Ronaldo for not being a shop assistant": Cristiano Ronaldo's Partner Georgina Rodriguez Gets Blasted For 'Hissy' Attitude Amidst Reports of Not Helping Own Sister
Source: MARCA