Harry Styles has not been having a good one. The year is still young, but his fortunes seem to be on the wrong side of the line. And that has been the case somewhat since last year. 2022 was an underwhelming year for the 29-year-old. But his fortunes took a dip, especially since his break-up with Olivia Wilde. Their relationship had made headlines, and so did its ending. And ever since the fateful event, things have only looked downward for him, with many labeling the sequence of events that followed as a result of the Olivia Wilde curse. But that curse finally seems to be lifting.
Harry Styles and Olivia Wilde just weren't meant to be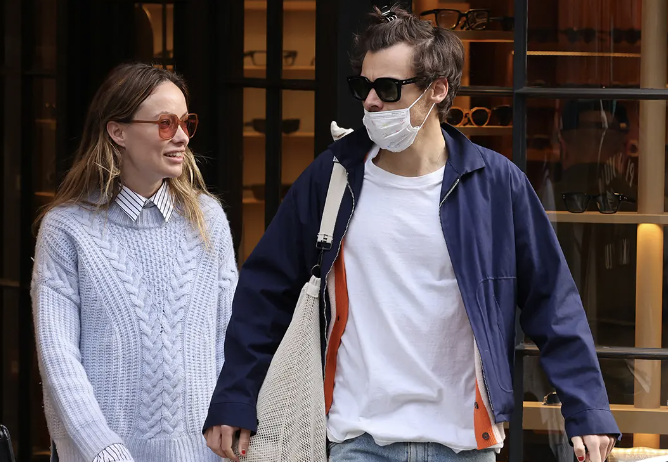 The former couple first met on the sets of Don't Worry Darling. What started out as a professional arrangement between an actor and a director, culminated in a love story, with the two becoming quite close over a small span of time. The fact that the Booksmart director started seeing him two months after parting ways with Jason Sudeikis didn't dampen their relationship.
They made headlines in early 2021 when they were pictured holding hands at a wedding. Fast forward to November 2022, and things effectively came to an end between the two. And the seeds of the split had been sown quite a while ago. But the Dunkirk star couldn't gather the courage to break the news to her. And things haven't gone well for him ever since he did so.
Also Read: The Olivia Wilde Curse Continues as Harry Styles Faces Major Humiliation after His Pants Rip Apart in Front of One True Crush Jennifer Aniston
Do Worry Darling!
Fans couldn't help but notice one startling fact. Ever since the Watermelon Sugar hitmaker broke up with Olivia Wilde, a lot of bad things have been happening to him. He's lost handy career opportunities, and his two films, Don't Worry Darling and My Policeman got an underwhelming response, both from the critics and fans.
His fans couldn't help but believe that it was a result of the 'Olivia Wilde curse', which had taken root ever since the couple had called it quits. Not getting nominated to the Oscars was also considered a sign of the same. The Eternals star was believed to be in for some hardships. But that curse might well be over.
Also Read: "It's humiliating for her. Olivia really hurt Jason when she left him": Jason Sudeikis Brutally Mocking Olivia Wilde After Her Failed Plans With Harry Styles
Harry Styles is hopeful of getting over the Olivia Wilde curse
The As It Was singer had lost a lot of opportunities ever since last November. But that grey cloud seems to have passed, with him being offered the opportunity to feature in the 2023 Grammys. He has been added to the 2023 GRAMMY's performers lineup. He has also been nominated for the esteemed award in 2023.
The Sign of the Times singer joins performers Bad Bunny, Mary J. Blige, Brandi Carlile, Luke Combs, Steve Lacy, Lizzo, and Kim Petras who will wow one and all with their mesmerizing performances. The grand ceremony will be held on 5th February 2023. That will be the night Harry Styles must be hoping to prove that the curse is a thing of the past.
Also Read: Olivia Wilde Curse Continues To Strangle Harry Styles – $120M Rich Icon Only Has 5 Shows This Year and No Oscar Nominations Despite Multiple Big Budget Projects
Source: Grammy