Spoilers for The Walking Dead Episode 9×13.
If Sunday's episode of The Walking Dead can indicate anything, it means that Daryl Dixon might have a search for Rick Grimes on his mind!
Daryl Dixon holds hopes:
If Daryl's comments at the end of the Chokepoint episode can be interpreted in a different way, Walking Dead is planting hopes of a possibility of search for the famous Rick Grimes.
Daryl Dixon holds out hope that Rick survived the blast on the bridge in Episode 9×05 of Walking Dead. Even after the passing of six years, he still makes comments saying that they found the body of his post-apocalyptic brother. This makes it clear that Daryl believes Rick could be alive. He hopes that Rick could be out somewhere in the world.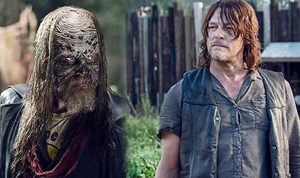 Eagerness of Dixon to move:
On Sunday night, at the end of Episode 9×13, Daryl informs Henry and Connie that Lydia would be kept by them. However, she would not be not brought to Alexandria. He refused to bring her to the Hilltop or the Kingdom, either. He reasoned that those communities had to be kept safe. There was a necessity to prevent a Whisperer attack. However, Daryl promised those looking to him for answers that they would find a new place somewhere else.
This gives a major hint that Daryl Dixon is eager to head out of town on a search for Rick Grimes.
Also Read: Gotham May Have Just Killed One Of Its Biggest Characters (Again!)
Information we know so far:
As ffar as we know, Rick Grimes is alive. In Andrew Lincoln's final episode, he had narrowly survived being impaled by a rebar. A trilogy of films is on the line of production to tell the characters story. The other cast members from the Dead universe have signed new contracts which makes them to appear in movies, spinoff shows, and the main series. In the Dead universe, Reedus is one of the cast members who recently signed on for more years. This means that Daryl Dixon can pop up in Fear the Walking Dead or any of the upcoming movies. The movies are likely to be expanded beyond the three movies about Rick.