The SKIMS mogul, Kim Kardashian, and Comedian Pete Davidson are officially a couple. Before Kardashian attempted her first move toward Davidson, it seemed like he has already tried getting her number. He probably had a feeling of being potentially together even before Kardashian did.
When Pete Davidson approached Megan Fox for Kim Kardashian's number,  The Jennifer's Body star said, "Dude, you have a better shot of me and MGK (Machine Gun Kelly) getting eaten by crocodiles than you ever getting her number. Never gonna happen. Do not ask us."
Kardashian adds that after she and Pete Davidson started dating and were a thing, she had Fox text her, "'Is this s*** for real? Because he asked me for your number months ago."
Kim Kardashian on the spark she felt with Pete Davidson
Kardashian explains how things went down between her and Davidson and how they felt a "connection". She mentions the day they shared their first kiss while describing the skit they performed as Jasmine and Aladin. She said, "…And then, when we kissed in scene, it felt a vibe. And I was like, 'Oh s***, maybe I just need to try something different. But Pete does not come to my afterparty,  everyone was at my afterparty, does not give me the time of day. So, a few days later, I called the producer at SNL (Saturday Night Live), and I was like, 'Hey, do you have Pete's number?' And they were like, 'Yeah'."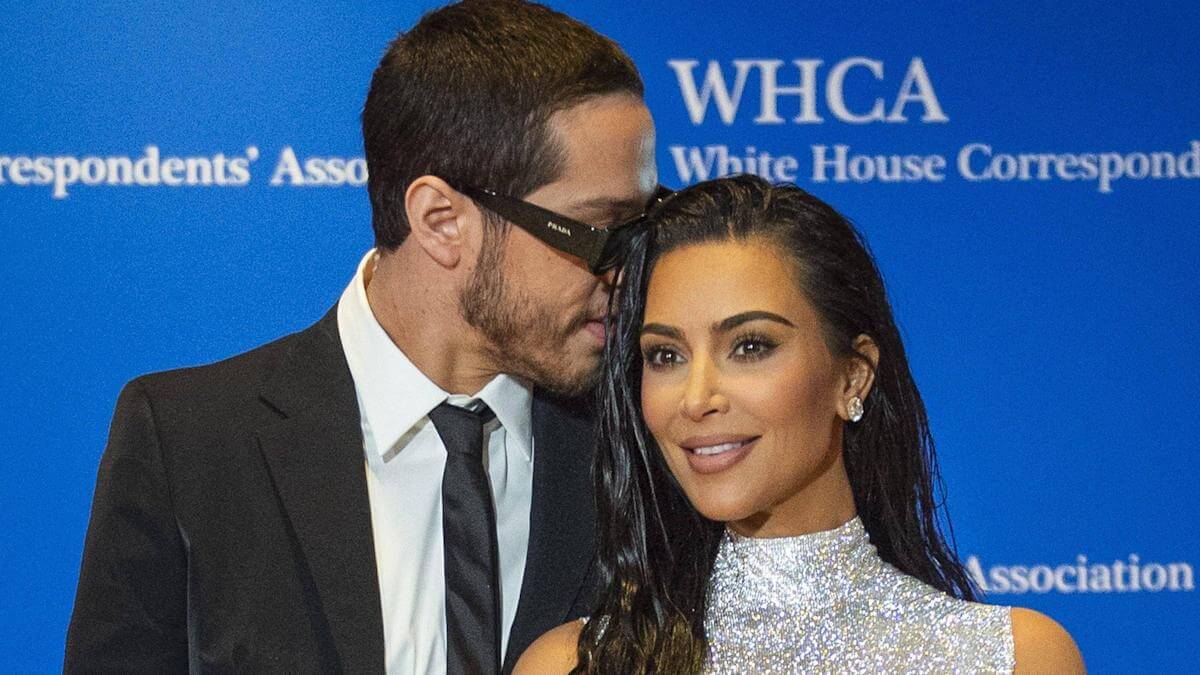 Also Read: Kim Kardashian Ready to "Eat P**p Every Single Day" If It Means Staying Younger
The 41-year-old then goes on to tell how she texted him. "I text him. I wasn't even thinking, 'Oh my God, I'm gonna be in a relationship with him. "I was just thinking, 'Heard about this BDE (big d***energy), need to get out there. I need to just jumpstart my…' I was basically just DTF (down to f***)," said Kardashian.
The pair is together for a couple of months now. They were first spotted in October 2021, holding hands in public. That is where the fresh gossips start. Davidson loves to be around Kardashian and is adored by the rest of the Kardashians as well. "Pete still spends a lot of time in Los Angeles with Kim. He is crazy about her. And she is very happy that he is around so much", said an insider.
Kim Kardashian went on to mention more about her boyfriend, "Pete has got to be literally the best human being I've ever met, like the best heart. People always say, 'Oh, he's so funny.' … That's like, fourth on my list of why I like him. Always wants the best for people, can handle anything, always does it with grace. He's really, really thoughtful, and humble, and just so genuine. I would say the perfect word to describe Pete is genuine," she continued.
Kim Kardashian has been hinting that she is having the best s** in her 40s, on the show Keeping Up with The Kardashians.
The media personality was previously married to rapper Kanye West. She has four kids, namely, North, Saint, Chicago, and Psalm, with West. They officially got divorced in February 2022.