Kim Kardashian is known for making controversies about even the slightest of things. Now, that the mother is super exposed to social media, it won't be hard to say that her children might follow the same path as that of the influencer. Her nine-year-old daughter North West is one of the young influencers who has shared her online influence with her TikTok account.
The little one had created quite a buzz on the Internet even if she stayed there for a short while. Even after getting to know about her daughter's social media account, she defended her stating "it brings her happiness."
Also Read: Kim Kardashian's Former Assistant Stephanie Shepherd Claims Kim Forced Her To Remain Single For 2 Years By Working Her To Death
Kim Kardashian Once Defended Her 9-Year-Old Daughter For Using TikTok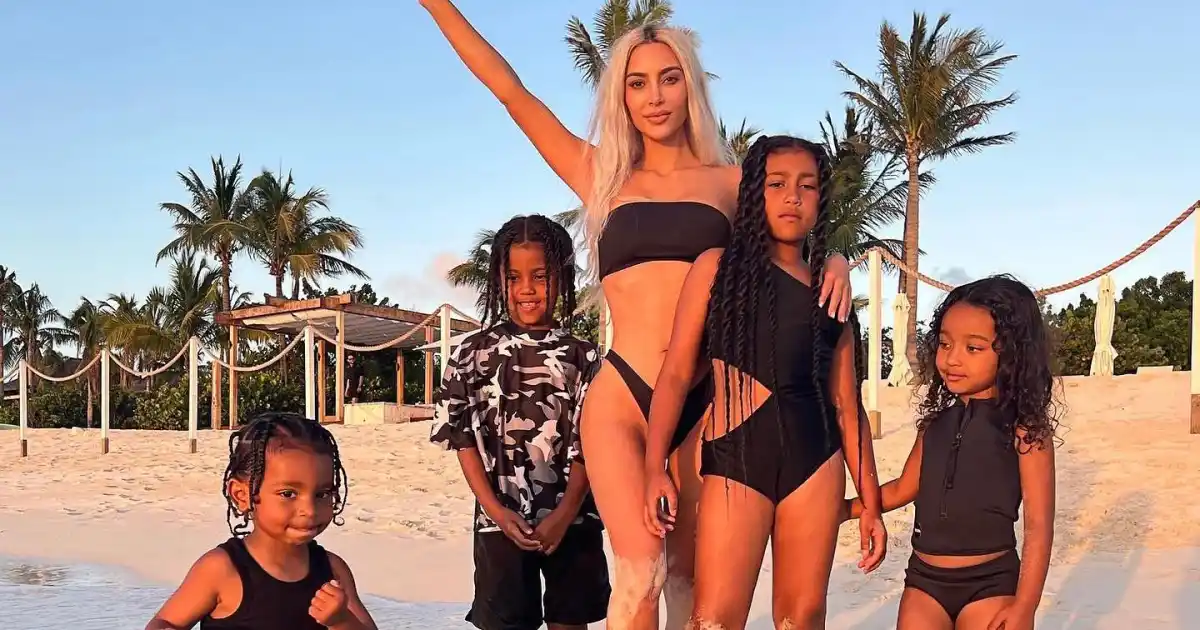 Also Read: Kim Kardashian Reportedly Used CGI To Create Fake Tears In Her 'Emotional Moment', Fans Ask Who Gets A Tear In The Centre Of The Eye?
Kim Kardashian who has often been criticized for using her kids to gain more attention was also in the heat for allowing her kid North West to use TikTok.
According to the reports, her nine-year-old kid, North West, had been using TikTok years before her father Kanye West pointed out that. Her personal account was made even before the mother-daughter duo collaborated to make their shared account.
The 45-year-old rapper Kanye West in a post claimed that the former couple's daughter North has used the social media platform "against his will." 
In a post, the rapper asking fans to help, shared, "Since this is my first divorce I need to know what I should do about my daughter being put on TikTok against my will?"
The mother of four in her Instagram stories shared in a statement,
"Kanye's constant attacks on me in interviews and on social media is actually more hurtful than any TikTok North might create. As the parent who is the main provider and caregiver for our children, I am doing my best to protect our daughter while also allowing her to express her creativity in the medium that she wishes without adult supervision – because it brings her happiness."
The 41-year-old socialite filed for divorce from the rapper after six years of marriage and months of speculations about the couple's separation.
Also Read: Kim Kardashian Tries to Steal Ana de Armas' Thunder, Tries To Imitate Marilyn Monroe After Nearly Ruining Her Iconic Dress Months Ago
North West Once Went Live With Kim Kardashian's Permission
You May Also Like: Kanye West Reveals His 'Big Fight' With Kim Kardashian After Apologizing to Her, Reveals She Doesn't Want His Children to Attend His Private Donda Academy
The SKIMS founder though has defended her daughter for using TikTok, there was once a time when her daughter, North West got herself into trouble doing a live on TikTok without anyone's permission.
On 13th December 2021, Kim K's daughter went live on TikTok for the first time giving a house tour all around their Calabasas home to thousands of followers on her social media account.
What's more shocking was her TikTok live was not permitted by her mother, who was also featured in that streaming. After showing her house, North went to her mother's room, where Kim was spotted lying on her bed.
The nine-year-old influencer told her mom, "Mum I'm live," Shocked Kim, she replied, "No! You're not allowed to go live. North, come on. You're not allowed to go live."
A nine-year-old kid is an easy target for the social media crimes that is often been faced by many social media users. However, will Kardashians ever get to avoid the attention they are always in?
The second season of Hulu's The Kardashians is streaming now.
Source: YouTube