During the latest Goop Podcast episode, host Gwyneth Paltrow spoke with guest Katy Perry about her broken marriage with English singer Chris Martin. The Goop founder and her ex-husband Chris Martin have two children, an 18-year-old daughter, Apple, and a 16-year-old son Moses. There are big feelings the podcast host has about her big kids heading off to college, and all parents of teenagers can relate to that, but she also feels just how hard it can be to have half the nest empty.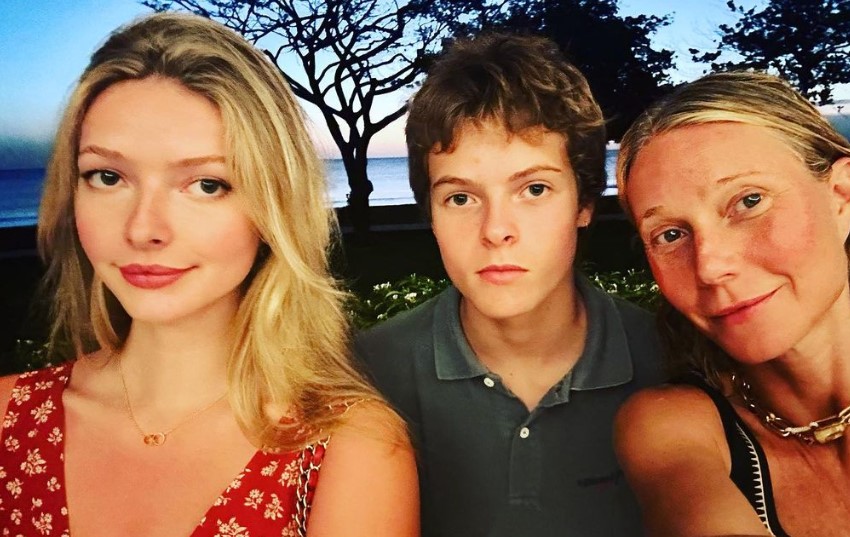 In her opinion, there were times when she believed that her children had ruined her marriage with her ex-husband, Chris Martin and that this had led to her divorce. In December 2003, the couple got married, and after separating in 2014, they finalized their divorce in July 2016.
Also Read: "You could stumble out and go with some rando": Gwyneth Paltrow Blames Internet For Not Being Able To Do Drugs And Hooking Up With Strangers
Gwyneth Paltrow Hints Her Kids Soured Her Marriage To Coldplay Frontman Chris Martin
The 50-year-old actress Gwyneth Paltrow spoke with singer Katy Perry on her latest episode of Goop Podcast about every aspect of relationships, including how much they change when kids are involved. Similarly, Katy Perry opened up about her relationship with Orlando Bloom, with whom she welcomed her daughter Daisy in August 2020.
During their discussion, Paltrow joked,
"It's hard on a relationship. Like I've looked back now on like the data set of parents with young kids, and it just … ruins the relationship. It's really hard!"
Perry replied then,
"I think if both people in the relationship are willing to do the work, then it's going to be so much easier. But if one person thinks they don't have any work to do, then it's going to be really challenging."
The Dark Horse singer also agreed that dynamics shift after having children, but she argued that couples could overcome these difficulties as long as they're on the same page. In Paltrow's opinion, having children is a crucial factor in marriage, as it can make or break the relationship. Also, she hinted during the discussion that her ex-husband did not help raise her kids as a supportive partner, which became the main issue of their marriage failure. After getting divorced from Chris Martin, Paltrow married Brad Falchuk in 2018. Brad Falchuk has two kids with his ex-wife Suzanne Bukinik, but the now-couple doesn't have kids together yet.
Also Read: "I respect the nepo baby t-shirt attempt": Gwyneth Paltrow and Charli XCX Speak Against Fans to Defend Hailey Bieber
Gwyneth Paltrow Shares Selfie With Katy Perry After Podcast; Fans Poke Fun At the Singer
As part of the publicity for her Goop Podcast appearance, the Goop founder Gwyneth Paltrow posted an extreme close-up selfie of herself with Katy Perry, the 38-year-old hitmaker, on her Instagram handle. The selfie sparked a lively debate in the comment section of Paltrow's post due to Perry's makeup look.
Paltrow captioned the post, "Guys, @katyperry is in the @goop podcast this week, and she is such a surprise and delight."
Some fans found Paltrow's appearance in the photo slightly off, with one jokingly asking if the actress was posing with a 'Katy Perry's wax figure.' Complaints have also been that the photo's odd angle, bad lighting, and editing have warped the pair's naturally beautiful appearances.
One user commented, "is this the Katy Perry wax figure"
Then another user joked and wrote, "I know Katy text her asking why she picked this pic .. and we all know bc Gwyn looks great"
Another fan commented, "I love Gwyns natural look, such a contrast with all the makeup Katy is wearing"
One more fan commented, "Wth is this lightning and editing"
Another user commented, "Katy's makeup artist needs to get fired."
Several of their fans questioned Paltrow about posting such an image on her 8 million-follower Instagram account. Perry and Paltrow discussed spirituality, purpose, and finding wholeness on the podcast while drinking her line of sparkling non-alcoholic drinks.
Also Read: "I mean LOL": Real Housewives of New York City Star Bethenny Frankel Trolls Marvel Star Gwyneth Paltrow For Sucking Up to $1.8B Rich Kim Kardashian, Calling Her a "Fascinating Woman"
Source: The Goop Podcast – Gwyneth Paltrow x Katy Perry, Instagram